Historical parallels are interesting. They can show us how far we've come as well as the gravitational pull of the past. After two decades in business, for the 1922 model year Indian introduced one of its best known models, the Chief. "It was a wonderful name, surely the best name an Indian could have," writes Allan Girdler in The Harley-Davidson and Indian Wars. And for the 2022 model year, exactly 100 years later, Indian has given its Chief lineup a thorough overhaul.
With three new and distinct models — Chief, Chief Bobber and Super Chief — Indian is honoring its past while clearly looking to the future.
Designed by legendary engineer Charles Franklin, the original Chief was inspired by another iconic model, the midsized Scout, which Franklin had also created and was one of Indian's best-selling motorcycles. The new Chiefs adhere to a similar formula. The Chief Classic and Chief Vintage that debuted for 2014, as part of a three-bike lineup when Indian was re-launched under Polaris ownership, had traditional styling most often associated with Indians — valenced fenders, illuminated Indian headdress ornaments, spoked chrome wheels and details like seat conchos and leather fringe. They were big, long and substantial, and they stayed that way for several years.
The 2022 Chief lineup is more stripped-down and elemental, reflecting contemporary tastes. Like their ancestor, the new Chiefs draw inspiration from the modern-day Scout, with a shortened wheelbase and exposed twin laydown rear shocks rather than a single shock hidden behind bodywork. They're also much lighter. Claimed wet weight for the 2022 Chief is 670 pounds versus more than 800 pounds for the Chief Classic. (For those who still like the classic styling, the Vintage and Vintage Dark Horse — with "Chief" dropped from their model names — are still in Indian's lineup.)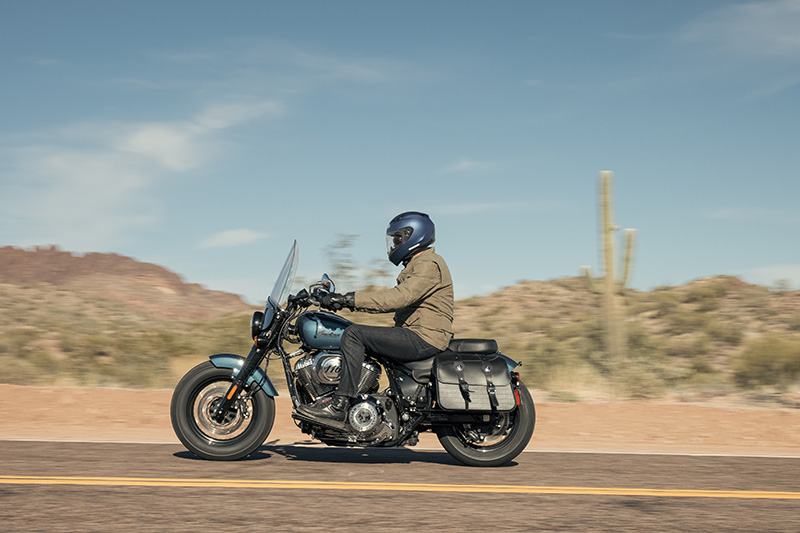 There's another historical parallel at play here, an unexpected one. The original Chief was launched early in the Roaring Twenties, a decade that followed World War I and the deadly influenza pandemic of 1918-1920. It was a period of great prosperity and possibility, of modernization and cultural renaissance. Automobiles, aviation, electric appliances, telephones, radios, films, fashion, jazz and much else we now take for granted flourished during the 1920s. A rising tide of economic growth lifted all boats. Here we are, with a brand-new Chief, right as we're emerging from another global pandemic. One can't help but wonder: what's in store for us in the 2020s?
More riding, that's for sure. Motorcycles are experiential machines, and we'll ride them into a brighter future. On America's open roads, the Super Chief Limited is a fine choice. Throw a leg over, settle into the plush saddle and aim the pullback handlebars toward the horizon.
What makes this Chief so Super, and why is it Limited? The base-model Super Chief ($18,499), like the standard Chief and Chief Bobber, is powered by the 111ci (1,811cc) version of Indian's air-cooled, 49-degree Thunderstroke V-twin, good for 108 lb-ft of torque at 3,200 rpm (claimed). It also has an analog gauge, optional ABS ($800) and standard finishes. The Super Chief Limited ($20,999), like the up-spec Chief Dark Horse and Chief Bobber Dark Horse, steps up to the 116ci (1,890cc) Thunderstroke V-twin with 120 lb-ft of grunt and adds a 4-inch Ride Command touchscreen display, standard ABS and premium finishes.
What sets the Super Chief and Super Chief Limited apart from the Chief and Chief Bobber are go-the-distance features like a quick-release windshield, saddlebags, a two-up seat and footboards. Whereas the Chief has cast wheels in 19-/16-inch sizes, the Super Chiefs and Chief Bobbers roll on 16-inch black-wire spoked wheels shod with Pirelli Night Dragon rubber, with a chunky 130mm front paired with a 180mm rear.
Indian invited us out to Arizona for a two-day, 350-mile test ride, from Sedona to Vulture City, a former gold mine and ghost town near Wickenburg, and back. With temperatures ranging from the 40s to the 70s, variable winds and bouts of rain, and a route that included mountains, deserts, small towns and open freeways, it was the perfect opportunity to give the Super Chief Limited a proper, real-world shakedown.
The biggest change to the new Chief platform is the frame. Replacing the modular aluminum backbone is a tubular-steel frame that wraps so tightly around the engine that one of the down tubes is removable. The 2021 Vintage, with its windshield, soft saddlebags and standard ABS, is the model on the old platform that's most similar to the Super Chief Limited (SCL). By way of comparison, wheelbase has been shortened by 3 inches, and at 64 inches is just 2 inches longer than the Scout's. The SCL has more rake (29 degrees versus 25), but trail is the same at 5.2 inches.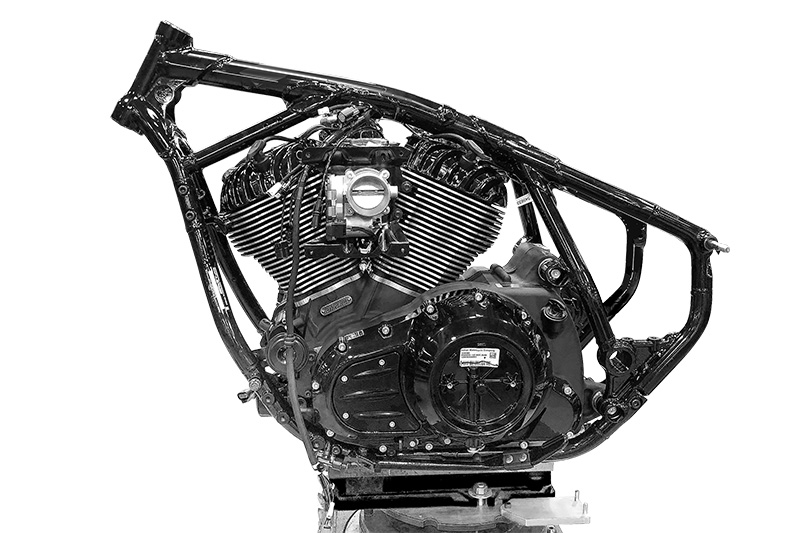 Claimed wet weight on the SCL is 739 pounds, which is 97 pounds lighter than the Vintage. Weight savings come from many areas. The SCL has a lighter frame, trimmed-down fenders, no highway bars or driving lights, a lower fuel capacity (4.0 gallons versus 5.5) and so on. The more compact dimensions and lower weight pay big dividends in terms of maneuverability. Lifting the bike off its sidestand, pushing it in and out of parking spaces, doing U-turns and navigating city streets is much easier, and steering on tight, technical roads feels lighter without sacrificing stability. When pushed to the limits of cornering clearance, the SCL held its line and responded obediently to inputs.
In the redesign, the SCL and other Chiefs have given up some comfort. With the single shock and progressive linkage on the old platform, rear suspension travel was 4.5 inches and damping was plush and well-controlled. The dual shocks on the new models offer just 3.0 inches of travel, and overall the ride is much firmer and less forgiving. Also, the simple air adjust for rear spring preload has been replaced by a ring-and-locknut setup. While compromises need to be made, in the case of a touring-oriented model like the SCL, the loss of ride comfort is a pity.
The seating position is fine for an hour or so, but the low, 26.2-inch saddle could use more support, and because I have long legs, my knees were slightly higher than my hips. That forced my hips to roll back and put some strain on my lower back. Fortunately the long footboards allowed me to adjust my body position as needed. The wide, pullback handlebar allowed some bend in my elbows and caused no shoulder strain, and the windshield provided ample protection. The semi-soft saddlebags have a total capacity of 36.6 liters, and quick-release buckles simplify opening and closing. To accommodate the exhaust pipes, the right bag has a curved cut-out at the bottom.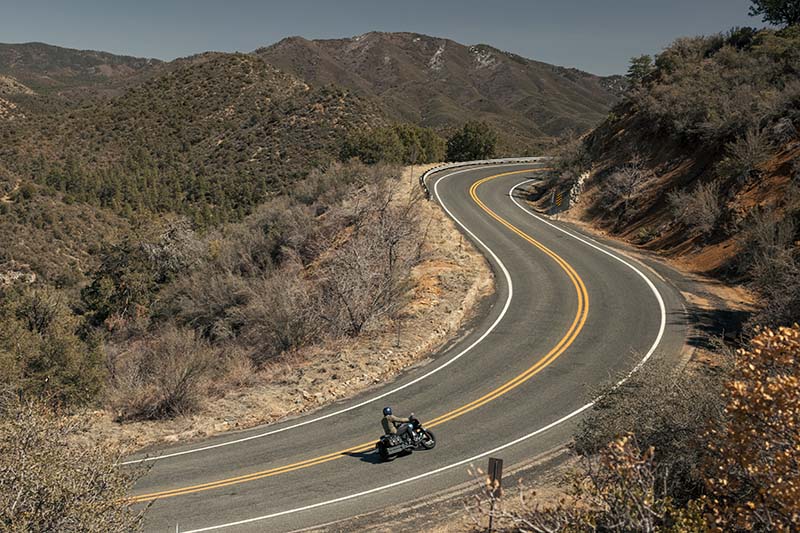 Although the Chief platform has moved in the direction of more modern tastes, it is still powered by Indian's air-cooled Thunderstroke V-twin, a gorgeous engine inspired by the Power Plus from the 1940s-era Chief, with flathead-styled cylinder heads, generous finning, parallel pushrod tubes and downward-firing exhausts. In our test of the Indian Roadmaster Limited, which has the same 116ci Thunderstroke as the SCL, it cranked out 76 horsepower at 4,200 rpm and 106 lb-ft of torque at 2,000 rpm on Jett Tuning's rear-wheel dyno — on a bike that weighed 895 pounds. With a much higher power-to-weight ratio, the SCL pulls away from stops and accelerates out of corners with more urgency. Regardless of gear or throttle-response mode (Tour, Standard and Sport), the Thunderstroke pulses and rumbles like a big V-twin should. Power is sent to the rear wheel through a maintenance-free belt, and rear-cylinder deactivation helps keep things cool at idle. The cable-actuated assist clutch has good engagement, and the 6-speed transmission shifts with ease.
In another nod to modern times and clean styling, the SCL features a round 4-inch instrument panel with a full-color touchscreen. Packed into it is Indian's Ride Command system, with customizable displays, detailed bike and trip info, turn-by-turn navigation and Bluetooth connectivity. Cruise control, keyless ignition, a USB charging port and LED lighting provide the conveniences that today's riders expect.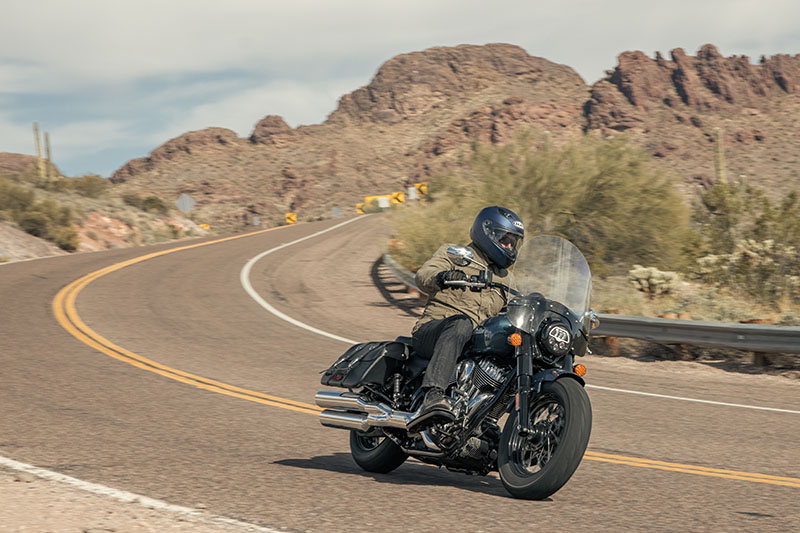 The Harley-Davidson and Indian wars, chronicled by Allan Girdler in his book of the same name, thrived during the first five decades of the 20th century. Battles were fought on many fronts — in R&D departments, on race tracks and in dealerships. Harley emerged victorious when the Indian Motocycle Manufacturing Company went bankrupt in 1953. With Indian's revival under Polaris ownership, the war machine has been cranked up again. Since the relaunch for the 2014 model year, Indian has expanded its lineup and evolved key models and platforms. With the new Chief lineup, it can compete more directly with Harley-Davidson's Softail lineup in terms of styling, size, weight and price. War may be hell, but it's good for business, and good for motorcyclists.
2022 Indian Super Chief Limited Specs
Base Price: $20,999 (Black Metallic)
Price as Tested: $21,499 (Blue Slate Metallic)
Website: indianmotorcycle.com
Engine Type: Air-cooled, transverse 49-degree V-twin, OHV w/ 2 valves per cyl.
Displacement: 1,890cc (116ci)
Torque: 120 lb-ft @ 2,900 rpm (claimed)
Bore x Stroke: 103.2 x 113.0mm
Transmission: 6-speed, cable-actuated wet assist clutch
Final Drive: Belt
Wheelbase: 64 in.
Rake/Trail: 29 degrees/5.2 in.
Seat Height: 26.2 in.
Wet Weight: 739 lbs. (claimed)
Fuel Capacity: 4.0 gals.