Since the last time we put a Roadmaster through it paces in 2018, Indian's Touring family has grown to five models. At the top of the heap are the Roadmaster Elite and limited-edition Jack Daniel's Roadmaster Dark Horse, flashy Harley CVO competitors adorned with premium finishes, accessories and hardware to go with their nearly $40,000 price tags. Riders with simpler tastes have a choice of three Roadmaster models all priced within $750 of one another, the Roadmaster and Roadmaster Dark Horse at $29,999, and the Roadmaster Limited at $30,749. For 2021 all offer the plush, stable Roadmaster highway experience, now with a little more rumble and snort thanks to getting a larger 116ci Thunder Stroke engine versus the original 111ci air-cooled V-twin. Like the Roadmaster Elite, the base Roadmaster still wears the bike's original swoopy fork-mounted fairing and skirted front fender like Indians of old, while the Limited and Dark Horse models have a more modern streamlined fairing, open front fender and slammed saddlebags.
The "new" Indian Motorcycle company did it right when it launched its first lineup for 2014, delivering three cruiser and bagger models with signature Indian styling like those fully valanced fenders and finned flathead-like cylinder heads with downward-firing exhaust headers on the new Thunder Stroke 111 engine. The Roadmaster full dresser followed shortly after with a complete complement of touring equipment, including an electric windscreen, removable fairing lowers, plush air adjustable single-shock rear suspension and a large top trunk. We were mightily impressed by its comfort, convenience and performance, but had concerns about the bike's massive weight and engine heat output. As time marched on and the supply of nostalgia buffs interested in their historic styling began to wane, Indian added lighter versions of the Chieftain bagger and Roadmaster with crisper, more modern lines, as well as the all-new Challenger bagger with its liquid-cooled Power Plus 108 V-twin and frame-mounted fairing (a bike we deemed worthy of Rider's 2020 Motorcycle of the Year award).
As a great touring motorcycle in its own right, with less weight and no engine heat to complain about, the Challenger's introduction created a dilemma. Since you can add the Roadmaster top trunk to it as an accessory and end up with a cooler, lighter, fully dressed touring machine that handles better and makes more power, is there still a place in the lineup for the hot and heavy Roadmaster? Let's find out.
Fascinated as we are by shiny things, for this refresher we focused on the Roadmaster Limited, which gets beautiful deep gloss Crimson Metallic or Thunder Black Azure Crystal paint and a V-twin engine swathed in chrome rather than the Dark Horse's matte paint and black engine. For 2021 both the Limited and Dark Horse come with Indian's recently released heated and cooled ClimaCommand seats, with controls conveniently integrated into the Ride Command infotainment system's touchscreen. The seats also have separate temperature button controls for rider and passenger. Their 19-inch Contrast Cut front wheels vs. the 17-incher on the base model further distinguish these two bikes.
Some other nice changes for 2021 include the replacement of the fairing-mounted starter button with a 12-volt, 5-amp accessory socket under a flip cover (the starter button lives on the right handlebar now). That wouldn't be notable except that the socket is an SAE type, the first we've seen integrated from the factory in such a way. It can be used to charge the bike's battery, and to plug in other accessories with SAE connectors and power draws of five amps or less. The bike also has two 12-volt, 5-amp cigarette outlets, one in the trunk and one in the right saddlebag, so you can charge or power devices from all three sockets while riding. Apple CarPlay is integrated into the Ride Command System now, and there's a USB port in the small pocket in the top of the fairing for plugging in a thumb drive or your iPhone (required to enable CarPlay, as is a Bluetooth headset).
Of course the major change since we last tested a Roadmaster is the bump in the Thunder Stroke's displacement from 111ci (1,811cc) to 116ci (1,890cc), a move meant to keep power levels up in the face of more restrictive emissions requirements and counter Harley's jump to 114ci on some of its models. Cylinder bore in the air-cooled, 49-degree OHV V-twin with two valves per cylinder was increased 2.2mm to 103.2mm to get the extra cubes. On the Jett Tuning dyno this roughly 5-percent increase in volume has resulted in slightly more power at the rear wheel, to the tune of 75.9 horsepower at 4,200 rpm and 105.8 lb-ft of torque at an astoundingly low 2,000 rpm — talk about a stump puller. From its peak, torque output stays above 90 lb-ft up to about 4,000 rpm, but most of us will have shifted long before that. Ridden solo the Thunder Stroke 116 gives the Roadmaster plenty of power with great pulse feel and an enormously satisfying rumble, and even fully loaded for touring and two-up the bike can still be coaxed into making a brisk pass with a single downshift. Shifting the 6-speed transmission is clean and positive, with a decisive "thunk" going into gear that big V-twin riders seem to like, and power gets to the rear via clean and quiet belt final drive.
ABS brakes and suspension are unchanged since our last Roadmaster review, fitting since the bike's ride remains plush and well controlled, it stops as quickly and easily as desired and has good feel at the front adjustable lever and rear pedal (though the reach to the latter is a bit far for my 29-inch inseam). Handling on such a big, heavy motorcycle with a long wheelbase is a bit like dancing with an elephant — perfectly doable as long as you watch your feet and don't try any sudden moves, which will just annoy the elephant and run you out of ground clearance right quick. Let's just say that the Roadmaster's handling rewards smoothness, more now with the stylish increase in front wheel size to 19 inches that seems to make the bike handle even more slowly. You need to keep your wits about you on a winding road, though steering effort is low and it does hold a line well unless a strong crosswind jostles the fork-mounted fairing.
Wind protection and comfort on the Roadmaster are excellent, with a very functional pushbutton electric windscreen, adjustable vents in the fairing lowers (that with practice you can open with your feet), a low seat and longish floorboards that allow you to move your boots forth and back. Excess engine heat can still be a problem in ambient temperatures of more than 70-75 degrees or so — at the end of long, hot ride in the sun on backroads or the Interstate you will definitely feel pretty baked. Bring the Mitchum. The cooling function of the unique ClimaCommand seat (explained in detail here) helps a little, but on our test bike it mostly made the seat feel less hot, not cold or even especially cool, and only on a strip in the center. Personally I'd rather have more padding instead, since the seat's thermoelectric module can be felt just below the surface, and it adds several pounds to an already heavy bike. On the other hand, with its substantial wind protection, adjustable heating in the seat and grips and all of that engine warmth, it takes a Blue Norther to get cold on the Roadmaster!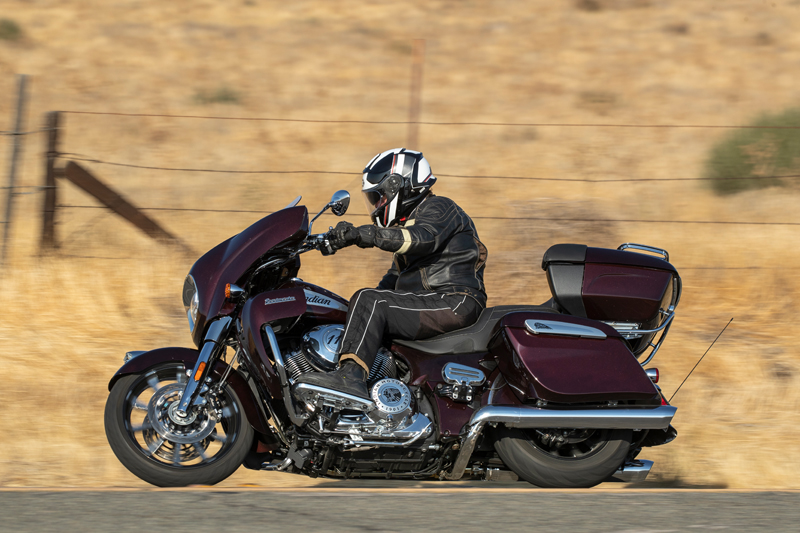 With 142 liters total of storage in the central locking saddlebags, trunk and fairing lower pockets plus its luggage rack you should never run out of room for stuff, and the trunk will hold two full-face helmets. Keyless ignition, throttle-by-wire, cruise control and three ride modes (Tour, Standard, Sport) are all included, though I never felt the need to ride in anything except Standard mode, which provides great throttle response. We've written reams about Indian's highly functional Ride Command infotainment system with its 7-inch glove-friendly touchscreen, navigation, Bluetooth and gigawatt audio with four speakers, and it only seems to get better with each passing year. For 2020 Indian added a new quad-core processor to speed up the experience, more intuitive destination search capabilities, improved customizable ride screens and Connected Services, which include traffic and weather overlays so riders can avoid traffic and poor weather conditions. Combine it all with hands-free Apple CarPlay functionality and you just won't find a more comprehensive system.
Which brings us back to that dilemma. Now that Indian has the Challenger, is there still a place for the Roadmaster? For me it comes down to a matter of style and tradition—though it adds a lot of electronic and performance advantages to the features found on the Roadmaster, the liquid-cooled Challenger's looks aren't everyone's cup of tea. Both versions of the traditional air-cooled Roadmaster, on the other hand, are and will remain classic beauties for the foreseeable future. And to many riders that's the most important aspect of a full dresser.
Mark's Gear:
Helmet: Shoei Neotec II
Jacket: Highway 21 Motordrome
Pants: Olympia X Moto II
Boots: Dainese Long Range
2021 Indian Roadmaster Limited Specs:
Base Price: $30,749
Warranty: 2 yrs., unltd. miles
Website: indianmotorcycle.com
Engine
Type: Air-cooled, transverse 49-degree V-twin
Displacement: 1,890cc (116ci)
Bore x Stroke: 103.2 x 113.0mm
Compression Ratio: 11.0:1
Valve Train: OHV, 2 valves per cyl.
Valve Insp. Interval: NA (self-adjusting)
Fuel Delivery: Closed loop EFI w/ 54mm throttle body
Lubrication System: Semi-wet sump, 6.0-qt. cap.
Transmission: 6-speed, cable-actuated wet assist clutch
Final Drive: Belt
Electrical
Ignition: Electronic
Charging Output: 710 watts @ 3,500 rpm
Battery: 12V 18AH
Chassis
Frame: Modular, aluminum backbone w/ cast aluminum swingarm
Wheelbase: 65.7 in.
Rake/Trail: 25 degrees/5.9 in.
Seat Height: 26.5 in.
Suspension, Front: 46mm stanchions, no adj.,
4.7-in. travel
Rear: Single shock, air-adj. preload, 4.5-in. travel
Brakes, Front: Dual 300mm discs w/ 4-piston opposed calipers & ABS
Rear: Single 300mm disc w/ 2-piston pin-slide caliper & ABS
Wheels, Front: Cast, 3.50 x 19 in.
Rear: Cast, 5.00 x 16 in.
Tires, Front: 130/60-BH19
Rear: 180/60-RH16
Wet Weight: 895 lbs.
Load Capacity: 490 lbs.
GVWR: 1,385 lbs.
Performance
Horsepower: 75.9 horsepower at 4,200 rpm
Torque: 105.8 lb-ft at 2,000 rpm
Fuel Capacity: 5.5 gals., last 1.0 gal. warning light on
MPG: 91 PON min. (high/avg/low) 41.3/39.9/38.8
Estimated Range: 219 miles
Indicated RPM at 60 MPH: 2,250
2021 Indian Roadmaster Limited Photo Gallery: