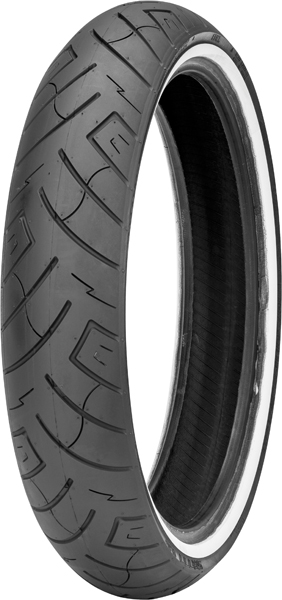 When I tested Shinko E804/E805 adventure tires on my Triumph Tiger 800 XCx a few years ago, I was impressed with their performance, mileage and value. So when my 2017 Harley-Davidson Road Glide Ultra needed new buns, I decided to try a set of Shinko SR777 tires. Because cruisers are used for cruising as well as touring, they use a rubber compound and aramid belting that strike a balance between grip, comfort, mileage and load capacity. I've put about 5,000 miles on the SR777s in a variety of conditions, including rough back roads, concrete freeways, mountain byways and parking lots strewn with shopping carts and minivans. They're holding up well and appear ready to handle another 5,000 miles.
Available with black or white walls, and in an H.D. (Heavy Duty) version with a reinforced carcass, SR777s have an attractive tread design that complements the classic styling on my Harley. The deep diagonal grooves not only look good, they help disperse water on wet roads. While cruising on mountain roads, the SR777s respond easily to inputs, with progressive lean-in and good stability all the way into and out of curves. Overall they feel neutral and planted, and tar patches and other pavement irregularities don't cause them to deflect. Grip and braking performance are solid and on par with other tires I've run. On the freeway, however, the SR777s required some vigilance to hold a steady course, in part because they exhibited a sensitivity to the longitudinal grooves that are common on California's poured-concrete freeways. On the other hand, they did a good job of absorbing shocks from rough perpendicular freeway joints.
I'm one of those obsessive guys who keeps track of fuel mileage with every fill-up. The 114ci big-bore kit on my Road Glide Ultra certainly trades some fuel economy for performance, but it makes me smile every time I twist the throttle. I also check my tire pressure obsessively, and the SR777s provide similar fuel economy as other tires I've run. On a recent long-distance trip from Southern California to Phoenix and back, I clocked 43 mpg.
Since tires are a wear item, I appreciate value. Depending on the size and application, SR777s use a bias-ply, belted-bias or radial design, and the wide range of available sizes accounts for a wide range of prices. Front SR777s list for $69.95-$199.95 and rears for $118.95-$239.95 (add $10-$15 for white walls), and sizes that fit my Harley are priced considerably lower than what I've paid for other tires. Check Shinko's website for a list of sizes and prices.
For more information, visit Shinko Tire USA.