During its initial production run, from 2011 to 2013, the Road Glide Ultra established a reputation as a serious touring machine, with its owners racking up more miles per year than those of any other model in Harley-Davidson's lineup. With ample wind protection, generous rider and passenger accommodations and plenty of luggage capacity, it's easy to see why.
After a two-year hiatus, the Road Glide Ultra returns new-and-improved for 2016. Like other Touring models, it has benefited from Harley-Davidson's customer-led Project Rushmore product development program, receiving enhancements such as a larger front fork with revised damping, restyled fenders, lighter and stronger cast-aluminum wheels, Reflex Linked Brakes with ABS, One-Touch latches and vents, improved instrument graphics and hand controls, and more. We've tested several Project Rushmore bikes over the past couple of years, and each improvement is worthwhile and appreciated but it's their combined effect on overall fit, feel and finish that is most impressive.
In addition to the Rushmore upgrades, the 2016 FLTRU Road Glide Ultra gets the same redesigned, frame-mounted Sharknose fairing as the updated-for-2015 FLTRX Road Glide and FLTRXS Road Glide Special. On all three models the fairing was moved 2 inches closer to the rider to make it easier to read the gauges and access the infotainment system's touchscreen, and it has triple Splitstream vents—one below the windscreen and two on either side of the bright-white Dual Daymaker Reflector LED headlights—that are designed to stay open in all but really cold or wet conditions. With its furrowed brow and gaping maw, the new Sharknose fairing is more menacing and distinctive than its predecessor, and to my eyes outshines the iconic Batwing fairing. For additional wind protection, the Ultra gets a 13.5-inch windscreen that's 4 inches taller than its counterpart on other Road Glide models.
Thanks to the sculpted shape of the fairing (designed using computational fluid dynamics and wind tunnel testing), Splitstream vents, tall windscreen and air deflectors mounted between the tank and fairing, air flows smoothly around the rider and passenger. The vents draw lots of fresh air into the cockpit, but there is very little turbulence. Even at highway speeds I felt only a mild flutter atop my helmet and at my shoulders, and the quiet air pocket made it easy to hear the audio system and navigation commands. The lower vents also provide open views of the road in front of the bike, reducing the visual mass of the fairing. Rounding out the bodywork are fairing lowers with closable vents for adjusting the amount of air that reaches the rider's feet. During an early morning ride, with all of the vents closed, my knees and hands got cold but everything else was well protected. (Heated grips aren't standard, but they're available as a $199.95 accessory).
With the weight of the Sharknose fairing carried by the frame rather than the handlebar (as it is on Harleys with Batwing fairings), steering the Ultra requires little effort and high winds don't put undue pressure on the handlebar. Like other Road Glide models, the 1.25-inch-diameter chrome handlebar was moved 5.5 inches closer to the rider, but on the Ultra the handlebar is positioned 2 inches higher for an even more relaxed seating position. Add in the extra-plush Electra Glide Comfort Stitch two-up seat, the wrap-around passenger backrest and rubber isolated floorboards (the passenger's are height-adjustable), and the end result is a nearly ideal cockpit for chasing the horizon.
Since the Road Glide Ultra is a favorite for long-distance touring and has fairing lowers, it was an ideal candidate to receive the Twin-Cooled High Output Twin Cam 103 V-twin. By combining traditional air cooling with precision liquid cooling—coolant circulates through the cylinder heads around the exhaust valves and then through a pair of radiators hidden in the fairing lowers—the Twin-Cooled 103 delivers higher and more consistent performance, especially under demanding conditions. The Twin-Cooled system enables a higher 10.0:1 compression ratio and 11 percent more peak torque than the standard Twin Cam 103. When we put an Ultra Limited with the same powertrain on Jett Tuning's dyno, the 1,690cc, 45-degree V-twin sent 95 lb-ft of torque (at 3,700 rpm) and 79 horsepower (at 5,200 rpm) to the rear wheel, with more than 80 lb-ft of torque available between 2,200 and 5,200 rpm (redline is at 5,500).
Although the rubber-mounted Twin-Cooled 103 shakes vigorously at idle, once under way it rumbles with a methodical cadence and emits a rich exhaust note that's never too loud. Quick bursts of throttle produce a roar from the twin chrome pipes, but otherwise the Ultra purrs right along. Even in stop-and-go traffic on a hot day, the Twin-Cooled 103 radiates only a moderate amount of heat, thanks in part to the Engine Idle Temperature Management Strategy (EITMS), a rider-initiated system that shuts off the rear cylinder when idling in hot conditions. Harley's throttle-by-wire system delivers good response at the right grip and enables electronic cruise control, which is standard on the Ultra. The hydraulic clutch's big lever requires a firm pull but has good engagement, the 6-speed transmission changes gears easily with the heel-toe shifter and final drive is a low-maintenance belt.
Holding the big Ultra together are a heavy, stout steel frame and swingarm, which support the Ultra's 922-pound curb weight and 438-pound load capacity. The Road Glide Ultra is one of the largest touring bikes you can buy and requires work to lift off the sidestand and push around the garage, but it feels solid and graceful on the road. The 4.6-inch-travel, 49mm-diameter telescopic fork is not adjustable, but the 3-inch-travel rear shocks have air-adjustable preload; proper air pressure is essential but a pump is not included (Harley's accessory air pump costs $49.95). As we've experienced on other Touring models with limited rear suspension travel, overall ride quality is good but large bumps can be jarring. With a lot of mass floating on relatively soft suspension, the Ultra wallows in corners at speed, but the bike never gets badly out of shape and it holds a line for dear life. Three 300mm rotors—two in front, one out back—are squeezed by powerful 4-piston calipers, but the brakes feel somewhat numb at the lever. The proportional linked function of the Reflex Linked Brakes system engages above 20-25 mph and ABS is standard.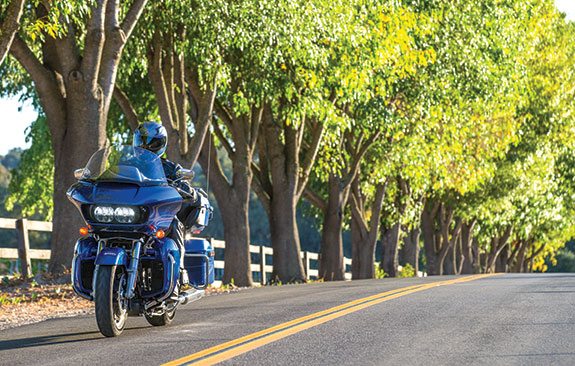 Though classic in terms of style, the Road Glide Ultra is fully modern in terms of infotainment. The Boom! Box 6.5 GT audio system includes Bluetooth connectivity, navigation, an AM/FM/WB receiver and a USB port for connecting a media device, and it can be controlled via touchscreen, buttons on the dash, thumb-operated joysticks on the switchgear and even voice commands. The system is intuitive to use and the four 5.25-inch speakers with 100 watts of power pump out good sound. My only complaints are that the touchscreen is easily obscured by sun glare, and I want the ability to customize what information is shown on the display.
In our last luxury touring comparison, we concluded that, relative to the Honda Gold Wing, the two American-made V-twins—the Harley-Davidson Ultra Limited and Indian Roadmaster—were "as good or better in terms of wind protection, rider/passenger comfort, load capacity and standard features." The Road Glide Ultra is essentially the same motorcycle as the Ultra Limited but with a Sharknose fairing instead of a Batwing. Except for the Road Glide Ultra's lack of heated grips, it has the same touring amenities as the Limited, such as a 6-gallon fuel tank, Smart Security System with hands-free fob, Tour-Pak and saddlebags with 133 liters of storage, saddlebag liners, a luggage rack, two fairing compartments and two 12V power outlets. But with its taller windscreen and three Splitstream vents instead of just one, the Road Glide Ultra provides better wind protection than the Ultra Limited and its frame-mounted fairing offers lighter handling. The Road Glide Ultra also has a more relaxed riding position and a more comfortable seat. For dedicated long-distance riders, as well as those who want style, comfort and luxury on their Sunday rides, what more could you ask for?
2016 Harley-Davidson Road Glide Ultra
Base Price: $25,699
Price as Tested: $26,999 (custom color)
Warranty: 2 yrs., unltd. miles
Website: harley-davidson.com
Engine
Type: Air/liquid-cooled, transverse 45-degree V-twin
Displacement: 1,690cc (103ci)
Bore x Stroke: 98.4 x 111.1mm
Compression Ratio: 10.0:1
Valve Train: OHV, 2 valves per cyl.
Valve Insp. Interval: NA (self-adjusting)
Fuel Delivery: Electronic Sequential Port Fuel
Injection
Lubrication System: Dry sump, 4.0-qt. cap.
Transmission: 6-speed, hydraulically actuated wet clutch
Final Drive: Belt
Electrical
Ignition: Electronic
Charging Output: 650 watts max.
Battery: 12V 28AH
Chassis
Frame: Tubular-steel double cradle w/ two-piece backbone, steel swingarm
Wheelbase: 64.0 in.
Rake/Trail: 26 degrees/6.7 in.
Seat Height: 29.7 in.
Suspension, Front: 49mm stanchions, no adj., 4.6-in. travel
Rear: Dual shocks, adj. for air pressure, 3.0-in. travel
Brakes, Front: Dual 300mm discs w/ opposed 4-piston calipers, fully linked & ABS
Rear: Single 300mm disc w/ opposed 4-piston caliper, fully linked & ABS
Wheels, Front: Cast, 3.00 x 17 in.
Rear: Cast, 5.00 x 16 in.
Tires, Front: 130/80-B17
Rear: 180/65-B16
Wet Weight: 922 lbs.
Load Capacity: 438 lbs.
GVWR: 1,360 lbs.
Performance
Fuel Capacity: 6.0 gals., last 1.0 gal. warning light on
MPG: 91 PON min. (low/avg/high) 35.4/39.8/43.5 Estimated Range: 239 miles
Indicated RPM at 60 MPH: 2,400
| | |
| --- | --- |
| Twin-Cooled High Output Twin Cam 103 lives up to its name, with just-right V-twin sound and feel. | Cast-aluminum Impeller wheels are stiffer and lighter. Brakes are strong and ABS is standard. |
| Enormous Tour-Pak trunk swallows two helmets, is carpet lined and has a 12V power outlet. | Four analog gauges surround the 6.5-inch touchscreen for the infotainment system. |