If you've taken an MSF Basic RiderCourse, there's a good chance you did it on a Honda Rebel 250, a small, approachable cruiser that's hardly a symbol of rebellion. Honda started making the Rebel in 1985, and it didn't change much over the years. The Rebel 300 replaced it in 2017, one of the three tiddlers we flogged during our Monkey Butt 500 ride. Honda also added a Rebel 500 to the lineup, nearly identical except for engine size. And this year they're joined by the all-new 2021 Honda Rebel 1100.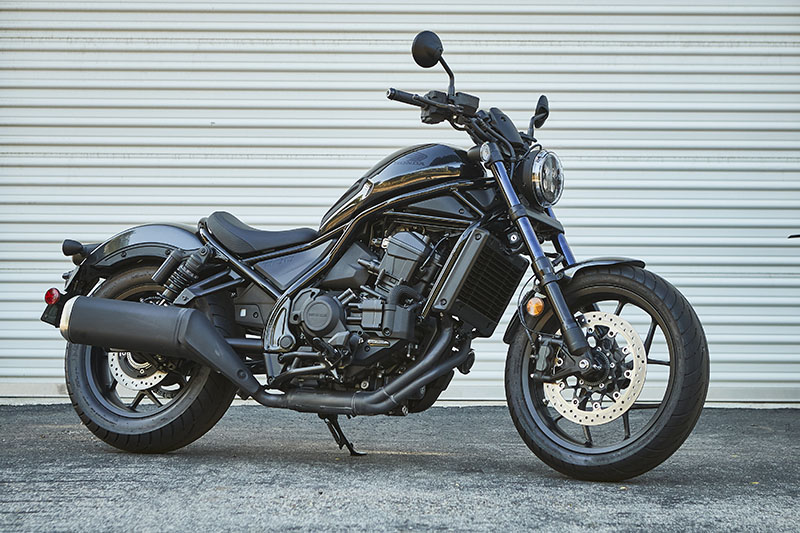 What Honda's market researchers discovered was, within 18 months of buying a Rebel 300 or 500, owners were stepping up to bigger bikes, and most of them were moving to different brands because there wasn't a suitable model in Honda's lineup. The 745cc Shadow Phantom and Aero models aren't big enough, and the 1,312cc Fury, probably due to its outdated chopper styling, isn't cool enough.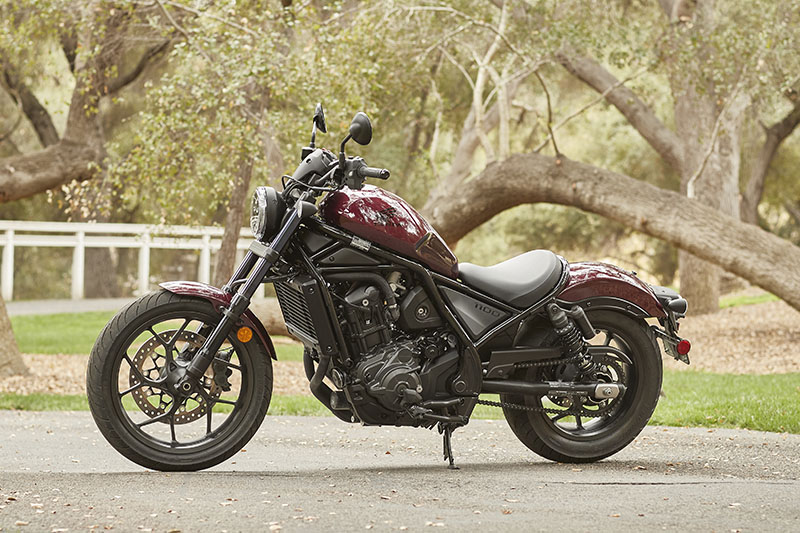 To keep Rebel owners in the family, Honda needed a bigger Rebel. Just as the Rebel 300 and 500 are derived from Honda's CB300F and CB500F naked bikes, the Rebel 1100 is derived from a performance-oriented model in Honda's lineup: the CRF1100L Africa Twin. It's powered by a version of the liquid-cooled 1,084cc parallel-twin used in the 2020 Africa Twin, which uses a Unicam SOHC valve train and is available with either a 6-speed manual gearbox or a 6-speed automatic Dual Clutch Transmission. When we tested a 2020 Honda Africa Twin Adventure Sports ES last year, it spun Jett Tuning's rear-wheel dyno to 92 horsepower at 7,600 rpm and 69.5 lb-ft of torque at 6,300 rpm.
Since the Africa Twin is an adventure bike and the Rebel 1100 is a cruiser, Honda adapted the engine to its new role. By increasing flywheel mass by 20% and inertia by 32%, the motor doesn't rev as aggressively as it does on the Africa Twin. Revised valve timing and lift, as well as changes in volumetric efficiency between the cylinders, add to the pulse feeling of the 270-degree crank. The Rebel also has a unique air cleaner, exhaust system and muffler.
The 1100 is not only larger than the Rebel 300/500, it's also more sophisticated. In addition to the optional DCT, standard equipment includes four ride modes (Standard, Sport, Rain and User, which is customizable), Honda Selectable Torque Control (aka traction control, which has integrated wheelie control), engine brake control and cruise control. Everything is easily adjusted via buttons on the handlebar, and all displayed on the 6.9-inch LCD dash. And there's a USB-C outlet under the seat, which has a 3-liter storage compartment large enough to hold your smartphone and a ham sandwich.
What makes cruisers so appealing to so many people, other than styling, is their low seat height. The Rebel 1100's solo saddle sits just 27.5 inches off the deck. That, plus a curb weight of just 487 pounds (509 for the DCT model), makes the big Rebel very approachable. With the engine hung low from the tubular-steel frame, the midmount footpegs are located on either side of the cases, attached to cantilever brackets that extend forward from the frame section aft of the engine. That positions them fairly far apart, and for a tall guy like me with a 34-inch inseam, my knees were above my hips and my ankles were at an awkward angle. Ergonomics are a personal matter, so you'll want to try before you buy.
What makes cruisers so limiting on so many roads is a lack of cornering clearance and minimal rear suspension travel. But the good folks at Honda threw us a bone. They bestowed the Rebel 1100 with a 35-degree bank angle on either side, allowing you to hustle through corners at a decent clip before dragging anything. There's no such thing as a slow press ride, and our small group of testosterone-addled and caffeine-fueled riders blitzed back roads through the Temescal Mountains and wine country near Murrieta, California. Suspending the rear are dual, preload-adjustable Showa piggyback shocks with 3.7 inches of travel, and they soaked up serious abuse without crushing my vertebrae into powder. Complementing the blacked-out drivetrain and chassis is a 43mm fork, adjustable for preload and offering 5.5 inches of well-damped travel, with a dark blue titanium oxide coating.
We were on DCT-equipped bikes, which means I don't know how the footpeg position would affect shifting. I've ridden Hondas with every iteration of the DCT since it first appeared on the VFR1200F back in 2010, and as often happens with technology, it has come a long way. The automatic shift points change depending on what mode you're in, and at any time you can shift up or down manually using the paddle buttons on the left grip. What makes the DCT work so well is that separate clutches handle even and odd gears, and the next gear is always cued up, making gear changes lightning fast and incredibly smooth. Bye-bye clutch lever!
Rolling on cast wheels in 18-inch front and 16-inch rear sizes and shod with Dunlop tires, the Rebel 1100 exudes confidence and stability in the handling department. Its handlebar falls naturally at hand, and its 3.6-gallon tank is slim between the knees — though mine were too high to fit within the sculpted cutouts. Single-disc, ABS-equipped brakes front and rear slow things down with laudable feel and control, with a strong radial-mount, four-piston monoblock front caliper squeezing a pie-plate-sized 330mm rotor.
Honestly, I can't remember the last time I had so much fun riding a cruiser. I don't have anything against cruisers, but I typically like to ride at a pace that isn't compatible with most of them. See lack of cornering clearance above, and, since many are tuned for low-end torque, they balk when revved high and their redlines are low. But the Rebel 1100 has a powerful, torquey engine that revs to 8,000 rpm, and it has the available lean angle, chassis and low weight to take full advantage of it.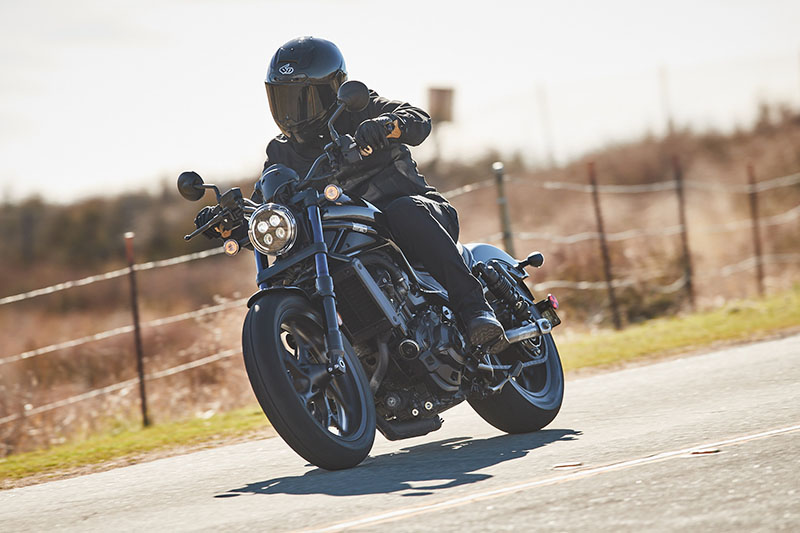 What's really impressive is how much bike you get for the money. At $9,299 for the base model and $9,999 for the DCT model, both of which come with throttle-by-wire, riding modes, traction control, cruise control, ABS and LED lighting as standard equipment, they are fully featured machines that fit within even the stingiest budget. And since cruisers are made to be customized, Honda offers a boatload of accessories — a seat, pegs and backrest for a passenger; luggage racks and saddlebags; a fairing with a windscreen; heated grips and more. Vance & Hines makes a 50-state-legal slip-on exhaust for the Rebel 1100, and Burly Brand makes a bunch of cool kit too.
It may be called a Rebel, but it's pretty darn sensible.
2021 Honda Rebel 1100 Specs
Base Price: $9,299
Price as Tested: $9,999 (DCT model)
Website: powersports.honda.com
Engine Type: Liquid-cooled, transverse parallel twin, Unicam SOHC w/ 4 valves per cyl.
Displacement: 1,084cc
Bore x Stroke: 92.0 x 81.5mm
Transmission: 6-speed, automatic Dual Clutch Transmission (as tested)
Final Drive: O-ring chain
Wheelbase: 59.8 in.
Rake/Trail: 28 degrees/4.3 in.
Seat Height: 27.5 in.
Wet Weight (claimed): 487 lbs. (509 lbs. as tested)
Fuel Capacity: 3.6 gals.
Greg's Gear
Helmet: 6D ATS-1R
Jacket: Sa1nt Unbreakable Denim
Pants: Sa1nt Unbreakable Jeans
Boots: Highway 21 Journeyman
2021 Honda Rebel 1100 Photo Gallery: