There are few motorcycles on the market that have such an immediate association with speed than the Suzuki Hayabusa. Built to win the top-speed wars of the late '90s and early '00s, the Hayabusa was once the world's fastest production motorcycle ever built, cementing its place in history. First launched over two decades ago, we are now getting our first look at the all-new 2022 Suzuki Hayabusa, complete with an aesthetic overhaul, modern rider aids, suspension tweaks and engine improvements.
Read our First Ride Review of the 2022 Suzuki Hayabusa
Over the years, the Hayabusa has carved out a few faithful niches in the motorcycling world. Sport and sport-touring riders give it praise for its street and track abilities, hot-rod drag racers swear by its straight-line performance potential, and it is the darling of customizers.
Now in its third-generation, Suzuki's hyperbike is slated to receive its first significant update since 2008. Although it is not a from-the-ground-up redesign, there are substantial changes to the platform. The first change is to the name, which ditches the GSX1300R tag and opts for what the rest of us have been calling it, the Suzuki Hayabusa.
The 'Busa's engine has always been the star of the show, and the new bike uses a heavily revised version of the 1,340cc in-line four-cylinder powerplant from the 2008 model, producing a claimed 187 horsepower at 9,750 rpm and a whopping 110 lb-ft of torque at 7,000 rpm. Those with an eye on the dyno printout will note the seven-point drop in peak horsepower and nearly 4 lb-ft loss of peak torque. Ever stringent Euro 5 emissions standards are undoubtedly the culprit, but there is a silver lining.
To combat the minor loss in peak figures, Suzuki wisely sacrificed some top-end horsepower in exchange for a much more relevant low-end and midrange grunt. Compared to its predecessor, the 2022 Hayabusa pumps out more power on the bottom-end and midrange puff, and for real-world street riding, that's where you need power the most.
Just as your mother told you, "it's what's on the inside that counts," most of the 1,340cc engine's internal components are lightened, strengthened or refined. The cylinder head is revised, new throttle bodies are employed, cam profiles are revamped, oil flow is optimized, stiffer valve springs are installed, the pistons and connecting rods are lighter and stronger, there is new magneto timing for improved starts and a new assist-and-slip clutch are the main highlights. All of those changes are capped off by the new 4-2-1-2-exhaust system that is 4.5 pounds lighter. Suzuki also says that these updates will improve reliability, while we say tuners will have an even stronger foundation to work build from.
When it comes to electronics, the new Hayabusa has leaped into the 21st century and has throttle-by-wire along with a full suite of rider aids, controlled by a Bosch 6-axis IMU. We can expect 10-level traction control, 10-level wheelie control, six engine power modes (three preset and three customizable), an up/down quickshifter, three-level engine braking control, three-level launch control, cornering ABS, cruise control, active speed limiter and hill hold assist. Lastly, there is a slope descent control that limits rear wheel lift under heavy downhill braking.
A TFT display is paired up with dual analog clocks that is a tasteful reference to the original Hayabusa. More to the point, nothing kicks up the drama of triple-digit motorcycle riding like watching a tachometer needle get buried in the red.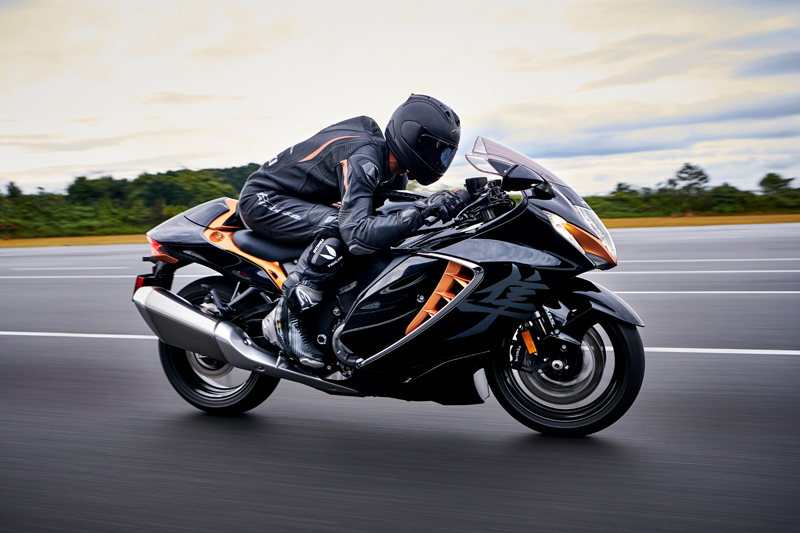 Returning to the fold is the same extruded aluminum twin-spar frame and swingarm, but is joined 1.5-pound lighter subframe. With a wet weight of 582 pounds, the low-slung Hayabusa is still thicker than a bowl of oatmeal; luckily, she's always carried her weight quite well and is said to have a 50/50 weight distribution.
The fully adjustable 43mm USD KYB fork is updated with new internals and improves ride quality. Meanwhile, a fully adjustable KYB shock takes care of things in the rear.
Braking hardware is upgraded, now equipped with 4-piston Brembo Stylema monoblock calipers and 320mm rotors, accompanied by a single-piston Nissin caliper and 260mm disc. Suzuki has also employed linked-braking, meaning that operating the front brake will simultaneously engage the rear. Bridgestone Battlax Hypersport S22 sport rubber is laced up on new cast-aluminum seven-spoke wheels.
Aesthetically, the Suzuki Hayabusa has gone under the knife while retaining its curvaceous features that are intrinsic to the 'Busa. Wind-tunnel testing has improved aerodynamics, and some influences are drawn from the GSX-R lineup, reflected in the LED and projector headlight design. Smart features like integrated LED turn indicators are a nice touch as well. The reshaped 5.3-gallon fuel tank is said to improve ergonomic comfort, while the handlebar position is brought closer to the rider and creating a more relaxed, upright rider triangle. The seat height is lowered marginally to 31.5 inches.
Available in Glass Sparkle Black and Candy Burnt Gold; Metallic Matte Sword Silver and Candy Daring Red; and Pearl Brilliant White and Metallic Matte Stellar Blue, pricing for the 2022 Suzuki Hayabusa starts at $18,599. It should be in dealerships this summer.
For more information, visit Suzuki.
2022 Suzuki Hayabusa Specs:
Base Price: $18,599
Engine Type: Liquid-cooled, transvere inline Four, DOHC w/ 4 valves per cyl.
Displacement: 1,340cc
Bore x Stroke: 81.0 x 65mm
Horsepower: 188 @ 9,700 rpm
Torque: 114 lb-ft @ 7,200 rpm
Transmission: 6-speed, cable-actuated assist-and-slip wet clutch
Fuel System: EFI w/ throttle-by-wire, 43mm throttle body x 4
Final Drive: O-ring chain
Wheelbase: 58.3 in.
Rake/Trail: 23 degrees/3.5 in.
Seat Height: 31.5 in.
Claimed Wet Weight: 582 lbs.
Fuel Capacity: 5.3 gals.
2022 Suzuki Hayabusa Photo Gallery: