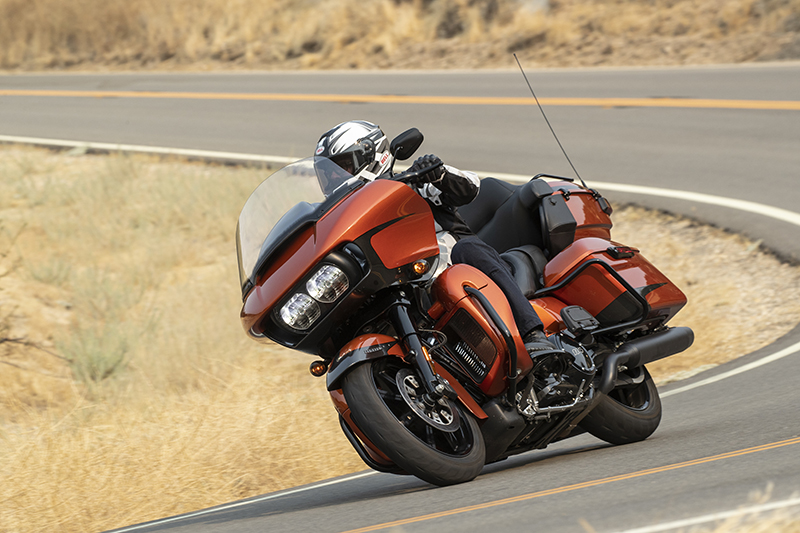 American V-twin motorcycles are big, boisterous, and have an unmistakable rowdy personality. Love 'em or hate 'em, they immediately assert their presence in the parking lot of any roadside haunt. The thrum of a massive, torque-rich engine and a booming exhaust note have almost become synonymous with Harley-Davidson — best exemplified in its touring machines.
Receiving a spit-shine from the Bar and Shield marque, the 2020 Harley-Davidson Road Glide Limited replaces the Ultra in H-D's touring bike lineup and adds premium finishes, along with high-tech options, to an already bright feather in the brand's cap.
Subtle updates to the luxury long-hauler come in the form of a gloss-finished inner fairing, painted pinstriping, new badges on the 6.0-gallon fuel tank and fenders, as well as heated grips. A dizzying array of paint options are available this year, along with a Black Finish package ($1,900) that bestows an ebony touch to nearly every piece of hardware. New premium 18-inch Slicer II wheels are the soul mechanical changes, up from 17- and 16-inch wheels on the Ultra.
At its core, it's still the same shark-nosed Road Glide with the bright LED Daymaker headlights, Boom! GTS infotainment, a massive top-case, premium Showa Dual Bending Valve suspension, linked braking by Brembo, a potent Twin-Cooled Milwaukee-Eight 114 powerplant, palatial seating and fit-and-finish fit for kings. This is a machine for the American V-twin touring faithful, dressed in full regalia.
The big news this year is optional tech. For $995, any H-D touring bike (save for the Electra Glide Standard) can be equipped with H-D's Reflex Defensive Rider System, which includes linked-braking cornering ABS, lean-sensitive traction control, hill-start control, tire pressure monitoring and an engine braking management system to reduce rear-wheel lock when decelerating. We'll dive into its functionality later.
What the Road Glide Limited yearns for is exploring the highways and hidden gems of your state. So, I did just that on this Tour Test, taking the RGL on a two-wheeled pilgrimage through Central California amidst a record-breaking heat wave and wildfires. Both made planning a route with reasonable temperatures and smoke-free scenery for photos a challenge, but it was a mere inconvenience compared to the challenge portions of the Western U.S. face, battling unprecedented drought and wildfires. The loss of life and property has been staggering, and our hearts go out to those who have had their lives upended.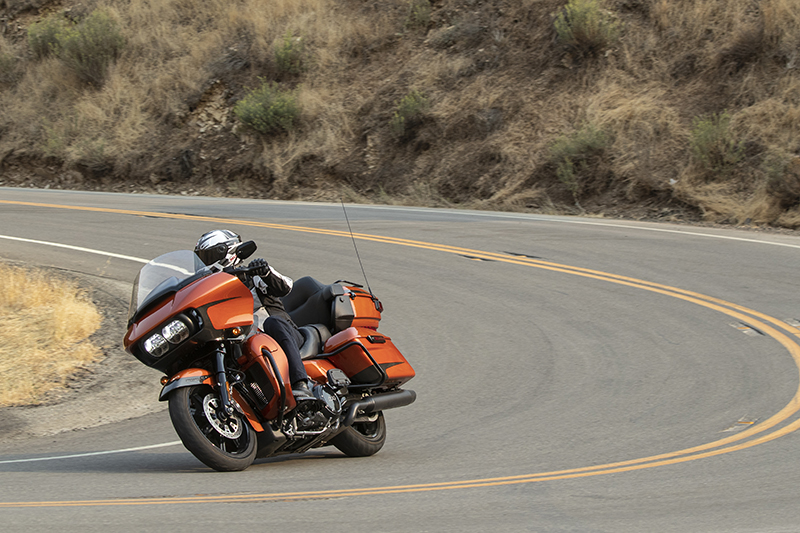 With the Tour-Pak and saddlebags filled to the brim, I set off in search of more temperate weather. The fog-blanketed beach cities of California's coast were more than tempting.
Santa Paula, California, is an unassuming agriculture town nestled in the nook of the Santa Clara River Valley. It's quaint, quiet, and has loads of quality places to nab a breakfast burrito. It's also where you can pick up California State Route 150 and venture into the Transverse Ranges, home to numerous legendary motorcycling roads.
Action is relatively light on SR 150; it mostly saunters up the hills and allows me to take in the RGL's lavish accommodations for the first time. At 5-feet, 10-inches, the Limited's cockpit has everything I can ask for on a long ride. Its plush, supportive leather-bound seat is 27.2-inches high (laden), and the mini-ape handlebar provides all the leverage I could want while keeping me in a neutral position. Floorboards allow plenty of movement during droning freeway rides, although the brake pedal angle is a tad acute. Meanwhile, the triple Splitstream frame-mounted fairing with a tall touring windscreen offers excellent wind protection and airflow.
The Boom! Box GTS infotainment unit's full-color TFT touchscreen has useful features like navigation, phone connectivity and vehicle data. Audio is clear, even when riding at freeway speeds, and the radio signal is downright impressive. Apple CarPlay and Android Auto are supported. However, you'll need to have your device connected to the USB port in the fairing cubby, and also be wired in directly with a helmet headset to use them.
Branching off SR 150 is the legendary State Route 33, a road that any motorcyclist in California worth their salt has traversed. With more views and winding corners than you can shake a stick at, some might even be interested in calling it a day after taking it in. I'd recommend a quick break at one of the many overlooks on Pine Mountain.
Dropping into the flatlands, temperatures spike into the triple digits during the summer in the San Joaquin Valley, making the ride through oil towns such as Maricopa, Derby Acres (population 322!), and Taft a drag if it weren't for the standard cruise control. Once in Taft, it's time to top off the RGL because my next stop won't be until Morro Bay, about 116-miles away and well within the bike's 217.5-mile fuel range.
State Route 58 is a gem of a road with variety that's rarely matched. Epic curves lead into long slogs through majestic wheat fields, and if the time of year and conditions are right, you might catch a California poppy super-bloom.
Roads like the 58 are where the Road Glide Limited shines. Our last 114 M8 engine produced a healthy 78 horsepower at 4,800 rpm and a stomping 104 lb-ft of torque at 2,900 rpm at the rear wheel on the Jett Tuning dyno. If you had doubts about the fully loaded RGL's ability to get-up-and-go, put them to rest now, because she'll compress you into the seat lickety-split. The 114ci M8 hums a nice, bassy tune with just enough visceral vibration coming through to let you know that it's alive.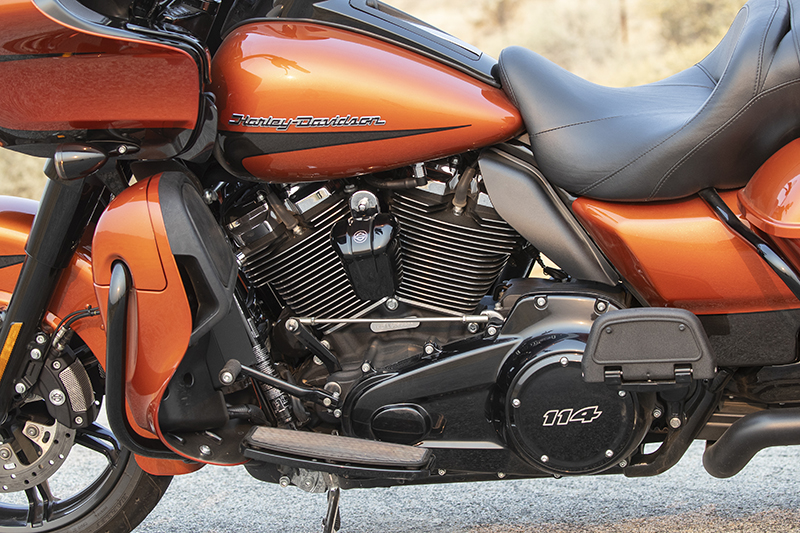 The 114's chunky gearbox makes sturdy, positive shifts befitting of the RGL's size. However, clutch pull is quite heavy, making clutch modulation during low-speed maneuvers tricky and taxing when in traffic. Luckily, all that luscious torque and well-spaced gear ratios will almost allow you to leave it in 6th gear, settling into a rhythm on a road like 58.
The 922-pound Road Glide takes some effort to lift off the sidestand and is cumbersome at low speeds, like many touring bikes of this size — plan your route carefully in tight spaces. Once you're rolling, its low center of gravity and gentle handling perform well, and thanks to the Road Glide Limited's frame-mounted fairing, steering is noticeably lighter than its Electra Glide brethren with fork mounted fairings. A bit of input on the mini-ape hanger bar and the RGL will tip in as quickly and as controlled as you'd like, holding a steady line.
The non-adjustable 49mm Showa Dual Bending Valve fork with 4.6-inches of travel does a commendable job of hiding road impurities. The spring preload adjustable rear shock with 3-inches of travel can struggle to deal with hard-edged potholes but does soak up rough roads well, in general.
I did notice that when the pace picks up, the RGL's plush setup, abbreviated suspension travel and older dual-shock chassis design show their limitations. Over long, fast sweepers, wallowing can be felt that serves as a warning to cool your jets. It never truly gets out of shape, but it's as if the Road Glide is tapping you on the shoulder, saying, "More Grand Tour, less Gran Tourismo, kid."
Branching off 58 is the short, but very sweet SR 229 — colloquially known as "Rossi's Driveway." This single-lane, undulating road sweeps through loads of twisting, blind corners in a roughly 8-mile stretch of tarmac and seems like something only a motorcyclist could dream up — hence the reference to Italian MotoGP star, Valentino Rossi. It's still fun to hustle the big RDL on a road seemingly built for Supermotos.
With the sun setting behind the hills, I connected to State Route 41, making my way to Morro Bay. Even at dusk, inland temperatures this time of year are high. As you drop down toward the coast, the reprieve comes with each mile, eventually leading to a cool, socked-in beach city.
Morro Bay is a kitschy spot with beautiful views and seafood along the boardwalk, which isn't a bad place to stretch your legs after a good ride. It's a surf town with a vibe to match; things happen at their own pace here, unless you're working the bustling docks or fishing boats. There's plenty of affordable lodging, as well as more ritzy accommodations and even camping options nearby.
In the morning, we headed south on U.S. 101 in search of winding roads, jumping on SR 166 to Tepusquet Road in the Santa Maria Valley. Much like Rossi's Driveway, Tepusquet sachets through the mountain range, diving in and out of the valley, with plenty of action to perk you up in the morning. There is something fun about wrangling a bike of this size through narrow, single-lane roads.
Brembo provides the braking hardware, with 300mm rotors all around. Feel at the lever is progressive and does require a generous pull if you need to stop in a hurry — like when wild turkeys run out in your path.
In those moments, H-D's RDRS rider aid package goes from optional to mandatory. On compact, often dirty mountain roads, I'll ride with more confidence when faced with corners filled with debris or obstacles.
Tepusquet Road spits you out into wine country, with grapevines as far as the eye can see, and onto Foxen Canyon Road. One can saunter along the Foxen Canyon Wine Trail or make the foliage blur along the respectably winding road. Asphalt here is something of a mixed bag due to all the agriculture vehicles, and again, highlights the need for a decent electronics package.
When I hit SR 154, I know that my ride is coming to a close. In a short time, I'll be winding down the mountain in Santa Barbara, California, and reconnecting with U.S. 101 for the slog back into SoCal. The Road Glide Limited has been a fixture in American V-twin touring due to opulent rider and passenger comfort and massive storage capacity. In 2020, its chassis is beginning to show its age, but when it comes to luxury touring, the feature-loaded Road Glide Limited offers everything else one could want.
Nic's Gear:
Helmet: Bell SRT-Modular
Jacket: Scorpion Phalanx
Pants: Scorpion Covert Ultra
Gloves: Racer Soul
Boots: Stylmartin jack
2020 Harley-Davidson Road Glide Limited
Base Price: $28,299
Price as Tested: $33,394 (RDRS, color)
Warranty: 2 yrs., unltd. miles
Website: harley-davidson.com
Engine
Type: Precision liquid-cooled, transverse 45-degree V-twin
Displacement: 1,868cc (114ci)
Bore x Stroke: 102.0 x 114.0 mm
Compression Ratio: 10.5:1
Valve Train: OHV, 4 valves per cyl.
Valve Adj. Interval: NA (self-adjusting)
Fuel Delivery: Electronic Sequential Port Fuel Injection
Lubrication System: Dry sump, 5-qt. cap.
Transmission: 6-speed, hydraulically actuated wet assist-and-slipper clutch
Final Drive: Belt
Electrical
Ignition: Electronic
Charging Output: 625 watts max.
Battery: 12V 28AH
Chassis
Frame: Tubular-steel double cradle w/ two-piece backbone & steel swingarm
Wheelbase: 64.0 in.
Rake/Trail: 26 degrees/6.7 in.
Seat Height: 27.2 in. (laden)
Suspension, Front: 49mm stanchions, no adj., 4.6-in. travel
Rear: Dual shocks, adj. preload w/ remote knob, 3-in. travel
Brakes, Front: Dual 300mm floating discs w/ opposed 4-piston calipers, fully linked & ABS
Rear: Single 300mm fixed disc w/ opposed 4-piston caliper, fully linked & ABS
Wheels, Front: Cast, 3.5 in. x 18 in.
Rear: Cast, 5.0 x 18 in.
Tires, Front: 130/70-BH18
Rear: 180/55-BH18
Wet Weight: 922 lbs. (as tested)
Load Capacity: 438 lbs. (as tested)
GVWR: 1,360 lbs.
Performance
Fuel Capacity: 6 gals., last 1.0 warning light on
MPG: 91 PON Min (low/avg/high) 33.0/36.3/43.1
Estimated Range: 217.5 miles
Indicated RPM at 60 MPH: 2,200
2020 Harley-Davidson Road Glide Limited Tour Test Review Photo Gallery: