As Honda's flagship model and a luxury touring bike that is near and dear to the hearts of many a Rider reader, we have written quite a lot about the Honda Gold Wing over its 45 model-year lifespan. The latest 2018-and-newer generation, in particular, has received more than its share of our scrutiny, in part because it is so radically different than the previous gen, but also because our coverage began way back in September 2017 with leaked images of the all-new bike. Then we flew to Japan the next month with just three other journalists for a (6 hour!) tech briefing and first ride on camouflaged prototype Gold Wings around Honda's Twin Ring Motegi racetrack. In January 2018 my wife Genie and I traveled to Austin, Texas, for the bike's U.S. introduction and two-day first ride in some wonderfully chilly weather, and not long after that we put the new Gold Wing head-to-head with the BMW K 1600 GTL in a comparison test here in balmy Southern California.
All of those reviews, stories and more on the GL1800 can be found on our website and in 2017-2018 issues of Rider. In revisiting them for this story and after putting about 600 miles on the 2020 Tour model featured here, I found that our assessments of the bike and most of the technical information still hold true. Some small but effective changes have been made for 2020 that we'll touch on, but for the most part Honda's concentrated approach to getting it right the first time with each new generation of Gold Wing gives them amazing longevity — prior to 2018, the last major model change was for 2001. Thus far the Gold Wing's 2018 engine design hasn't required any changes to meet later emissions regulations, so our dyno run of a 2018 model should still be representative. Despite being significantly lighter and more compact, the thoroughly revised 1,833cc opposed flat-six engine made peak numbers (101 horsepower and 106 lb-ft of torque) that were virtually identical to our 2015 test bike, but the new engine started making more than 100 lb-ft about 800 rpm lower, at 2,300 rpm, and didn't fall below 100 lb-ft until 5,100 rpm as before. So despite taking a lighter, sportier approach with the rest of the bike, the engine is even more of a stump pulling, touring capable unit than it was before.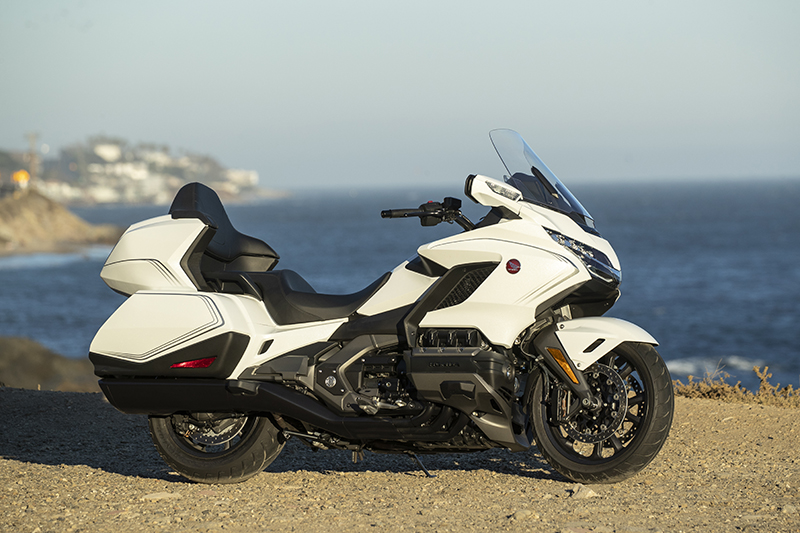 Before we get to the new stuff and how it works, here's a brief written refresher to complement the walk-around video in our digital magazine version: Honda took a "light is right" approach with the new GL1800 that knocked off almost 90 pounds, shortened its overall length by 2.2 inches and further centralized mass for better handling, while maintaining its signature roomy rider and passenger accommodations. The 1,833cc flat six is also lighter and more compact, and the bike's all-new bodywork is sleeker, lighter and has taut new styling. The Gold Wing's electronics are also state-of-the-art, with throttle-by-wire, four riding modes, C-ABS braking and switchable traction control, an electronically adjustable windscreen and suspension, Bluetooth and a fully featured infotainment and navigation system that includes Apple CarPlay and Android Auto integration. For 2020 five models round out the lineup, including two base models (no top trunks) with either 6-speed manual or 7-speed DCT automatic transmissions, and three Tour models with 50-liter top trunks, one with a manual transmission, one with DCT and the top-line Airbag DCT model. For 2020 pricing ranges from $23,800 all the way up to $32,300 for the Airbag version. All feature an electric windscreen, cruise control and keyless central locking. The Tour models add electronically adjustable suspension preload, and the DCT Tours have Walking Mode/Reverse (the manual Tour model gets regular Reverse).
That Pearl Glare White paint treatment with blacked-out engine, frame and wheels on our Tour test bike and the Tour DCT model is new for 2020, and it really turns heads. We've tested the new Wing's DCT automatic transmission extensively and found that it works very well, shifting smoothly and quietly, and that its Sport, Drive and manual modes (plus manual override in either auto mode) can really make the bike a joy and easier to ride underway. For precise low-speed maneuvers and starting out, however (particularly two-up and/or with a heavy load), and riding on dirt and gravel roads, we prefer to have the extra power modulation a manual clutch provides. The Gold Wing's new dual-wishbone spring-strut front end soaks up the bumps incredibly well and makes the bike rock stable at anything above a walking pace, but something about it also causes the steering to hunt a little at very low speeds. Combine that with the possibility of abrupt throttle application with the DCT, and the bike can feel a bit unruly, particularly when starting out or on a loose surface. Being able to slip a manual clutch eliminates the problem for the most part — think of it as a throttle modulator.
Aside from some steering heaviness in tight corners, everywhere else both the manual and DCT models behave more like sport-touring machines than luxury-touring bikes. Changes are inevitable in any machine this complex — fortunately Honda kept them minimal for 2020 and the bike is only seven pounds heavier at 838 pounds wet (and still 78 pounds lighter than the previous gen). Most noticeable are taller new passenger grab handles, which are easier to reach from the pillion yet don't interfere with comfort or mounting/dismounting the bike. There's a USB charging port in the left saddlebag now in addition to the one in the front center storage pocket (which itself gets a new button latch that works much better). At first blush it seems strange that neither USB charging port is accessible from outside its pocket/saddlebag, but they're primarily intended for smartphones that can be stashed away when used in conjunction with Apple CarPlay or Android Auto and Bluetooth headsets. By the way, Android Auto integration was just added in July 2020 as a DIY software update that is compatible with 2018 and later models and also includes new audio equalizer adjustments, a navi automatic volume adjustment, four color map selection and an ETA function.
Besides new colors for some of the other models as well, that's it for significant changes for 2020. And it wouldn't surprise me if the bike is left alone for another decade, since overall it's such a well put together, versatile luxury-touring machine that can cross the country or cross into sport-touring territory. After just one ride its enormous power spread leaves no doubt the Wing is capable of burning up a twisting mountain pass or squirting around slower vehicles in a flash, even two-up and fully loaded, usually with just a single downshift. The C-ABS braking is strong, confidence inspiring and easily modulated at the lever and pedal, and the bike's smoothness, comfort and wind protection make the miles disappear on the Interstate, back roads and lonely highways. Seating comfort for rider and passenger is exceptional, the heated grips and seats work very well (and have separate button controls instead of being buried in the electronic menu), and the audio/infotainment system is powerful, intuitive and comprehensive.
Wish list? Of course, most of which carries over from our tests of the 2018 model. The new passenger grab handles for 2020 address that complaint, and making the fog lights standard creates a highly visible triangle of bright LED light up front that greatly increases conspicuity. But the Wing's luggage capacity shrunk with the introduction of the 2001 model, and shrunk even more in the new model, to the point that now even a solo rider can have trouble packing everything in the saddlebags and top trunk for a multi-day trip. Less convoluted saddlebag interior shapes would be a good start, but the top trunk should also be capable of holding two full-face helmets of any size with Bluetooth communicators attached. Adding a small luggage rack to the top trunk helps, as do the two small storage pockets up front, but even then two-up camping is a real challenge. Fortunately the aftermarket offers larger luggage lids, trailer hitches and hitch racks.
Many thought the reduction in fuel capacity from 6.6 to 5.5 gallons on the new Gold Wing would be a deal breaker on such a long-haul bike, but it turned out to be a non-issue, since the 2018 and later models get significantly better fuel economy. I would still like to see Honda make the suspension damping separately adjustable — currently you can electronically adjust the suspension preload separately to four settings (solo rider, rider with luggage, two up and two up with luggage), but the damping settings are tied to the selected ride mode (Sport, Tour, Eco and Rain). Overall the suspension works brilliantly in most situations, especially with two riders and a full load, but there are times riding solo when I would like to set a softer ride in Tour mode with its smooth throttle response, or dial-in more damping without engaging the abrupt throttle of Sport mode.
How important these criticisms are will vary with every rider. The Gold Wing's longevity is also its curse — Honda needed to carve off some weight and give the bike a leaner, sportier profile to shed its "couch on wheels" image and attract new owners and younger riders, since everyone who wants something like the former bike already has one. The overall result is incredibly functional, fun and stylish, even if you have to leave the blow dryer at home. Oh, and your spare shoes, the laptop, bottle of wine….
Mark's Gear:
Helmet: Arai DT-X
Jacket: Scorpion Optima
Pants: Olympia Airglide
Boots: Dainese Long Range
2020 Honda Gold Wing Tour Specs:
Base Price: $23,800
Price as Tested: $27,500 (Pearl Glare White Tour model)
Warranty: 3 yrs., unltd. miles, transferable
Website: powersports.honda.com
Engine
Type: Liquid-cooled, longitudinal opposed flat six
Displacement: 1,833cc
Bore x Stroke: 73.0 x 73.0mm
Compression Ratio: 10.5:1
Valve Train: Unicam SOHC, 4 valves per cyl.
Valve Adj. Interval: 24,000 miles
Fuel Delivery: EFI w/ 50mm throttle body
Lubrication System: Wet sump, 3.9 qt. cap
Transmission: 6-speed, hydraulically actuated wet assist & slipper clutch
Final Drive: Shaft, 1.795:1
Electrical
Ignition: Fully transistorized
Charging Output: 1,560 watts @ 5,000 rpm
Battery: 12V 20AH
Chassis
Frame: Aluminum tubular & box-section double cradle w/ single-sided cast aluminum swingarm
Wheelbase: 66.7 in.
Rake/Trail: 30.5 degrees / 4.3 in.
Seat Height: 29.3 in.
Suspension, Front: Double-wishbone w/ Showa shock, electronically adj. (as tested), 4.3 in. travel
Rear: Pro-Link w/ Showa shock, electronically adj. (as tested), 4.1 in. travel
Brakes, Front: Dual 320mm discs w/ 6-piston opposed Nissin calipers & C-ABS
Rear: Single 316mm disc w/ 3-piston floating caliper & C-ABS
Wheels, Front: Cast, 3.50 x 18 in.
Rear: Cast, 5.00 x 16 in.
Tires, Front: 130/70-R18
Rear: 200/55-R16
Wet Weight: 838 lbs. (as tested)
Load Capacity: 421 lbs. (as tested)
GVWR: 1,259 lbs.

Performance
Fuel Capacity: 5.5 gals., last 1.0 gal. warning light on
MPG: 86 PON Min (low/avg/high) 36.3/40.5/44.7
Estimated Range: 223 miles
Indicated RPM at 60 MPH: 2,050
2020 Honda Gold Wing Tour Photo Gallery: