According to the bike's thermometer it's a chilly 45 degrees when my wife and I set out from the hotel outside Austin, Texas, on our first ride in the U.S. aboard Honda's completely revamped Gold Wing Tour. That's a heckuva lot warmer than it will be the next day in mid-January, though, when all y'all Texans will remember the Blue Norther that descended upon the state, bringing freezing rain and 20-degree temperatures that closed roads and Interstates and ended up limiting our ride to one 200-mile day instead of two. So today we're making the most of our time, trying every feature the new Wing has to offer as we cruise around the Texas Hill Country enjoying the rise and fall of the winding roads and finally getting to experience the soul of this new machine on real American blacktop.
Read our tech rundown and ride review on the 2018 Honda Gold Wing in Japan
The story linked above has a pretty thorough description of what's new on the Gold Wing as well as a brief riding impression from my first hands-on experience at the Twin Ring Motegi circuit in Japan. After a few laps on preproduction machines it was apparent that the standard and Tour models definitely live up to the promise of more responsive power, less weight and a more compact size, enhanced stability and terrific brakes. Last week's ride in the Hill Country served to bolster that assessment and gave us a better feel for how the new Gold Wing's suspension performance, comfort and electronic user-friendliness measure up.
Bikes were assigned to each journalist in our group on the riding day, and Yours Truly was handed the keyless ignition fob for a top-line Gold Wing Tour DCT Airbag model, which adds a 7-speed automatic transmission with forward/reverse Walking Mode and a lighter new airbag system to the base Tour model. The airbag is, ahem, no longer made by Takata, and has an updated collision judgment system. Honda has offered an Airbag model since 2006—in the event of a frontal collision, it should slow the rider's momentum as he or she is thrown forward and reduce injuries. Not something I ever want to test.
The tradeoff for this safety feature is that the handy tank-top storage compartment found on other models is filled with the airbag and the USB port inside is relocated to the trunk, which is where you plug in your iPhone to enable Apple CarPlay. Besides the lost storage it's not really an inconvenience though, since in conjunction with a Bluetooth headset CarPlay allows you to do everything you should need on the road without having to access the phone itself (and you can still connect your phone to the bike just via Bluetooth if desired to use a basic feature set, but CarPlay won't work). Apparently Google told Honda it wants to focus on the automobile market for now, hence the lack of Android Auto compatibility.
Genie and I were able to pair our Sena 20S headsets to the bike easily, then connected my iPhone in the trunk, where there's a special holder for it in front. Before we even left the hotel parking lot we were able to listen to music from the phone, Pandora or Spotify, take and make calls and texts, use Apple maps or the bike's built-in Navi and talk to one another on the headsets' intercom. Honda is quite safety-conscious so a lot of Navi and vehicle function settings are disabled when underway, but there's some cool stuff you can customize in the menus (like if the headlight turns on gradually or all at once), and you can even disable the self-canceling function of the turn signals. Music sound quality from the four 25-watt speakers on Tour models is pretty good (a 50-watt amp and speaker kit is available), but it was a bit tinny in the Sena 20S headsets. Honda says the upcoming Sena 10C Evo will have more compatible software, hopefully with more bass response. Regular co-pilots will want the optional passenger audio controller, which adjusts volume, source and track.
Twelve-volt accessory outlets are optional—and generally have limited output—so we connected our electric vest cords directly to the bike's battery. We were still quite happy to have the bike's heated grips, seats and passenger backrest as well and cranked them to high with their dedicated buttons. Levels for the front are displayed on the new TFT/LCD display, and the passenger has a five-position control on the left saddlebag. Even in full riding gear we noticed higher heat levels in these areas over the old bike, and it wasn't long before I had to turn down the grips and my seat. Genie left her seat and backrest on high most of the day, commenting that she loved them but that the lower settings seemed superfluous. Might be a different story in jeans and a T-shirt rather than full riding gear, not that you should ride that way….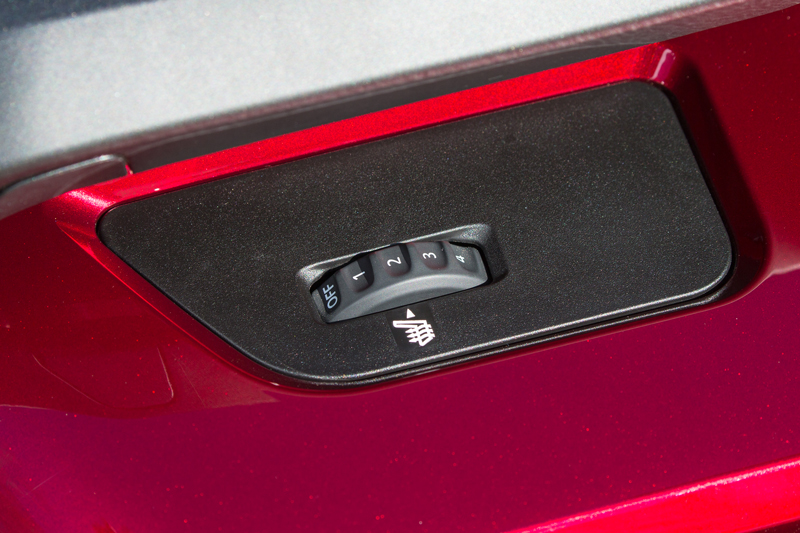 Getting the Wing's weight and size down were primary goals, and to that end the seats and backrest are less plush than before, but not as plush doesn't mean uncomfortable—at the end of our 200-mile day neither of us had any complaints with them. I was able to get my feet down easily, and enjoyed some decent lumbar support, too. It's pretty obvious that the flat passenger seat on both models is the same and styled for the standard with no top trunk, since seat bolsters would look weird on that bike, so the aftermarket should be able to improve upon it for Tour models. Although the armrests that come standard on the Airbag model were comfortable, Genie did miss the storage compartments under them on the old bike, and found the new grab rails too low to be of much use, particularly under hard braking. Again I think the sleek, tucked-in rails are simply a form-over-function issue and will be easy to fix. Both of us did find it quite easy to get on and off the bike, since the front seat is nice and low and there's nothing to get in the passenger's way.
Both riders are seated farther forward on the new Wing to help centralize mass and improve handling, and they also sit a little closer together, but there's still plenty of room in between. Wind protection is stellar for the pilot, especially with the electric windscreen all the way up (where I had to look through it), and though there's some noise in lower positions I didn't notice any buffeting. A pop-up winglet on the fairing directs more air at the rider for warmer weather. Passengers are pretty well protected overall but being farther back they do have to deal with some wind noise and buffeting—by mid-morning Genie wished for her earplugs and had turned her electric vest back on, while I never needed them. As with the previous model it gets colder in the back simply because the airflow tends to close around the rider and hit the passenger. Not a showstopper but a larger windscreen and the accessory wind wings may be in order if you regularly ride in cold weather with a passenger.
Overall the bike definitely looks and feels lighter, tauter and more compact, like a big sport-touring motorcycle rather than traditional luxury-touring machine, but in terms of comfort neither of us would hesitate to take it cross-country. The rider's seat is low and the weight of the bike easy to manage when you're pushing it around, and though the luggage capacity has been reduced a watertight duffel on the optional trunk luggage rack will easily replace that volume when needed. Honda feels that its customers tend to take 2-3 day trips now vs. longer ones and therefore less space is needed, and also made the point that the stuff we find takes up the most space—spare shoes, jacket liners, rain suits, etc.—can be done without today by using modern gear. When we get a test bike next month we'll pack for a longer two-up ride and see how the bike fares. Obviously there should be plenty of room for a solo rider.
Getting underway the first thing you notice is an almost complete lack of felt shock and vibration up front thanks to the new double-wishbone suspension. While you watch the tie-rod ends bounce furiously up and down over bumps, pavement seams and ripples, the handlebar grips, mirrors and fairing/windscreen remain rock steady, adding greatly to the bike's comfort level and quality feel. After you adjust the preload yourself electronically, the suspension damping front and rear on the Tour models self-adjusts based on the set riding mode. It's noticeably stiffer in Sport than in Tour, Eco or Rain modes, but seems well-calibrated for a comfortable ride in all of them.
As in Japan I found the bike more stable overall, letting you look briefly at the scenery without drifting across your lane as on some other bikes, and that it steers neutrally and easily, with ample cornering clearance for normal riding. I need to ride it more back-to-back with the old bike, but I did notice what seemed like sluggish low-speed handling in our numerous U-turns for photos and parking lot maneuvers. Because it has a shorter handlebar than the old Wing's lengthy tiller, the distance between the grips and the front axle is about the same. But the new double-wishbone front end stretches the distance between the steering head and the front axle to almost double the old bike, which may contribute to a resistance to turn at low speeds and a kind of vague feeling at higher ones, not unlike other bikes with alternative front-end designs (telescopic forks do tend to have very direct steering feel). Having a passenger may have exacerbated the feeling and only one other rider in our group complained about it, so perhaps it's just a matter of my needing to get used to the new bike's steering feel vs. the old.
Although Honda says the engine's small power increase is mostly on the bottom and top (it doesn't provide claimed horsepower and torque numbers), to me it felt stronger overall, probably because of the improved power-to-weight ratio (the last Navi ABS model we tested weighed 916 pounds and churned out 105.7 lb-ft of torque at 4,100 rpm and 100.9 horsepower at 5,700 rpm). Although the Tour DCT Airbag model we were on is the heaviest in the line at a claimed 842 pounds, on paper that's still 91 pounds lighter than the previous Airbag bike. Acceleration is brisk in Touring and Sport modes and the bike has a throaty exhaust note—some may even find it a little loud now, and the deeper tone created a mild resonance in my left ear at times.
Basically the riding modes change the ratio of the throttle opening to the grip opening, the level of Honda Selectable Torque Control or traction control (HSTC can also be turned off) and suspension movement. For riding briskly Sport mode keeps the rpm up, shifts more frequently, allows more rear-wheel slip and reduces pitching. Touring mode optimizes engine speed for mellower highway riding, and provides a comfortable ride and maximum torque control. Eco and Rain modes both soften the power delivery and ride the most for fuel economy or wet roads. On our Tour DCT Airbag model the 7-speed automatic transmission was terrific—it upshifts better than the rider ever could, and downshifts in auto or manual mode are noticeable but quite smooth as well. Honda says it made an effort to engineer enough "shift shock" into the DCT to give the rider a positive feel of engagement with a smooth ride, and it seems to have worked. The only time I wished for a manual clutch was in those U-turns and parking lots I mentioned earlier, when slipping it would give me more control over the throttle input and potentially easier maneuvering. I wasn't able to get a direct mpg measurement, but the trip computer showed an average of 41.1 mpg at the end of the day, which would give the bike a range of 226 miles from its smaller 5.5-gallon tank.
At the end of the day we came away very impressed with the new Gold Wing, and can't wait to get a test bike for a longer ride. For our reviews it's been my goal to keep adding information each time we test the bike rather than repeat it, so be sure to read my earlier riding impression (which has more tech, a full spec chart, a model feature comparison and more). We're planning a comparison test with the BMW K 1600 GTL quite soon, so there's more to come!
Mark's Gear:
Helmet: Shoei Neotec
Jacket: Tour Master Transition 5
Pants: Rev'It
Boots: Dainese
Genie's Gear:
Helmet: Shoei RF-1200
Jacket: Spidi
Pants: BMW
Boots: Firstgear
Keep scrolling for more photos.