Life is so simple when you're young. As teens and 20-somethings we thought nothing of loading up our dirt bikes, gas cans, firewood, chili, beer, chips and more beer in the ol' pickup truck and heading out to ride in the desert and OHV parks, sometimes for days. Sleep usually came in a camp chair by the dwindling fire, or in the back of the truck. It was all about the riding, and après riding, so all of the effort and time involved just getting there went unnoticed.
Dirt bike riding and ownership is definitely more complicated than living with a street-legal bike, however, and that complication creates inertia that can be hard to overcome when you get older and busier and are dealing with, say, kids, a job and a mortgage. Off-road riding is fun, exciting, challenging and helps build skills you can use on the street, but since the bike can only be ridden off-road in designated areas, first you have to get it there. That requires a truck or tow vehicle and trailer of some sort, ramps to load the bike in the truck, tie-downs to secure it and the skill and ability to do all of that in the first place. Add to that loading up all of your riding gear, water, food, sunblock and first aid kit and you're good to go…after about an hour's worth of effort.
Once you arrive at the riding area—from my house the closest is about an hour's drive—then it's time to unload everything, gear up and go riding. Which is heaven! Once you acquire some basic off-road riding skills, either on your own, by riding with friends or at a training school, there's nothing quite like the thrill of exploring single-track trails, conquering hill climbs, sand washes and desert moguls or dark forest paths between trees. Dirt bikes are light and have big power-to-weight ratios, so just twisting the throttle on one and shooting down a dirt road is a major rush. And once you learn how, many of the hooligan antics—wheelies, sliding, burnouts, etc.—that would land you in jail on the street are par for the course off-road.
Tired and had enough riding for the day? OK, load it all up once again, and unload one more time when you get home. Wash the bike, drain its carburetor if it has one (and the bike will sit for a while until the next ride), get cleaned up and collapse on the couch. Sound fun? It really is, particularly if the type of off-road riding you do and your skill level really warrant a non-street-legal dirt bike. The 2020 Yamaha WR250F we sampled for this story, for example, weighs just 255 pounds gassed up and has fully adjustable suspension with more than 12 inches of travel at each end. Its liquid-cooled, fuel-injected, DOHC 4-valve, 4-stroke single revs briskly and makes whopping torque and top end power, fed through a wide-ratio (hence the WR) transmission that's good for slow technical trails, flat-out flying and everything in between. Lights and an electric starter round out a mission-critical package that can tackle just about anything off-road.
But what if you just want to do some off-road exploring, perhaps at a mellower pace, and have no interest in all of the additional expense and logistical hassle of getting you and a dirt bike out to a riding area? Adventure bikes are all the rage these days and can handle some off-road riding, but they're expensive and most of us don't have the skills to pilot a 500-plus-pound behemoth down much more than a dirt fire road. Even the smaller KTM 390 Adventure tested in this issue weighs 387 pounds wet—that's like adding a passenger to the weight of the typical dirt bike.
If your off-road forays are not too far away—or even if they are and you're OK taking frequent breaks along the way—a good alternative to truck ownership or big ADV machines is a light single-cylinder dual-sport bike. For the least weight and most performance, the European makers like KTM and Husqvarna offer some very serious (and expensive) lightweight dual-sports. But all of the Japanese manufacturers also sell less expensive models in displacements from 200 to 650cc. The 250s run from just 296 to about 321 pounds and still make enough power for riders (who aren't exceptionally large) to not only tackle a lot of the same terrain dirt bikes can—at a slower pace—but they can also be ridden to the trailhead from home, skipping the whole load/unload/repeat process. More dirt is open to a dual-sport as well, since unlike a dirt bike it has a license plate and is legal on the thousands of miles of unpaved public roads that connect, for example, ghost towns in Nevada and the national forests in Tennessee.
The 2020 Yamaha WR250R we sampled for this story shares much of its WR250F sibling's DNA, but has far fewer unobtanium bits for racing so it costs $1,900 less. Yet at 296 pounds gassed up, it's still the lightest of the affordable Japanese 200/250 dual-sports. The WR250R's liquid-cooled single is based on the F's 250cc race-ready enduro motor and shares the same bore and stroke, but among other changes has lower compression and mellower cam profiles for more street tractability. Seat height is still quite tall at 36.6 inches, but that's an inch lower than the F's, and the R still soaks up the bumps with 10.6 inches of fully adjustable suspension travel at each end. And it averages 61 mpg!
The WR-R's design can't take the pounding that its tougher enduro-inspired sibling can, but unlike many dual-sports it was built more for off-road than road, so you can tackle some pretty gnarly single-track terrain, ruts, rocks and jumps if it's not too heavily loaded. The trade-off, of course, is its lower level of on-road comfort. Though it's surprisingly smooth at highway speed and cruises right along at 65-70 mph without the engine feeling like it's going to blow up, the seat is tall, narrow and hard, and the bike can get blown around in high winds. I have no problem riding it on the highway for a couple hours at a stretch before I need a break, though, and the aftermarket offers more comfortable seats, soft luggage (see the review on page 62) and suspension lowering kits as well as lots of bolt-ons to upgrade its off-road chops. Gearing can be easily raised or lowered depending upon how much off-road riding you actually end up doing, and the suspension beefed up as needed.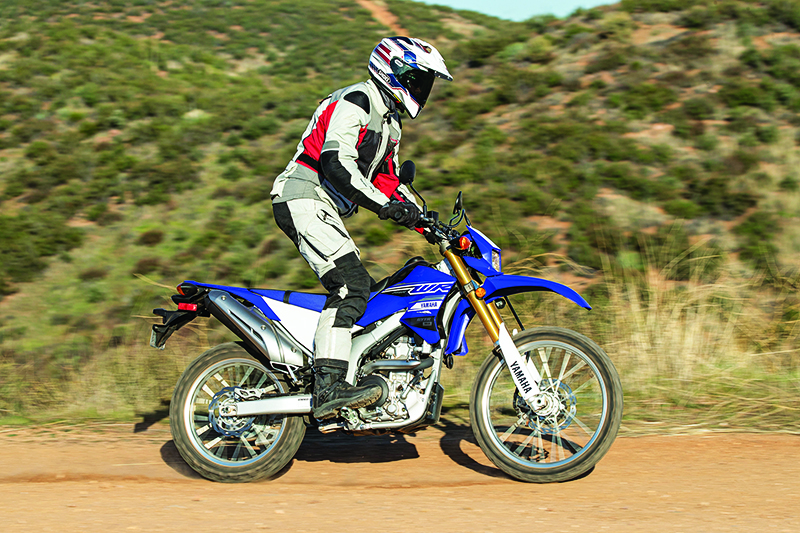 Thirty years ago, I would have chosen a dirt bike every time for any kind of off-road riding. Today convenience and cost are more important than speed and ultimate capability, which makes a bike like the WR250R dual-sport the obvious choice.
Mark's Gear (WR250F):
Helmet: Fly Racing Formula Vector
Goggles: Fly Racing Zone Pro
Jersey: Fly Racing Kinetic K120
Pants: Fly Racing Evolution
Boots: Fly Racing FR5
Greg's Gear (WR250R):
Helmet: Shoei Hornet x2
Jacket: Scorpion Yosemite
Pants: Scorpion Yosemite
Boots: Alpinestars Corozal
2020 Yamaha WR250R/WR250F Specs:
Website: Yamaha
Base Price: $6,699/$8,599
Engine Type: Liquid-cooled single, DOHC, 4 valves per cyl.
Bore x Stroke: 77.0 x 53.6mm
Displacement: 250cc
Fuel Delivery: EFI
Transmission: 6-speed, cable-actuated wet clutch
Final Drive: O-ring chain
Wheelbase: 55.9/58.3 in.
Rake/Trail: 26.7/27.2 degrees; 4.4/4.6 in.
Seat Height: 36.6/37.6 in.
Wet Weight: 296/255 lbs.
Fuel Capacity: 2.0/2.2 gals
MPG: 91 AKI min (avg): 61.0/NA