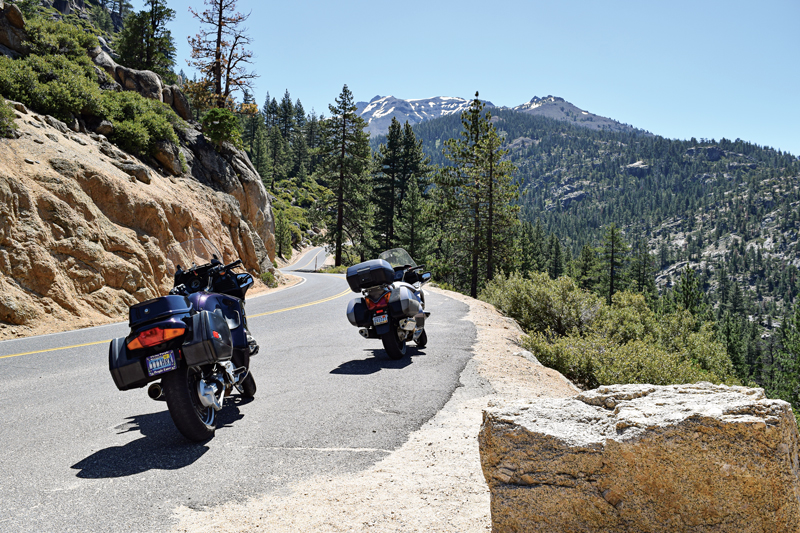 Late spring is a great time to do some pass bagging in the Nevada and California gold country. The passes are usually open by mid-May, and there is a beautiful mix of greenery, wildflowers and snowcaps in the high elevations. Today's ride also contains a bit of adventure, as my honey and I are boldly moving into the 21st century with a pair of new helmets that have integrated headsets for bike-to-bike communication. I soon learn that it can be refreshing having voices in my head other than my own.
"I'm rolling," I say into the microphone as we simultaneously turn northeast out of Virginia City onto Nevada State Route 341. We experience our first pass of the day within minutes as we reach 6,789-foot Geiger Summit and follow its winding path down into south Reno. Crossing U.S. Route 395, we stay on the same road, but it magically changes numbers to 431 and takes us to our second pass, Mount Rose.
State Route 431 begins with a straight climb through the foothills, but soon changes into 20 mph curves, which are a bit tighter than the sweeping 45 mph curves on 341. We begin to see some patches of snow before reaching the 8,911-foot summit, and upon crossing it are rewarded with our first peeks at Lake Tahoe. The lake will dominate our view for many miles and we are able to take brief looks at it because the tight curves have widened out to 50 mph top-gear corners, which we follow down to State Route 28.
As we follow the roundabout left on 28, an emphatic, "I'm hungry," booms from my headset speakers.
"Good timing," I reply. "We're almost to Incline Village and can stop at T's Mesquite Rotisserie for a burrito."
T's is a little hole-in-the-wall place on Route 28 crammed between the Incline Village Cinema and 7-Eleven, but its lunchtime crowd shows it is a locals' favorite. We are thoroughly satisfied sharing a tri-tip burrito and leaving their rotisserie specialties for the next time we're in town.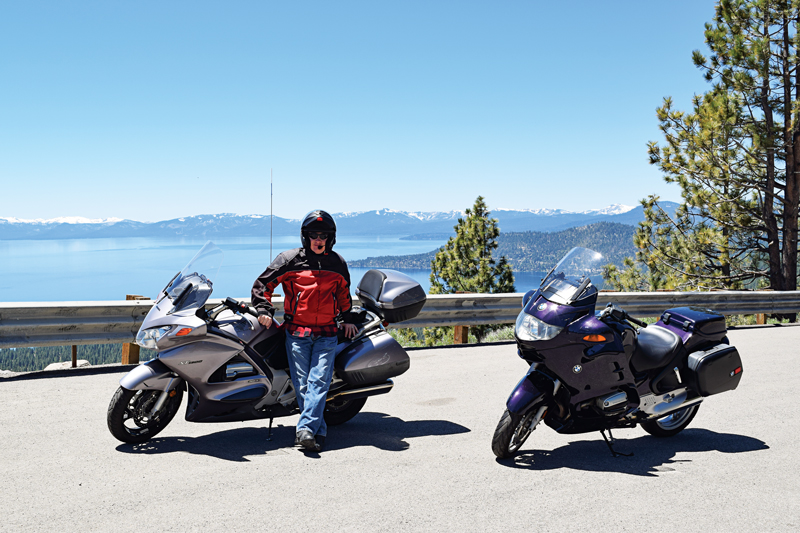 Heading south on Route 28 again, we continue to steal glimpses of Lake Tahoe on the right as we ride along its shoreline. When 28 dead-ends, we turn right onto U.S. Route 50 and savor our last miles of Tahoe views as we head toward South Lake Tahoe.
Entering South Lake Tahoe, we avoid the worst of its traffic by taking Pioneer Trail as we cross into California. We turn left to rejoin U.S. 50 but only stay on it for a few miles because our next left onto California State Route 89 takes us to 7,740-foot Luther Pass.
Luther Pass is really only a connector road, but it is a beautiful one with granite cliffs rising on both sides and valley views to the east. Continuing on 89, we go through Markleeville and follow it alongside winding creeks as its name changes to State Route 4.
Route 4 continues following creeks upstream into the Sierra and soon the centerline disappears, making it a one-and-a-half-lane road. That's where the fun really begins. The next several miles up to the Ebbetts Pass summit of 8,730 feet are full of first-gear switchbacks with extreme road cambers. Give any vehicles in front of you lots of space. If they choose to stop for any reason and leave you stranded in the middle of a highly cambered curve, it will lead to some truly exciting moments. There are also incredible views in all directions if you can ever spare a second to take your eyes off the road.
Soon after the summit, I hear in my headset, "Some doofus just passed me on the one-lane road and now he's heading up your tailpipe." I check my mirror and find said doofus right behind me. As I hug the right side of the lane to let him by, I think about how much I like our new intercom helmets.
The ride down Route 4 is much like the ride up, but it soon becomes two lanes again and mellows out. We then begin looking for our next left turn onto Parrotts Ferry Road, past the town of Murphys. This road has more enjoyable curves and takes us to our night's destination of Columbia, California.
Columbia is a state park set up as an Old West mining town complete with museums, people demonstrating skills of the period and stagecoaches running through town. Contrastingly, Columbia's airport was hosting a canard aircraft show during our stay, so we also had to check that out.
After our tourist day, we continued on Parrotts Ferry Road and merged briefly onto State Route 49 south through the town of Sonora. We then turned left onto State Route 108 east, Sonora Pass Road, which was another highlight of our trip.
At 9,624 feet, Sonora Pass is slightly more civilized than Ebbettts Pass, with two lanes for its entire length. It has its share of first-gear switchbacks and my favorite views of the trip. The descent back into the valley is steep, and it quickly drops us off at an intersection with U.S. 395.
We blast north on 395 with our pass bagging nearly complete. A right turn onto U.S. 50 in Carson City and then a left onto Nevada State Route 341 several miles later takes us to our last pass of the trip. Approaching Silver City, we turn right and follow the Truck Route signs to Virginia City. This takes us up Occidental Grade with its 20 mph curves, offering a fine completion to our ride.