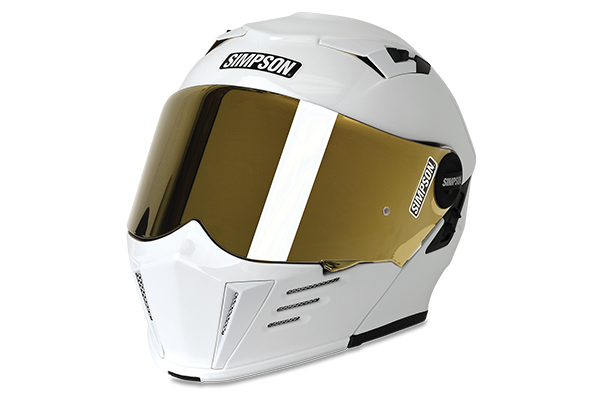 There's really no beating modular helmets for convenience (though seldom are they described as "cool"), but if you're a fan of Simpson's signature aggressive look you no longer have to sacrifice convenience in the name of coolness, thanks to the new Mod Bandit. Ironically, it was Simpson's ad in Rider magazine that first drew my attention to the Mod Bandit (that's how those things are supposed to work, right?), and I immediately requested one for review.
The Mod Bandit is available in sizes XS to 2XL with two shell types: composite ($479.95), which comes in white, gloss black or flat black, and carbon fiber with a gloss black polycarbonate chinbar ($679.95). While it appears very similar to the full-face Ghost Bandit, the Mod Bandit sizing runs large, so Simpson advised me to order an XS instead of my usual Small, and it was the right call. However, the XS crown liner was too thick for my head shape so I swapped it out for a thinner Medium; it snapped right in and fits much better.
Along with the removable/interchangeable/washable liner and cheek pads, fit and finish on the ECE- and DOT-certified Mod Bandit is impressive. The chinbar raises and lowers with one hand and locks solidly with metal hardware, and I love the spacious feeling of the large eye port. Two crown vents are easy to operate with gloves on but their small openings don't flow much air; the six chinbar vents flow it directly onto the rider's face but open and close via levers inside the chinbar that are tough to access with the chin curtain installed.
The Mod Bandit comes with a clear, Pinlock-ready main visor and tinted inner drop-down shield, but I opted to swap the tinted inner shield for a clear one, and the clear main visor for a cool gold-mirrored one (both of which took only seconds and required no tools). This allows me to maintain that aggressive Simpson look for day rides, and if I'm caught out after dark I can raise the dark main visor and use the clear inner shield.
My carbon fiber Mod Bandit is a relatively featherweight 3 pounds, 7 ounces, and while aerodynamic in a headwind it gets pushed around in a strong crosswind. It's also a bit noisy, although I ride with earplugs so that's not a deal-breaker for me. Overall this is a quality lid that proves it really is possible for a modular helmet to be cool. Makes me wonder why anyone would buy a standard full-face.
For more information, call (800) 654-7223 or visit simpsonraceproducts.com.