Adventure bikes have been gaining traction in recent years, with numerous offerings from BMW, KTM, Ducati, Triumph, Honda and Yamaha, to name a few. Tire manufactures have responded. Michelin's new Anakee Adventure 80/20 ADV tire now gives riders with off-road aspirations a third option, joining the heavily street-biased Anakee III and the 50/50 on-/off-road Anakee Wild tires.
The Anakee Adventure features a new profile, tread pattern and silica compounds, and it includes a Two Compound Technology 2CT front and 2CT+ rear. Four separate compounds are used in a set, with the softest residing on the sides of the front tire for grip and the hardest being used in the center of the rear for optimal tread life.
To celebrate the launch of the new tires, Michelin held a weekend riding/camping event near Death Valley. With a fresh set of Anakee Adventures mounted on a Suzuki V-Strom 650, I was looking forward to seeing how these 80/20 tires would perform in a typical 700-mile ADV weekend ride.
Most adventures, sadly, start with freeways. The Anakees exhibited great high-speed stability, tracked well though a variety of man-made rain grooves and seams, were compliant over square-edged transitions and, most importantly, were not noisy.
After a few hours' slog, finally: Nevada back roads. The Anakee Adventure's tread pattern resembles a dry lakebed, with grooves that gradually open toward the sides for shedding water and dirt. They worked well and were predictable, admittedly at a restrained pace on one road in need of maintenance, with sand, rock slides and running water that covered the entire aging road surface.
With an experienced off-road rider on packed dirt, these tires punch above their weight. Throttle control and momentum are key, particularly in steep terrain whether descending or climbing. We sampled steep rock-embedded trails, jeep trails and high-speed desert roads. I did hit one well-disguised patch of deep sand at speed, causing the old "sand wash swap." Thankfully, I rode it out.
Back in the twisting canyons near my home, it's all grins, with the Anakee Adventures offering excellent turn-in, grip and feedback at a peg scraping pace. Both tires felt planted and stable under spirited corner braking and acceleration, thanks to bridge blocks that stabilize the tread where the grooves are at their widest points. Things went from dry to wet with a well-timed rain shower, providing the opportunity for repeated panic stops. The Adventures proved to offer impressive wet grip, and the V-Strom's ABS kicked in much later than I expected. I wasn't willing to push it to peg scraping pace, but at sane speeds cornering grip in the wet was more than competent.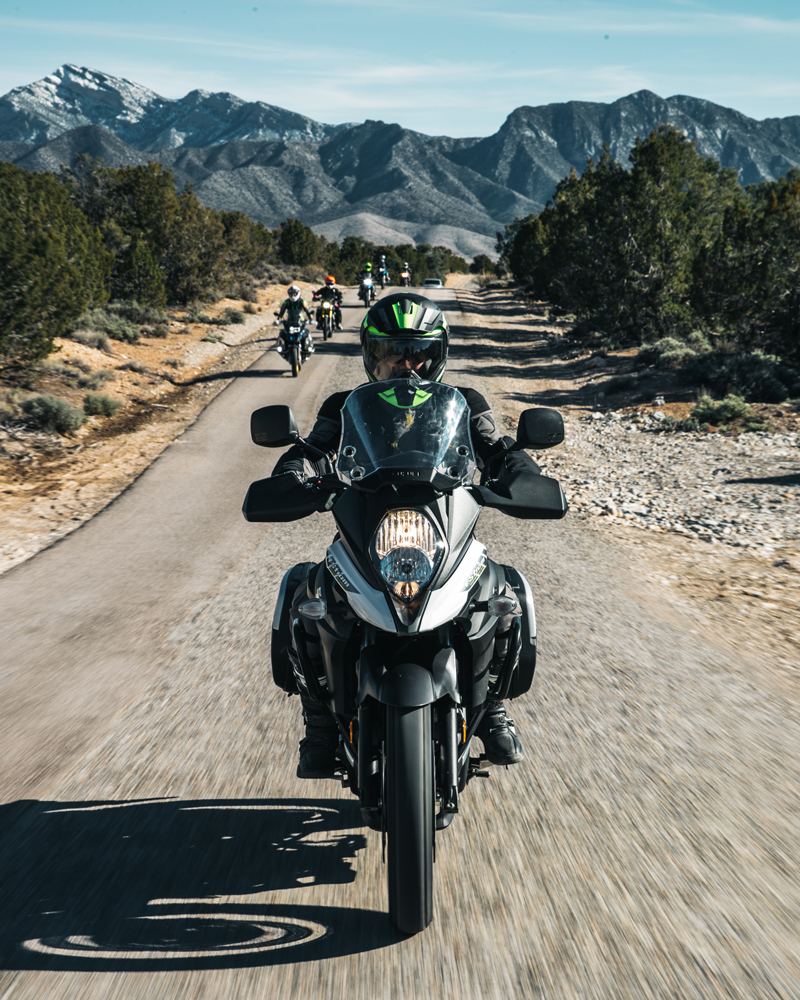 The Michelin Anakee Adventures are a solid 80/20 ADV tire option for those looking for impressive wet and dry pavement performance, along with the confidence to tackle some surprisingly rugged terrain, and they paired nicely with the V-Strom 650. We'll check back in with an update on tread life once we've had a chance to put some more miles on them.
For more information and pricing, see your dealer or visit motorcycle.michelinman.com.