Here we are, at the beginning of a new year and the end of an era. After a 32-year run (1987-2018), Kawasaki has ceased production of the KLR650. After tens of thousands of units sold and millions of miles ridden around the globe, the legendary dual-sport has been retired. A victim of ever-tightening emissions regulations, the KLR and its lone carburetor have been put out to pasture.
In its early days Kawasaki billed the KLR not as a dual-sport but as a "triple-sport," a motorcycle good for street, dirt and touring. That aligned perfectly with Rider's focus on touring, travel and adventure, and since the KLR has always been reasonably priced, even more so when purchased used, it also fit within the limited budgets of staffers and contributors. Editor-in-Chief Mark Tuttle, Managing Editor Jenny Smith and Senior Editor Yours Truly have owned, and loved, KLRs. And long-time dual-sport contributor Arden Kysely owned not one but two KLRs, racking up more than 65,000 miles.
In the October 2013 issue of Rider, Clement Salvadori wrote his Retrospective column about the 1993-1996 Kawasaki KLX650, a more powerful, more off-road-oriented spin-off of the KLR, and he summed up the icon's early history:
"On the conservative end was the venerable KLR650, which began life as a 600 in 1984 and showed a very modern approach to dual-sporting as it had the first liquid-cooled engine, with a kickstarter and a smallish gas tank holding just three gallons. For 1985, the engine-starting procedure got an electric leg, and sales showed that customers liked this innovation, the first in the single-cylinder dual-sport world. This 600 grew into a 650 in '87, and the gas tank grew to 6.1 gallons. This was followed by the brief one-year appearance of the Tengai version in 1990, essentially a restyling of the standard KLR with a Paris-Dakar look and a bigger fairing. These bikes were directed at riders of modest accomplishments who liked to ride 50 miles to a national forest and then potter along dirt roads for half a day."
Read about the first-gen KLR in "Re-Cycling: 1987-2007 Kawasaki KLR650"
Salvadori was on hand for the KLR650's first test in Rider, a three-bike tour test comparison with the Honda Transalp and BMW R100GS published in the April 1989 issue, two years after the KLR650 was introduced. (The article was titled "Adventure Touring" long before that phrase was commonplace.) With Editor Mark Tuttle and Technical Editor Bob Price in tow, Clem led the gang through Death Valley–up Goler Wash, out to Aguereberry Point and through Emigrant Canyon–back when the area was still a national monument (it became a national park in 1994). The KLR proved to be the best off-road bike of the three thanks to its generous low-end torque, 9.1 inches of suspension travel and comparatively low weight. On the road, however, its 651cc single was buzzy (despite having dual counterbalancers) and its front brake was woefully underpowered. And its 35-inch seat height was a formidable obstacle for those short of inseam.
In the years that followed, Rider selected the KL650 Tengai as the "Top Adventure Touring Motorcycle" (May 1990 issue) and published touring features in which the KLR650 played a leading role ("Dirty Duo," August 1993; "A KLR in Color Country," May 1995). The KLR soldiered on, selling well and building a loyal following.
Rider published its first solo test of the KLR in the November 1997 issue, written by Arden Kysely. Having gotten the formula right out of the gate, the KLR underwent few changes during its first two decades. A rare round of updates for the 1997 model year were limited to a lighter flywheel, an extra clutch plate and a more conservative color/graphics package. About the KLR's brakes, Kysely penned this memorable line: "…the front and rear discs muster all the enthusiasm of a teenager cleaning his room." Weak brakes aside, he praised the KLR for its affordable price, good midrange power and torque, nimble handling, ample range, comfortable seat and ability to carry lots of gear.
With fond memories of his years, miles and adventures on KLRs (he put 40,000 miles on his 1989 KLR and 25,000 on his 1997 KLR), Kysely had this to say: "The KLR is no beauty queen, lacks modern electronic rider aids and won't win many drag races, but there's no better bike for newbies and veterans on a budget to take exploring. The KLR is for riders who want to enjoy the country they're riding through, not just blast through to check another route off the list. And it's the ultimate workhorse–just keep it shod and fed and a KLR will be your faithful companion on many adventures. Compared to more modern bikes, this one-lung adventurer may seem lacking, but it's simplicity and ruggedness are virtues not found in the high-dollar machines."
Read Arden Kysely's "The Arrival: A Tale of the Sierra Madre on KLR650s"
With so many KLRs on (and off) the road–by some estimates, nearly 150,000 were produced–the venerable dual-sport fueled a veritable cottage industry in the aftermarket. In the May 1999 issue of Rider, EIC Tuttle wrote a project bike feature called "King KLR." Starting with a stock 1998 KLR650, he upgraded the suspension (including an Öhlins shock), handlebar, seat, exhaust, clutch, tires and various odds-and-ends, such as the infamous "doohickey," the name the KLR community gave to the notoriously failure-prone "balancer chain adjuster lever." He also swapped the steel gas tank for a lighter plastic one (being translucent, it also provided a low-tech fuel "gauge") and added hand guards, a taller windscreen, cleated footpegs, a centerstand, a skid plate and soft luggage.
Having turned the KLR into a more comfortable and versatile adventure tourer, he bought the bike from Kawasaki and kept it in his garage for more than a decade, occasionally using it for two-up camping trips with his wife, Genie. Looking back, Tuttle muses: "Since 1987 the primary benefit of the KLR650 has also been its biggest weakness: size and comfort. Though far lighter than contemporary liter-class ADV bikes, compared to most dual-sport 650 singles the KLR is heavy and has less ground clearance, so it can be a handful in sand and on big hills. At a Jeep-like pace it tackles moderate single-track trails and fire roads just fine, though, and its bigger seat, road-hugging weight and liquid-cooling make it a far better companion on long road rides than its air-cooled competitors."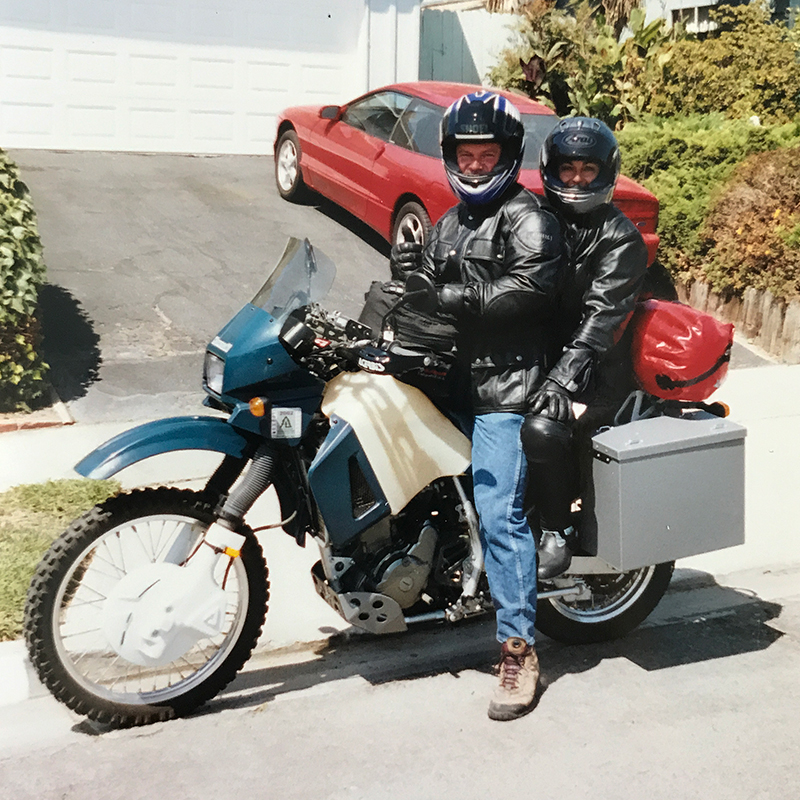 Tuttle continued: "My most memorable KLR650 experience was road-racing one on a 150-mile white-knuckled sprint from Ensenada to San Felipe in Baja, Mexico, a La Carrera homage probably put on by the late great Loyal Truesdale. Even though the road was closed and the bike topped out at the ton, I lost count of the close calls after the fifth burro encounter…."
When I joined the Rider staff in 2008, I convinced EIC Tuttle to let me borrow his kitted-out KLR for an adventure-bike ride with a group organized by our local BMW dealer. After borrowing it a couple more times, scratching it up and developing a genuine fondness for the KLR, I pestered Tuttle for months to sell it to me. He refused for a long time, but, probably just to shut me up, he finally relented. Most of my buddies rode expensive BMW GSs, but I loved my low-tech KLR.
Thanks to the KLR, I learned how to ride a big dual-sport/adventure bike, tackling sand washes and technical hill climbs, crashing more times than I'd care to admit. I referred to my KLR as the Mountain Goat because it would go just about anywhere…not particularly fast, but it was a trooper. And riding the KLR wasn't "work." I didn't have to worry about damaging a test bike or evaluating the bike I was on, so I could just ride for riding's sake. Riding the KLR on national forest roads and trails throughout the Angeles, Los Padres and Sequoia national forests and all over the Mojave Desert reminded me of my high school days, when I would explore trails on my mountain bike. And I met a lot of great people on group rides, several of whom are some of my best friends to this day.
King KLR and I had eight good years together, but the reality was that it spent much more time parked in the garage than it did out on adventures, and today's ethanol-blended gas (and my neglect) took its toll on the fuel petcock and the tiny jets in the carburetor. With a twinge of sadness, I sold it to a good friend–the very same guy who led the first and many of the best rides I had on the KLR. It's still in the family, so to speak, and I think of that bike every morning when I drink coffee out of my KLR650 mug.
Read our 2007 Kawasaki KLR650 vs Honda XR650L vs Suzuki DR650S comparison review
The KLR got its first and only major update for the 2008 model year, with engine tweaks for smoother and stronger power delivery, better suspension and brakes, a more supportive seat and new switchgear and bodywork. Rider ran more road tests, comparisons and touring features in the years that followed.
Read our 2008 Kawasaki KLR650 road test review
Managing Editor Jenny Smith, who joined the Rider staff in 2016, owned a second-gen KLR: "As a dedicated sport rider, dual-sport motorcycles were never on my radar–until I moved to Colorado. Suddenly I found myself and my Honda RC51 left behind while my new group of friends hit the myriad of forest roads and trails on weekends. When I expressed interest, they were nearly unanimous: buy a KLR650. I found a bone-stock, low-mileage 2009 at the local dealership and will never forget my first foray off-pavement. We pulled to a stop at the open gate to 'air down' (what in the world??), then I followed them into the forest and onto a rollercoaster of a jeep trail, laughing in amazed, unbridled joy as we splashed through puddles, clawed up rocky hills and paused regularly to soak in the scenery. I was hooked, and for the next four years the KLR (soon outfitted thoroughly with crash protection, lights and luggage) was my ticket to some of the most challenging and beautiful rides I've ever experienced. I saw what was at the end of those dirt roads, camped in the wilderness, fell down (a lot), picked the bike back up, learned to carry a quart of oil on any long trip and fell back in love with motorcycling."
Read our 2012 Kawasaki KLR650 vs BMW G 650 GS Sertão comparison review
One of my fondest memories of the KLR was a two-day ride through Death Valley for the press launch of the 2014.5 KLR650 New Edition, which got firmer suspension, a new seat and new color options. Twenty-five years after the KLR first appeared in Rider, a group of us covered some of the same terrain on bikes that, apart from minor updates, had essentially the same liquid-cooled 651cc single, same frame, same 35-inch seat height and same 6.1-gallon fuel tank. KLRs made in the final years of the production run were certainly better than the early models, but in some ways the KLR has been timeless. And it's even cheaper now than it was three decades ago.
Read our 2014.5 Kawasaki KLR650 New Edition first ride review
Back in 1989, when we published our first comparison test featuring the KLR650, its MSRP was $3,499 ($7,164 in 2018 dollars). MSRP for 2018 KLR650s that remain on dealer floors is $6,699, a savings of $465 in current dollars from the 1989 model. But on the Cycle Trader website there are scads of new, 0-mile KLR650s going for less than $6,000, with some even listed for less than $5,000. And if you're in the market for a used KLR, the possibilities are nearly as limitless as the aftermarket products designed specifically for the crowd-pleasing dual-, er, triple-sport.
Read Clement Salvadori's exploration of California's Lost Coast
on a 2014 Kawasaki KLR6750 New Edition
As it does for many, the KLR holds a special place in the hearts of Rider staffers. Hearing the distinctive tweet from the exhaust of a KLR riding by immediately transports us back to memorable adventures, carefree days and campfire nights.
Will we see the KLR return in a year or two, minimally updated with fuel injection and an emissions-compliant exhaust system (like the KLX250 did)? Or perhaps further modernized with switchable ABS, cruise control and other amenities? Whether or not Kawasaki revives the venerable KLR, its legend is secure as one of the most affordable, reliable, versatile and enjoyable motorcycles ever produced.