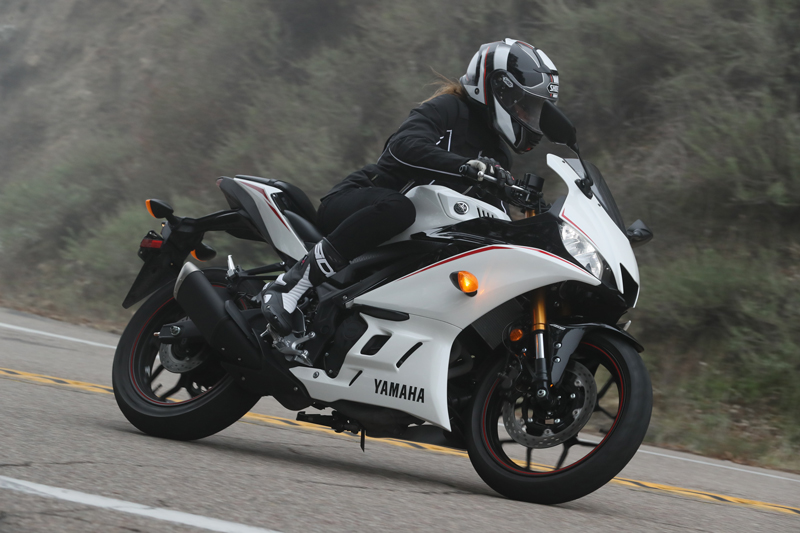 Glittery, feature-laden flagship products may be sexy, but in today's world the bread-and-butter models are the ones that return the most bang for the least buck. So it's no surprise to me that the roughly $5,000 YZF-R3 was the top-selling Yamaha motorcycle overall in 2018, a spot it swaps regularly with another inexpensive grin factory, the FZ/MT-07 (read our Road Test Review here). The R3 debuted in 2015, a bit late to the lightweight sportbike party, but it immediately impressed us with its fun factor and everyday usability.
Read our Tour Test Review of the 2016 Yamaha YZF-R3 here!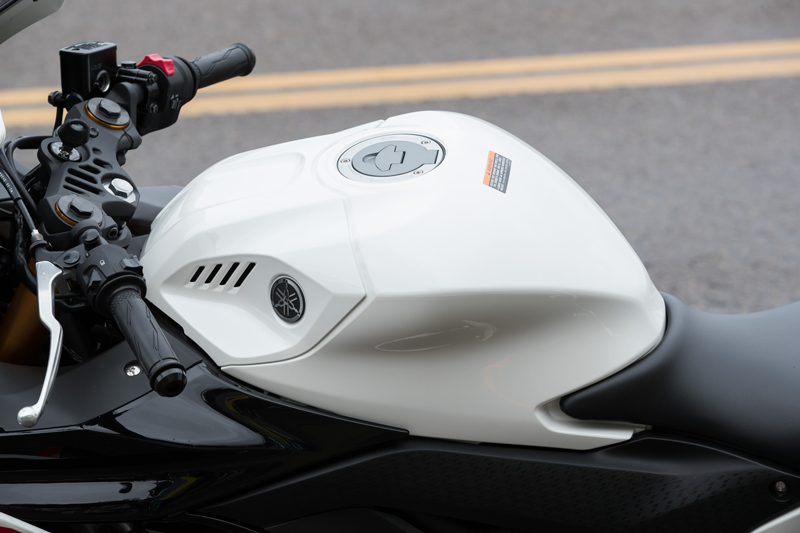 For 2019, the R3 got a makeover that included a new upside-down 37mm KYB fork with revised settings, new triple clamps, an updated KYB rear shock, new radial Dunlop Sportmax tires, a redesigned fuel tank, lower clip-ons and a facelift that ties it to its YZR-M1 (much bigger) brother. While we like the new look, it's the suspension updates that take the littlest YZF to the next level.
Up front, the spring rate was increased by 20 percent and both rebound and compression damping were also dialed up, addressing our complaint in the 2016 test above that the fork was "spongy, with weak rebound damping letting the front-end recoil too fast from impacts." A new cast-aluminum top triple clamp and forged-steel lower triple clamp combine with the stout USD fork to create a much more planted feel that provides better feedback than before, an immediately noticeable improvement. It's also a better match for the 7-step preload-adjustable rear shock, which got an 11-percent stiffer spring, 10mm higher preload, increased rebound damping and, interestingly, slightly decreased compression damping.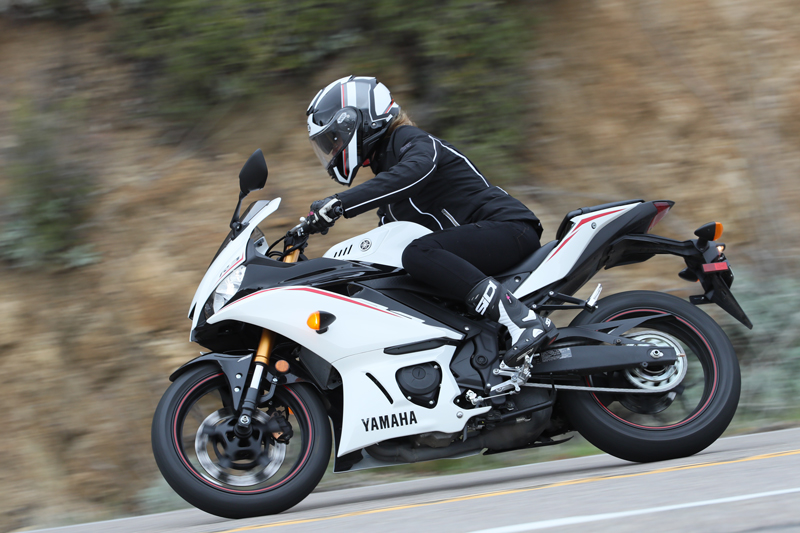 Overall it works very well in combination with the steel trellis frame; as I tossed the 375-pound (claimed, wet) machine through the banked corners of Palomar Mountain, feedback from the front end let me focus on having fun rather than worry about running out of talent (or traction).
Speaking of traction, for some reason the first-gen R3 wore bias-ply tires rather than radials. An easy enough aftermarket swap, but for 2019 Yamaha has sensibly shod the R3 with proper radial Dunlop Sportmax GPR-300 rubber. We've had good experiences with Sportmax tires in the past, and this is no exception; the R3 stayed glued to the pavement even on damp mountain roads and when keeled all the way over on a favorite set of technical twisties. If there is a sport riding shortcoming, it's the brakes; the meager two-piston caliper at the front and single-piston at the rear just aren't up to the demands of what is otherwise a very capable machine.
Under the "if it ain't broke, don't fix it" category is the 321cc liquid-cooled, DOHC, 4 valve-per-cylinder parallel twin, which spun out 35 horsepower at 10,600 rpm and 19 lb-ft of torque at 9,200 when we last put it on the Jett Tuning dyno. Gears first through fourth are rather low, maximizing grunt, but there's an interesting bump in both power and torque right after 6,000 rpm.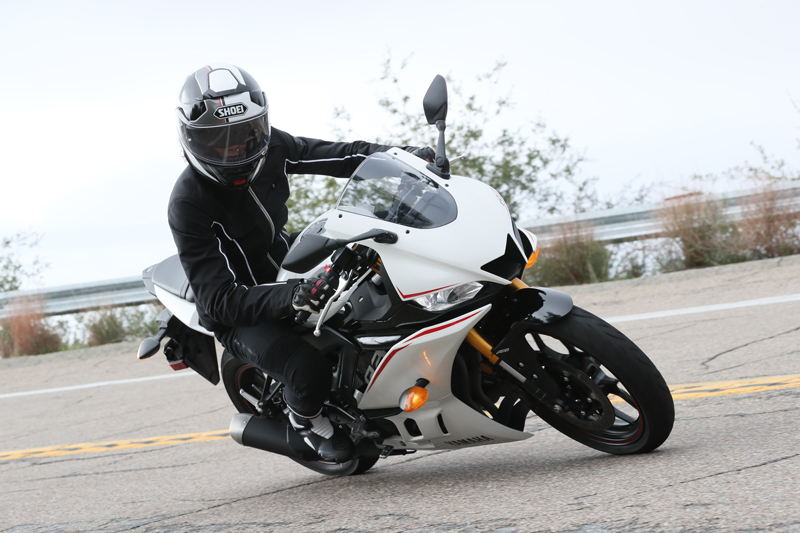 The result is impressive roll-on performance even at a high gear-to-speed ratio. For example, I found myself traveling at just under 30 mph in fifth gear, when suddenly our ride leader poured it on and pulled away. Without downshifting I whacked the throttle open, and the little R3 responded by pulling hard (relatively speaking of course) all the way to 11,000 rpm. Highly entertaining, but also practical for freeway commuters.
And I suppose that's the point of the R3: it's affordable, but now it's an even more capable sportbike that should lengthen its buyers' "out-growing" timeframe. Yamaha's research indicates that the average R3 owner is 32 years old, and for 63 percent of them it's their first motorcycle. For more than three-quarters of them, the R3, likely their only bike, does double-duty as a commuter, a fact supported by my own anecdotal evidence as seen on my daily commute.
The trick is walking (riding?) that fine line between sporty and comfy, and even with its 20mm lower clip-ons that now attach under the top triple clamp, I found the R3's ergonomics to be a fantastic balance between the two. The day after our 140-mile press launch ride, I logged more than 154 freeway miles riding from Oceanside, California, to my home in Camarillo, and despite wearing a backpack I experienced no ill effects: no pain and no numb hands, bum or feet. Plus, despite keeping up with 75 mph California traffic, I only went through 2.4 of the 3.7 gallons in the tank, for a respectable 65 mpg.
There's a lot to like about the 2019 Yamaha YZF-R3: good looks, sporty yet comfortable ergos on a well-balanced chassis, vastly improved suspension and a price that's unchanged from last year ($4,999/$5,299 for the ABS model). We'll continue to put miles on our test bike, so look for updates and a full Road Test Review in the coming weeks.
2019 Yamaha YZF-R3 Specs
Base Price: $4,999
Price as Tested: $5,299 (ABS model)
Warranty: 1 yr., unltd. miles
Website: yamahamotorsports.com
Engine
Type: Liquid-cooled, transverse parallel twin
Displacement: 321cc
Bore x Stroke: 68mm x 44.1mm
Compression Ratio: 11.2:1
Valve Train: DOHC, 4 valves per cyl.
Valve Insp. Interval: 26,600 miles
Fuel Delivery: EFI
Lubrication System: Wet sump, 2.7-qt. cap.
Transmission: 6-speed, cable-actuated wet clutch
Final drive: O-ring chain
Electrical
Ignition: Electronic
Charging output: 298 watts @ 5,000 rpm
Battery: 12V 7AH
Chassis
Frame: Steel diamond-type, engine as stressed member
Wheelbase: 54.3 in.
Rake/Trail: 25 degrees/3.74 in.
Seat Height: 30.7 in.
Suspension, Front: 37mm USD KYB fork, no adj., 5.1-in. travel
Rear: Single linked rear shock, adj. for spring preload, 4.9-in. travel
Brakes, Front: Single 298mm disc w/ 2-piston caliper & ABS (as tested)
Rear: Single 220mm disc w/ 1-piston caliper & ABS (as tested)
Wheels, Front: Cast aluminum, 2.75 x 17 in.
Rear: Cast aluminum, 4.00 x 17 in.
Tires, Front: 110/70R-17H
Rear: 140/70R-17H
Wet Weight (claimed, as tested): 375 lbs.
Load Capacity (claimed, as tested): 353 lbs.
GVWR: 728 lbs.
Performance
Fuel Capacity: 3.7 gals., last 0.8 gal. warning light on
MPG: 87 PON min. 64.7 avg.
Estimated Range: 240 miles
Indicated RPM at 60 MPH: 6,500