With the weather calling for highs in the mid-70s in West Virginia in mid-November, I knew I had to take one last ride up into the mountains before winter weather finally hit.
About 10 miles west of Winchester, Virginia, I turned left off U.S. Route 50 onto Back Mountain Road. As the name of the road suggests, it follows the back of the mountain.
For the next 20 minutes I was treated to smooth pavement, sweeping corners and no traffic. The road eventually leads to U.S. Route 48, a.k.a. Corridor H, which takes you over the mountain before dropping into the small town of Wardensville, West Virginia.
Just a few miles from the Virginia state line, Wardensville is where Corridor H ends, or in my case on this day, begins.
Corridor H has been under construction since the early 1970s, but I had heard earlier in the week that the stretch from Wardensville to Davis, West Virginia, is now complete, which was perfect since I was planning to ride through Davis.
While four-lane highways typically aren't much fun to ride, Corridor H is one of the exceptions to the rule. During the next 66 miles I saw some of the prettiest sights West Virginia has to offer—mountains, valleys, rivers, forests and open fields.
I even decided to stop at two scenic overlooks just to soak up a bit more scenery before Corridor H eventually ended at State Route 32 in Davis.
From the Route 32 intersection it's less than two miles to the entrance of Blackwater Falls State Park. When I pulled into the main parking lot there was only a handful of cars.
The temperature had warmed up quite a bit so I peeled off my riding jacket, grabbed my camera and started my walk down to the falls. The first part of the trail is handicap accessible and provides a nice view of the falls. However, if you want to get really close you've got to walk down (and then eventually back up) 214 steps.
Once at the bottom of the stairs you'll get an up-close view of the nearly 60-foot waterfall. Made of very dark Connoquenessing sandstone, the main ledge of the falls combined with the amber-colored waters make Blackwater Falls unique and unmistakable.
After topping off my fuel tank, I was met by a few fun curves after departing Davis before riding a long, straight stretch of road as I passed through Canaan Valley. With no snow yet on them, I took a moment to admire the ski slopes on the mountainsides.
Once outside of Canaan Valley, Route 32 zigzags down to Harman, West Virginia, following every bend of the Cheat River along the way. Although there are some pretty views along the route, I was having too much fun riding to notice. Backing off the throttle just long enough to obey a slower speed limit coming into Harman, I then merged onto U.S. Route 33.
U.S. 33 comprises some of the best motorcycling riding in the country, but it's also dangerous due to the large number of long-distance truckers who also use the route. With grades as steep as 10 percent, it's not uncommon for truckers or other vehicles to wear out their brakes and run wide into the oncoming lane, so be careful.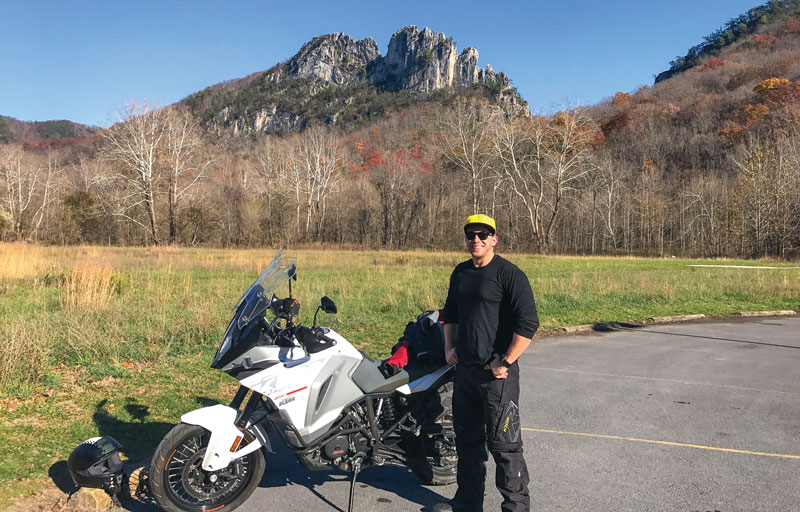 The final 12 miles to Seneca Rocks are filled with exhilarating twists and turns as you cross the Eastern Continental Divide, working your way up to 3,240 feet in elevation and then plunging down the other side. After a short 3.6-mile climb I started the steep descent back down the mountain.
A couple of long straightaways will dupe first-time riders into thinking they've reached the bottom of the mountain but don't be fooled. Misjudging Dead Woman's Curve will take you over a several-hundred foot drop off the side of the mountain.
After the next straightway there's Horseshoe Curve, another gnarly switchback you don't want to take too hot. A handful of twisties later the road begins to straighten and flatten and you get your first glimpse of Seneca Rocks.
I pulled into the parking lot shared by Yokum's Store & Motel and Harper's Old Country Store & Front Porch Restaurant. Disappointed to learn the Front Porch Restaurant was closed for the season, I had lunch at Yokum's deli instead.
Before I could get in the building, some fellow riders asked me about my KTM 1290 Super Adventure. I spent the next five minutes trading riding stories with three really nice guys who were on their way back to Pennsylvania.
I enjoyed my hamburger and fries (which was less than $6.50) on the deck of Yokum's, which offers a spectacular view of the 900-foot tall Seneca Rocks. As I finished up a couple more riders pulled into parking lot. We had a quick chat and then I took State Route 28 north, which snakes alongside the North Fork South Branch Potomac River all the way back to Petersburg, West Virginia.
From Petersburg it was a quick ride up U.S. Route 220 to Moorefield before getting back on Corridor H and backtracking the rest of the way to Winchester. It was a little after 4:00 pm when I turned into my driveway. The sun had already begun to set, not just on my day but also on my mountain riding for the season.