One of the biggest announcements last year in the world of motorcycle touring was the return of Yamaha's Star Venture, a fully-loaded luxury tourer designed to compete head-to-head with the best that Harley-Davidson and Indian have to offer. (What about the Gold Wing? That was the other big news for 2018: Honda's rebooted flagship tourer is now smaller and sportier, more in line with its six-cylinder competitor, BMW's K 1600 GTL. Read about it here.)
Read our 2018 Yamaha Star Venture road test review
The last Venture in Yamaha's lineup—the 2009 Royal Star Venture S—had styling that resembled Harley-Davidson's Electra Glide and was powered by a liquid-cooled V-4 shared with the mighty V-Max muscle bike. The new Venture, on the other hand, has bold, modern bodywork wrapped around a massive, 113-cubic-inch, air-cooled V-twin that has been extensively modified from its loud-and-proud role in the Raider, Yamaha's recently departed factory chopper. Research says most Americans want big-boned, heavily-finned, (mostly) air-cooled V-twins, and that's what Harley-Davidson, Indian and Yamaha are giving them.
Last June the Venture made its global debut at the Americade touring rally in Lake George, New York, and a month later Rider's Editor-in-Chief Mark Tuttle and his wife spent two days testing it in Idaho and Montana. (Read his road test review here.) Given the popularity of baggers, it was no surprise when Yamaha unveiled the Eluder—a trunkless version of the Venture—late last summer. After a production delay through the end of 2017, both models are now in Yamaha dealerships, and last week I spent a long, 400-mile day on the Eluder.
Greg's Gear
Helmet: HJC FG-17
Jacket: Fly Strata
Pants: Fly Terra Trek
Boots: Fly Milepost 2
Before testing the Eluder, I spent a couple days riding the Venture for an upcoming comparison test, giving me a solid feel for what the platform offers in terms of performance, handling and features. Major points of difference between the two make the Eluder significantly lighter and less expensive. The Eluder has no trunk, passenger backrest or rear speakers, it has a shorter, non-adjustable windscreen, it foregoes the Sure Park pushbutton forward/reverse system and mid-fairing air deflectors, and it doesn't have heated grips or tire-pressure monitoring (though both are available as accessories). Claimed wet weights are 957 pounds for the Venture and 875 pounds for the Eluder, and their prices are $24,999 and $22,499, respectively.
Even though the Venture is one of the heaviest bikes we've ever tested, it's easy to maneuver at parking lot speeds and seems to shed much of its weight at a road-going pace. The lighter Eluder does an even better job of hiding its heft. The shared platform carries most of its weight very low, and the Eluder doesn't have a heavy trunk/passenger backrest perched high up behind the rear axle. Contributing to rider confidence is one of the lowest in-class unladen seat heights—27.6 inches—that makes it easy to plant both feet solidly on the ground at stops.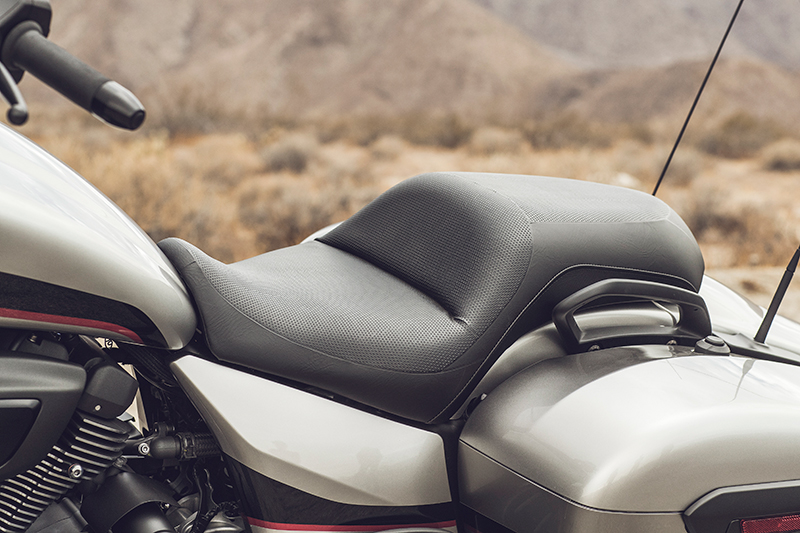 The Eluder has a thick, well-padded seat that's narrow in front, has a high rear bolster and is comfortable enough for a full day in the saddle. With long floorboards and a wide, pullback handlebar, the seating position easily accommodates my tall, long-arms-and-legs frame and offers room to move around. During a long stint on the freeway, I rested my boot heels on the leading edges of the floorboards to stretch my legs out, like having highway pegs. The broad fairing provides excellent wind protection from the shoulders down, but the short windscreen directs wind blast at my neck and helmet, resulting in significant wind noise at speed even though the airflow is smooth. Lower vents allow the rider to adjust airflow at shin level, and since it was a cold day, I kept the vents closed and welcomed the boot-warming heat radiating from the engine. (As Tuttle found out during his midsummer test on the Venture, opening the vents on warm days helps pull hot air out of the cockpit.)
Major revisions were done to the 1,854cc, 48-degree V-twin to make it suitable for touring duty, including the addition of self-adjusting hydraulic valve lifters to reduce maintenance, camshaft and primary drive dampers to reduce low-rpm shudder and twin counterbalancers and isoelastic engine mounts to reduce unwanted vibration. By moving the belt drive to the right side, Yamaha eliminated the weight and complexity of the Raider's transfer case. An overdrive sixth gear was added to the transmission for more relaxed highway riding and an assist-and-slipper clutch reduces effort at the lever (which is five-way adjustable, as is the front brake lever). And Yamaha's Chip Controlled Throttle system enables electronic cruise control, traction control and two throttle-response modes (Sport and Touring).
With idle at 1,000 rpm and redline at just 4,750, the Eluder prefers to be short-shifted rather than revved out. When we put the Venture on Jett Tuning's dyno, it churned out 109.4 lb-ft of torque at 2,750 rpm and 76.9 horsepower at 4,500 rpm. More than 100 lb-ft of rear-wheel torque is available from 2,000 to 4,000 rpm, providing plenty of grunt to pull hard away from stops or make quick passes. Fueling and throttle response are precise, and I prefer the more direct feel of Sport mode than the relaxed feel of Touring mode. The big V-twin rumbles nicely at idle and when on the gas, with a pleasing, not-too-loud exhaust note, but otherwise is smooth and well mannered.
Thanks its wide handlebar, low center of gravity, stout chassis and grippy, nicely profiled Bridgestone Excedra radial tires, the Eluder rolls into and out of corners with ease. The suspension maintains its composure even when pushed hard, with the only handling limitation being floorboard feelers that touch down early. Adding some preload to the rear shock—the only adjustability there is—raises the rear ride height and gives the bike some additional cornering clearance.
When developing the Venture/Eluder platform, Yamaha focused much of its attention on safety, comfort and technology. Massive triple-disc brakes are equipped with ABS and Yamaha's Unified Braking System, and they work exceptionally well with ample stopping power and good feel at the lever. Other safety features include traction control and ultra-bright LED lighting. The aforementioned wind noise is my only complaint about comfort on the Eluder, though on the cold, wet first hour of my ride I wished for heated grips in addition to the heated seat.
Technology-wise, Yamaha jumped in with both feet in terms of infotainment. Centered between big analog gauges on the dash is a 7-inch, full-color, touchscreen display, which has sharp graphics and easy-to-read fonts and colors. The system can be navigated by tapping on the screen, pressing buttons on the left switchpod or using voice commands, and while there is a learning curve with the system's menus and features, after a full day of use it became second nature. Our test bike has the optional GT package ($1,500), which adds GPS navigation, SiriusXM satellite radio (subscription required), CB radio and a security alarm, and thus equipped the Eluder's audio, navigation and information options are fairly comprehensive. I used an optional J&M in-helmet headset that connects to the bike via cable, which enhances audio quality and enables more functionality than Bluetooth alone. For best fidelity, Yamaha recommends listening to audio via the external speakers and in-helmet speakers, but I found that wind noise above 70 mph necessitated wearing earplugs, and with earplugs in at those speeds, the music wasn't loud enough even with everything on at full blast.
With six years of development time to bring the Venture and Eluder to market, Yamaha clearly did its homework. The Venture caters to riders who enjoy two-up touring and want every available option, while the Eluder caters to those who do more solo riding and prefer a leaner, more aggressive look. Both have keyless ignition, enormous saddlebags with central locks (total luggage capacity on the Eluder is 72 liters, and the saddlebags and right fairing pocket can be locked via buttons on the console or the Smart key fob) and largest-in-class 6.6-gallon fuel tanks that provide well over 200 miles of range, and there's a long list of available accessories for both style and functionality. Their blend of modern and traditional styling elements will appeal to some but not others, but one thing is for sure: you won't mistake the Venture or Eluder for something else.
The Eluder embodies exactly what a bagger should be—a bike that grabs your attention and demands to be noticed, with a big, torquey V-twin and a relaxed riding position. But it is also handles well, is all-day comfortable and has an up-to-date, well-integrated set of safety and technology features.
2018 Yamaha Star Eluder Specs
Base Price: $22,499
Price as Tested: $23,999 (GT package)
Website: yamahamotorsports.com
Engine Type: Air-cooled, transverse 48-degree V-twin, OHV w/ 4 valves per cyl.
Displacement: 1,854cc (113ci)
Bore x Stroke: 100.0 x 118.0mm
Transmission: 6-speed, hydraulically actuated wet assist-and-slipper clutch
Final Drive: Belt
Wheelbase: 67.6 in.
Rake/Trail: 31 degrees/5.7 in.
Seat Height: 27.6 in.
Wet Weight: 874 lbs.
Fuel Capacity: 6.6 gals., last 0.95 gal. warning light on
MPG: 91 PON min. (avg) 39.3