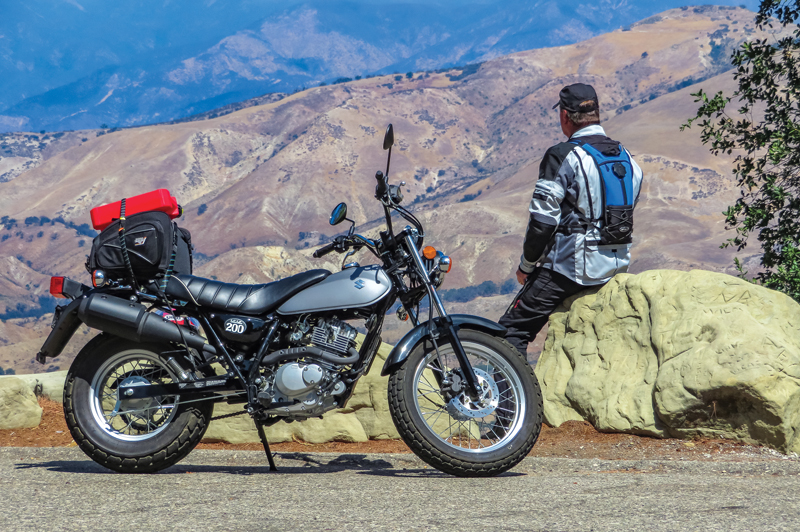 Life begins at 70 mpg…
Sitting at the end of my driveway, the VanVan's headlight jiggling in time to the gentle thumping of the bike's elfin 199cc single, a line from Bob Seger's "Roll Me Away" popped into my head: "I could go east, or I could go west, it was all up to me to decide." This could be called the Indecisive Tour—something about setting out on a VanVan 200 discourages planning. Moments before, I had completely changed packing strategies, since my minimal camping gear looked like a bear carcass on the back of the little bike. No worries, I would find suitably funky accommodations, a yurt perhaps, or maybe a log cabin. But I still had no idea where I was going—a man on a VanVan without a plan.
What the heck is a VanVan anyway? Suzuki has actually produced this retro tiddler in 125cc caliber for other countries since 2003, but never brought it to the U.S. Recently, as the market for larger bikes has softened here and cool kids like the Honda Grom have taken off, Suzuki decided to upgrade the VanVan with the air-cooled, SOHC 2-valve single from the DR200S and unleash it on America. With its balloonish 130/80-18 and 180/80-14 tires, huge botox-injected banana seat, skinny tank and high handlebar, the VanVan is a Japanese funkadelic cult creation (the name means "keep on going," sort of), a retro mashup of minibikes from the '60s, the 2WD Rokon and every scoot you've seen on the back of a motorhome since 1970. Everything about the VanVan is throwback except the electronic fuel injection and the price—at $4,599 it costs the same as the TU250X and DR200S. But it fires right up, runs well even when cold and is ready to let loose all 15 horsepower for trips to the store or work, around the campground or campus. And since the VanVan 200 is more comfortable than a lot of bikes half again its size, it inspired me to actually ride it someplace for this story. Fill my tank with adventure, as it were—all 1.7 gallons.
Mark's Gear
Helmet: Shoei GT-Air
Jacket: Joe Rocket Ballistic Adventure
Pants: Olympia Airglide
Boots: Tour Master Epic Air
Not knowing just how far those 6.8 quarts of regular were going to take me, I mounted a 1-gallon Rotopax fuel cell on top of Nelson-Rigg's biggest tail pack and strapped it on the back, and there was still a Gold Wing's worth of seat left for my butt. Ready to go I knew not where, at the end of the driveway I turned right, rode 100 yards, turned around and rode the other way. I had it! Smoked fish tacos had popped into my head (as they often do). Ruddell's Smokehouse in Cayucos here I come.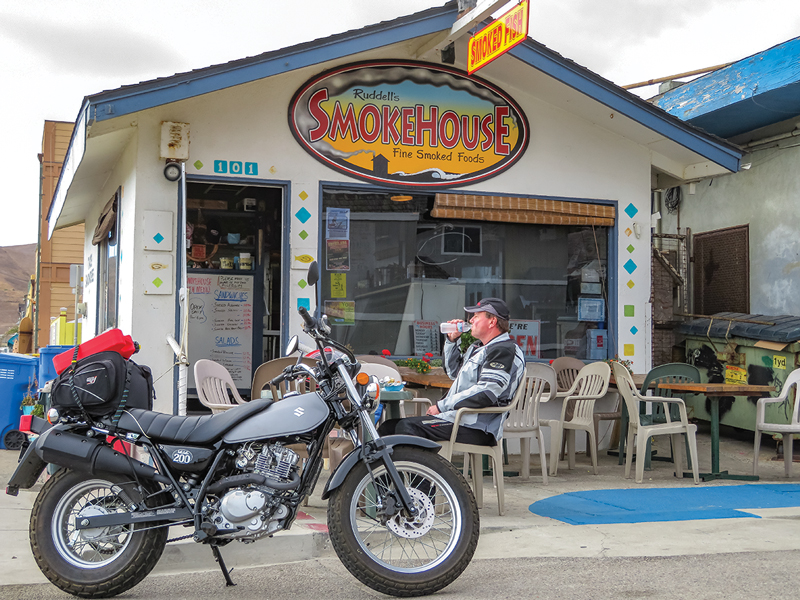 I spent the next several hours avoiding the Interstate, constantly trying to grab a non-existent sixth gear in the VanVan's slick-shifting 5-speed box with the throttle pinned to the stop, good reason not to trust my average fuel economy figures. I'm certain the little VanVan-that-could can top 75 mpg with a less aggressive wrist. Surprisingly smooth for a little single wrung out at top speed, I found that I could safely ride California's two-lane highways because there is almost always someone going slower than the bike's 65-mph top speed. Multi-laners, no way—hills and headwinds instantly knock off 20 mph, and you could end up a bug splat on the windshield of some idiot passing on the right at warp speed. Getaway power just isn't standard equipment. The key to touring on VanX2 is maintaining momentum and getting into a smell-the-roses mindset. Nothing goes by at blur, more like slightly fuzzy, and you see things you would otherwise miss, like a squirrel giving you the hairy eyeball as he sucks his butt out from under your front tire at the last second. There's nothing to futz with or distract you either. We're talking speedometer, odometer, old-school rollover tripmeter and three lights (fuel, turn signal and neutral), plus a small tool pouch—that's it for amenities. Miraculously, the lever for the hydraulic front disc brake is adjustable, and both it and the little drum brake in back work really well. Suspension is non-adjustable, not even preload in back, but the seat and those clown-car tires absorb a lot of shock. Springs and damping are also stiff enough to tackle moderately rough dirt roads and keep the VanVan planted in corners.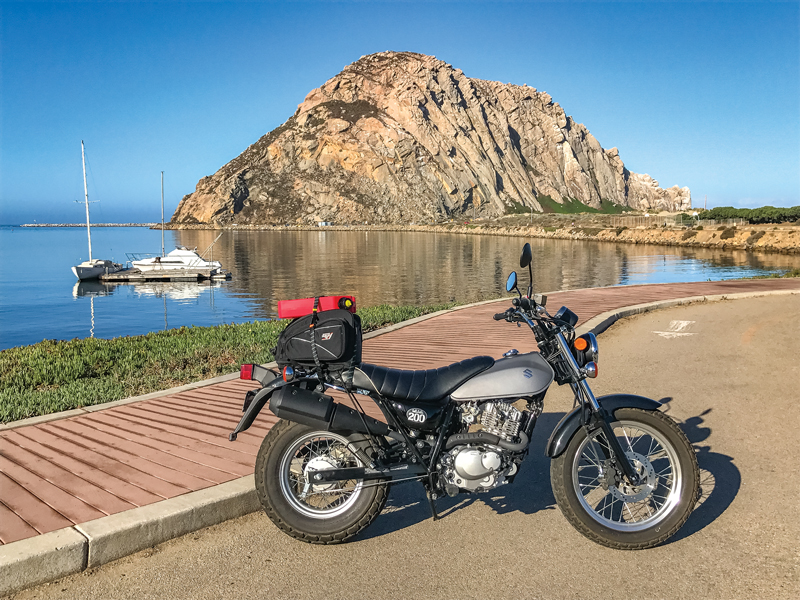 Of course, at these speeds there isn't much demand on the brakes or boingers until you're flying downhill through the curves, laughing like a hyena. I had not one, but two fish tacos at Ruddell's, arriving well before closing, then VanVanned around Cayucos and Morro Bay before parking it for the night alongside Motel 6's finest cabin. Next day I took the long way home, including all of dirt Pozo Road to State Route 58, the oilfields around Taft and then over Pine Mountain on State Route 33, about 450 miles total for both days. I never needed the Rotopax—at the end of the longest 101.4-mile stretch (tucking in is good for 5-7 mph) the bike took 1.73 gallons of regular. Never missed a beat.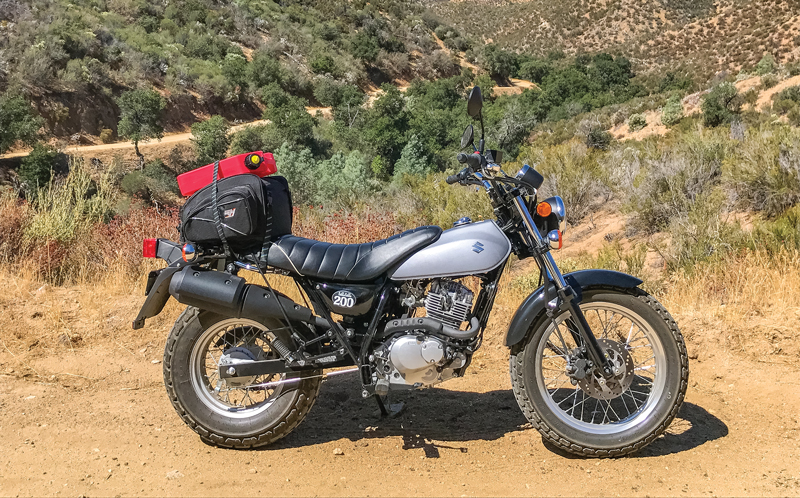 Overall the VanVan 200 is FunFun. Not fast, but fun and funky, like the original Big Wheel or Flexi Flyer. It would make a terrific second or third bike for simply fartin' around or making the occasional unhurried fish taco run.
SaveSaveSaveSave
SaveSave