Royal Enfield is in the midst of a revival. It never really died (read the story here), but like most manufacturers it's had its share of tough times. After decades as a relatively domestic Indian brand, Royal Enfield CEO Siddartha Lal has a newly global vision: expand into other developing markets such as Latin America and Southeast Asia, and return the brand to its former glory in the European and U.S. markets. He isn't interested in carving up the existing pie into smaller pieces, however. As he stood before a large contingent of moto journalists from around the world in Royal Enfield's brand-new U.K. Technical Center at the Bruntingthorpe Proving Ground, he explained that his vision is to grow the market. Draw in new riders, make people excited about motorcycles again. It's easy to get behind an idea like that.
The new U.K. Tech Center, located about 11 miles from Leicester in central England, is a clear indicator of how seriously Royal Enfield is taking its mission. First opened in May 2017, it employs about 130 people, mostly engineers. Drawing on a newly international engineering talent pool, the UKTC houses chassis and engine design, modeling and testing facilities including both engine and chassis dynamometers, and accessories development. The location at Bruntingthorpe was carefully chosen, with a paved road course—which you might have seen on the popular TV show Top Gear—and a 3-kilometer (nearly 2-mile) runway for high speed testing.
This new focus on performance is what Royal Enfield hopes will help propel it into the global market. Its motorcycles have garnered a reputation for simplicity, reliability and ruggedness, perfect for the rough roads of India and other developing markets. Power was never a focal point. But on the open roads of Europe and the U.S., riders expect more, and that's where the two new 2018 models come in. Powered by a totally new 648cc air-/oil-cooled parallel twin that is Euro 4 and 5 compliant (a feat of engineering for an air-cooled engine), the new Interceptor and Continental GT represent Royal Enfield's first big step outside its Indian homeland, a step back to its origins.
Read: Royal Enfield Opens North American Headquarters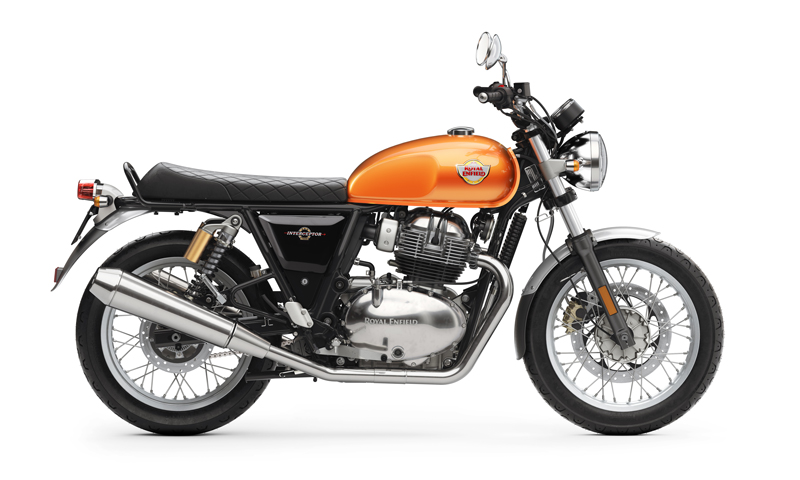 The 2018 Interceptor is a reincarnation of a model last seen on the streets of America more than 50 years ago, which became known as Britain's "Lost Twin." It's a classically-styled British retro standard, with a long, flat, 31.7-inch-high quilted seat, upright handlebar for a comfortable riding position, dual coil-over rear shocks and upswept chrome mufflers. Its rounded gas tank holds 3.6 gallons and claimed dry weight is 445 pounds.
On the sportier side is the 437-pound (claimed, dry) café racer 2018 Continental GT, with the requisite 31.1-inch-high solo humped seat (a flat dual seat is also available), clip-on handlebars, rectangular sculpted 3.3-gallon tank and rearset footpegs. Most other parts appear to be shared with the Interceptor, including the frame, spoked wheels, 41mm non-adjustable fork with 4.3 inches of travel, dual preload-adjustable coil-over rear shocks with 3.5 inches of travel, 320mm (front) and 240mm (rear) brakes with ABS, chrome upswept exhaust and, of course, the 648cc parallel twin.
Royal Enfield is quite proud of this new engine, its key to the worldwide motorcycling kingdom. On paper, it's fairly basic: single overhead cam, a modest 9.5:1 compression ratio, electronic fuel injection and a 270-degree single piece forged crank. Power runs through six gears to the rear wheel via chain drive, with a slip-and-assist clutch making for light lever action and easy handling. Power output is also modest; Royal Enfield claims 47 horsepower at 7,000 rpm and 38 lb-ft of torque at 4,000 rpm.
Why not more? I thought it was a valid question, so I cornered one of the British engineers at the new model launch party at the EICMA show in Milan. His explanation: the U.K. and Europe have a tiered licensing system, with four levels. AM is good for mopeds only, A1 is good for a maximum of 125cc, A2 limits you to 35 kW (47 horsepower) and A is the full license. Royal Enfield, per its stated objective of not necessarily drawing current riders away from other brands but instead attracting new riders, capped its new engine at 47 horsepower in order to make it accessible to newbies, but at the upper limit of the A2 license so they won't grow out of it too quickly. It's worth noting that India does not use tiered licensing. Another checkmark in the "commitment to global expansion" column.
We obviously weren't able to take either new twin for a ride at the unveiling, but on our bus tour of the Bruntingthorpe test track, we were buzzed by a Royal Enfield test rider on one of the new machines, and the sound was impressive. We're guessing that the new Interceptor and Continental GT are the type of bike that feels better than it appears on paper, but a riding impression will have to wait until spring 2018, when the new models will be available at dealerships and a press launch. Pricing details will also follow, although we were told both would land between $5,000 and $7,000. We'll have more information in the upcoming months.
Check out more new bikes in Rider's guide to new/updated 2018 motorcycles
SaveSave
SaveSave
SaveSave