During my college years, rather than waste time studying nonsense such as biochemistry or the comparative structure and function of vertebrates, I instead spent the bulk of my days riding bikes, wrenching on bikes, reading about bikes and dreaming of bikes. Which accounts in large part for my modest circumstances today. To compound these sins, I also got my roommate Brad Jones totally hooked on motorcycles to boot. Which added greatly to fun times blitzing down country roads, albeit at the cost of study time at the U.C. Davis library. Brad, however, had the fortitude to pursue two stellar careers: first as a naval aviator getting flung repeatedly off the deck of an aircraft carrier, and then as an airline pilot shuttling people around the world on behalf of Northwest Airlines. Me, I'm still pounding out stories for mere pennies a word.
But I digress. The point is, before we parted ways upon graduation, we made frequent, sincere and elaborate promises to get together. Often. Really we would.
But promises made proved incredibly difficult to fulfill; wives, work, children, mortgages and bills, all those mundane day-to-day obligations ate up our days. Then weeks. Then years. We ended up living half a continent apart; I stayed in California and Brad departed to Minnesota, and later moved across the St. Croix River to the little town of Hudson, Wisconsin, to be close to his Twin Cities flight base. To his credit, Brad made the effort to get out to California periodically so we could ride together. But me? I never made the trip out to tour through his neck of the woods. For decades. Shame on me.
And so I hatched a plan to make good on my end of the deal. Not only would I finally travel to the Midwest to share in some of Brad's favorite roads, we'd do it in deluxe style. Prevailing upon the graciousness of Indian Motorcycles, I arranged the loan of two top-of-the-line bikes to ease my debt of honor. On the arranged date late last summer, Indian delivered 2017 Roadmaster and Chieftain motorcycles, decked out with all the goodies, right to Brad's garage. We were in business.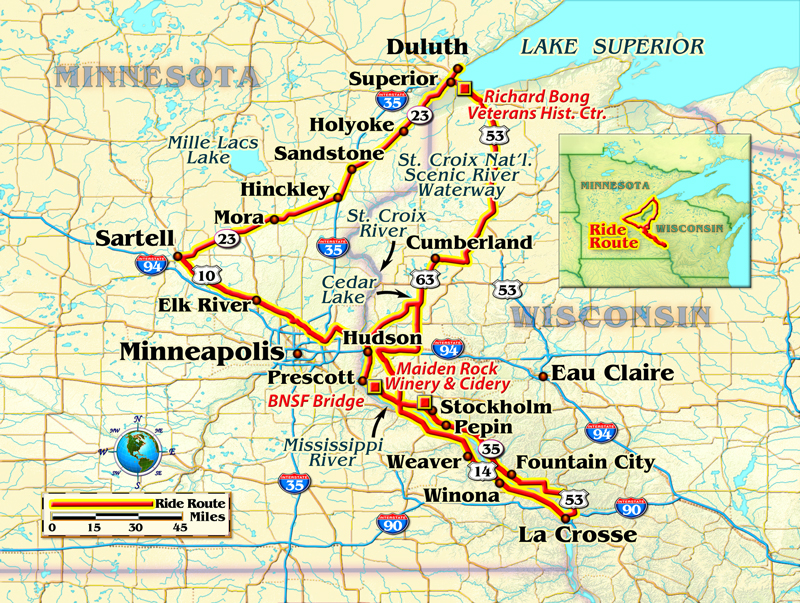 Rather than map out a route and chart each day's riding itinerary, my goal was to spend time with Brad and his wife Jenifer, and their four children and families, which included seven grandchildren. I hadn't seen the whole clan since the Jones kids were of elementary school age, and I had plenty of catching up to do. So Brad and I first rode to see those who lived nearby, and let the grandkids climb all over the shiny new bikes.
With that accomplished, he next took me on a tour of sleepy little Hudson and then we crossed the river via an historic lift bridge (built in 1931) to wander about Stillwater, a year-round tourist destination considered the birthplace of Minnesota. The lumber industry made Stillwater famous in the mid-1800s, as steamboats serviced a booming wave of commerce. Today, much of that vibe still remains thanks to restored Victorian mansions, outdoor dining patios, historic sites, wineries and breweries, paddlewheel cruises, antiques, museums, art galleries, music and more. While Brad got his hair cut I wandered around town and we capped things off with a leisurely fish-fry lunch with a riverside view.
Other days, we meandered along back roads on both sides of the river, just taking in the countryside, which remains predominantly rural and incredibly picturesque. Wisconsin's Department of Transportation designates the more striking rural "letter roads" as Rustic Roads with unique brown and yellow signs. Lots of fun. Neither of us felt compelled to rack up mega-miles; catching up on each other's lives took priority over quickly jumping back into the saddle.
During one pause, I asked Brad why he didn't step up the pace. Back in our college days, we always strafed corners in tight formation through the hills outside of Davis, going at it with barely controlled fury. Not so much now.
Brad's deadpan answer: "Look, these are for-real country roads. Just how fast do you want to be going when that deer jumps out in front of you?" Oh. "And don't target fixate on that first whitetail. It's the second or third deer that will probably put you down." Double oh.
Roaming north from Hudson, we stopped at the Bass Lake Cheese Factory for fresh cheese curds (squeaky to the bite!), bought sweet corn at a roadside stand (unmanned, honor system!), and paused for iced tea and striking views at Cedar Lake. At Louie's Finer Meats in the tiny town of Cumberland, Brad wanted to show off the smoked meats and huge assortment of bratwurst. But I was drawn to the hunter's sausage and my chosen lunch: fat slices of headcheese, souse, and blood and tongue sausage plus pretzel bread. Brad wrinkled his nose at my selection, but I loved every morsel of these regional specialties.
Even this California boy knows Wisconsin's the cheesehead state. Gotta be milk cows on every corner, right? Not so much. Huge hay fields and oceans of feed corn roll out to horizon's edge, with an occasional golden field of soybeans tinting the landscape. But where are the cows? All this feed and hardly a bovine sighting. What's up with that? When I mentioned this to Brad at a stop, he explained that cows spend their time in the dairy. You know, because they gotta get milked, right? Beef cattle are the ones roaming around fields to graze. Duh.
Riding south from Hudson along the section of the St. Croix River designated a National Scenic Riverway, Brad took me to see the massive BNSF railroad lift bridge at Prescott. Miles later south along the river road past Lake Pepin, I spotted a sign: "Cidery 3 miles." "What the heck's a cidery?" I wondered. So we took off in search of the unknown, soon arriving at Maiden Rock Winery & Cidery outside the village of Stockholm. Having visited tons of wineries in California, I didn't feel compelled to taste their wine. Especially cuz we were riding. But their fresh apple cider? Simply outstanding! Crossing the St. Croix into Minnesota, we followed the river back north on the return leg, gliding along more river roads with fantastic views.
During our travels, Brad and I switched off riding the Roadmaster and Chieftain, and we found that even though they share the same chassis with a 65.7-inch wheelbase and 111-cubic-inch (1,811cc) engine, they feel distinctly different. The bagger Chieftain feels significantly more responsive, thanks largely to the 90 pounds or so in weight savings. It's also more open and airy feeling in comparison. To its advantage, when the skies opened up the full-dress Roadmaster provided better rain protection thanks to its taller windshield and its lowers, and when air temperatures fell it provided the warmer, cozier cockpit. But when clear skies and bright sunshine raised air temps and humidity, it got too hot for comfort in the saddle, even with the lowers' vents opened up. Both bikes share a well-integrated feel common to big-inch Indian motorcycles, and the terrific, torque-laden engine with a buttery, engaging V-twin engine cadence stays pleasant all the time. If you're contemplating purchase of one or the other, think about your prevailing local riding conditions, as well as that eyeball factor when you make your decision.
Brad's eldest daughter, Arah, lives about 100 miles distant in Sartell, a little town north of Minneapolis that straddles the Mississippi River. They were throwing a birthday party for their son Johnny, so Brad and I rode there as the whole clan gathered for the celebration. Along the way we stopped in White Bear Lake, a town that Mark Twain praised in 1881 as having "One of the most popular resorts in the magic northlands." We didn't check into any resorts, merely stopped by to snap a quick pic of the scenic lake in the middle of town to send to our mutual friend Les Hardy, who spent his childhood years here. Nice place, all in all.
We decided to ride another 150 miles northward the next day along scenic Trunk Highway 23 as we headed to Duluth. Although most of this highway is a rural two-laner slicing through miles of hayfields and soybean fields, the final portion just south of Duluth cuts through Jay Cooke State Park, which holds great roads, magnificent forests and spectacular overlooks above the Saint Louis River drainage basin. This rugged country is also rich in history; in the late 1600s, French fur traders established the Grand Portage of the St. Louis, a rough trail bypassing the un-navigable rocky river gorges.
Why Duluth? It's the home of Aerostich and I needed to pay a visit to company founder Andy Goldfine. Back in the 1980s when I was Road Test Editor at "Cycle" magazine, I conducted one of the first evaluations of the then-brand-new Roadcrafter riding suit—a genuine revelation at that time, warmly welcomed. We've kept in touch over the decades but never met face-to-face, so Brad and I enjoyed a tour through the place followed by a fun dinner together that was long overdue.
The next morning Brad and I stopped by the Richard I. Bong Veterans Historical Center in next-door Superior, Wisconsin. Wisconsin native Richard "Dick" Bong was the United States' highest-scoring air ace in WWII, credited with shooting down 40 enemy aircraft in a P-38. Those feats earned him the Medal of Honor and other awards, and both Brad and I hated to tear ourselves away from the museum's impressive displays. We both vowed to return another day.
I'm definitely planning on another Midwest visit. I'll bring my wife Katie, who had work commitments this time. She and Jen have lots of catching up to do, and Brad and I have only scratched the surface; so many roads, never enough time. We're not quite ready to say we're in the autumn of our years, but our lives are rapidly approaching Indian summer. And that means riding time, and time spent with good friends, needs to be treasured more than ever.