As a long-time admirer of the popular and versatile Kawasaki KLR650, I bought one last year, but I didn't follow the normal procedure—I used the "Buy and Fly" method and made the trip of a lifetime in the process. With a little due diligence, it's safe and easy to purchase a new or used bike thousands of miles away, fly out to pick it up and ride it home. I found my bike online equipped exactly like I wanted and spent less money and time touring several states than if I had started the trip from my home in Missouri!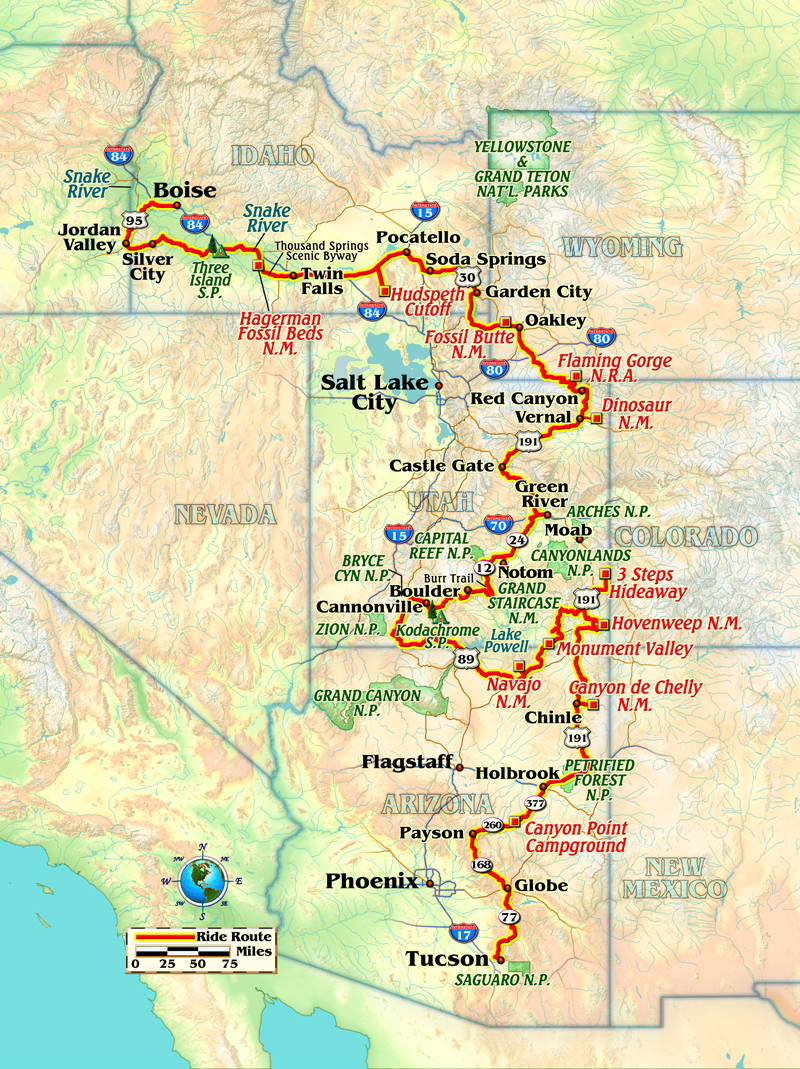 It was late winter in Boise, Idaho, where the KLR was located, when I was monitoring its "for sale" thread on ADVrider.com. The bike, a nicely equipped, low-mileage 2011, was what I had been looking for. The seller and I exchanged messages, working out an agreement that he would store the bike until I picked it up. We worked through an escrow agent, who would send me the title after receiving full payment. I requested additional pictures and a copy of the title, comparing it to the VIN tag, which I could see in the pictures. By now, the owner and I had a trusting relationship and when I asked, "Is the bike ready for a 3,000-mile trip?," the answer was the final assurance I needed. I sent a check to our escrow agent and began planning my trip!
In mid-April, the seller picked me up at the airport, offered his guest room and suggested a day excursion to some Idaho highlights. That evening I wired my GPS and heated clothing and the following day the two of us enjoyed a 200-mile ride.
The Ride Home
The temperature was in the 30s when I began my three-week trip to Tucson, Arizona, where I would store the bike in my son's garage until fall. My airline bag and camping gear were strapped to the bike and the Happy Trails panniers were loaded and locked. I punched Jordan Valley, Oregon, into the GPS, brought the big thumper to life, dialed up the electric riding gear and rolled into the cold Idaho morning.
The folks at JV Café in Jordan Valley were a gold mine of knowledge about the best way to reach my next destination, Silver City, Idaho. After slithering over snow-covered mountain roads, I reached the historic mining town, knowing that my KLR is a competent mountain climber even when heavily loaded. The KLR is also a capable desert crosser, able to maintain highway speeds on gravel or asphalt. While not endowed with gobs of power, there's enough to maintain 60-65 mph uphill in top gear. Its willingness to hold a line on sweepers is also a welcome trait.
I discovered that the secret to Idaho's farming success is the canals carrying melted snow from the mountains. Canals are everywhere—some lined with concrete and others simply hewn from the earth, innovation spawned from desperation and determination.
I intersected Thousand Springs Scenic Byway, paralleling the Snake River, and stumbled onto Three Island State Park, where Oregon Trail emigrants caulked their wagons and floated them across the river. I navigated gravel roads with names like "Flying Pig" and passed landmarks like the Hagerman Fossil Beds National Monument. I dismounted at the Hansen Bridge overlook to marvel at the spectacular view of the Snake River Canyon, where settlers crossed the river in rowboats until 1919, when a suspension bridge was constructed. Today, thousands of travelers whiz by on nearby Interstate 84, oblivious of the scenic wonder just a mile away.
I was following U.S. Route 30, portions of which hug the old Oregon and California Trails, when I paused at Hudspeth Cutoff, where stampeding '49ers left the California Trail in search of a shorter route to the gold. A roadside marker describes with pictures and words how the stoic emigrants endured dust, disease and death in search of a better life. Overwhelmed by the beauty of the land in contrast with the plight of those trying to settle it, I found respite at a Mexican restaurant and a motel in Pocatello.
I ventured into Wyoming with Flaming Gorge National Recreation Area in my sights. Not a drop of rain had dampened the trip so far, but on this day I saw ominous clouds and rain shafts in the distance, and it was a dark, cold, wet and long 75 miles to Interstate 80 and a motel.
The next day I tested the KLR's abilities in the slimy red mud of Red Canyon Road, one of several roads that climb to spectacular Flaming Gorge overlooks. A sign reads, "4-wheel drive recommended beyond this point." A mile farther I encountered a small SUV, bogged down and abandoned, partially blocking the road. I continued slipping and lurching for perhaps another two miles when the tires suddenly found traction on red stone. An inspiring view unfolded. I was on the precipice of a serpentine canyon where the now-impounded Green River once flowed. The fierce wind was cold as I uncovered my camera. Totally alone on the edge of the world, I heard only the relentless growl of the wind in the trees.
The trip down the mountain was as challenging as the trip up, but now the front tire bore the traction challenge. And it had completely disappeared; only the wheel spokes projected from the red glue. Utah State Route 44 came into view but was fading fast as snow began to cover it. I checked my phone's radar app and saw a major storm approaching. Flaming Gorge Lodge was closed for the winter and my choices were limited. I decided to make a dash for Vernal, Utah, 30 miles down the mountain.
The trip down the mountain was a test of man and machine. The fast-falling snow was the wet, heavy kind that stuck to my face shield. Anything above 25 mph had the front tire squirming out of control. Eventually an 18-wheeler pulled onto the road in front of me, and I followed it down the mountain, its huge tires clearing a path in the snow. It was the first time I was thrilled to share the road with a slow-moving truck!
Vernal was a nice place to spend a couple of nights waiting for the weather to clear. My next planned stop was Dinosaur National Monument, but its website was reporting most roads impassable. I passed through Green River, Utah, which sits on the northern edge of my "Motorcycle Disneyland," the place where my mind goes when I'm having trouble sleeping. It's truly a wonderland. I had always wanted to tour Capitol Reef National Park "the back way," and the KLR was going to make it possible. I took State Route 24 for about 85 miles and got off on the Notom Road Scenic Backway, a dirt and sand road. I traveled this road for about 30 miles through remarkable rock formations. But it got even better when I turned west onto the Burr Trail, a highlight of this adventure thanks to the switchbacks, blind turns, steep climbs and unforgettable scenery. I had ridden the western, paved half of Burr Trail on my Gold Wing by approaching from Boulder, and it's a superb ride, but I wouldn't take a heavy street bike on the eastern dirt section with its washboard surface.
Continuing southwest on State Route 12, also known as the Journey Through Time Scenic Byway, I was transported through Grand Staircase-Escalante National Monument, where prehistoric reptiles ruled this otherworldly landscape. My GPS was navigating to Cannonville, where the Grand Staircase Inn, a motorcycle and price-friendly place with spacious rooms and excellent Wi-Fi, awaited. It's only eight miles from Kodachrome Basin State Park—highly recommended.
A motorcycle trip in this region is not complete without a pass through Monument Valley, a visit to Navajo National Monument and the unforgettable climb up to Muley Point on the thrilling, switchbacked gravel Moki Dugway. I camped at the peaceful Navajo National Monument and might have done so at Muley Point, but 3 Step Hideaway, a rustic motorcycle resort south of Moab, Utah, was calling. The hospitality offered by Scott and Julie Stevenson is hard to beat.
If you believe in spirits, you'll feel them at Hovenweep National Monument, on the Utah-Colorado border. Plan enough time to walk and reflect among the deserted stone buildings built before Europeans "discovered" the Americas. There's a campground at the Visitor Center, and dirt roads lead to the outlying settlements. The spirits are strong here.
The next day I pondered another ancient community at Canyon de Chelly National Monument in Arizona, but this one is still occupied, despite the massacre that occurred here two centuries ago. This bucolic setting seemed incompatible with its sorrowful history.
I passed Petrified Forest National Park en route to Canyon Point Campground, but it was late and I was tired. Canyon Point is a full-featured campsite in a high national forest, popular with tenters and RVers alike. There are secluded sites and forest roads nearby to explore. I enjoyed three nights here relaxing and gathering my thoughts before beginning the final, but picturesque, run to Tucson 200 miles south. The KLR had been a fine travel partner: honest, capable and non-complaining. Some riders gripe that it's lacking power, but then, at my age, so am I!