Last year Arai redesigned its top-of-the-line racing helmet and changed its name from Corsair-V to Corsair-X. We reviewed the Corsair-X in our April 2016 issue (also here on ridermagazine.com), praising its ventilation, lightness, comfort and new pivoting shield mechanism.
Arai has given the "X" treatment to two of its street helmets: the Signet-X, which has a long oval head shape, and the Quantum-X, which has a round oval head shape. And, if you're a tweener, putting the Corsair-X comfort liner (starting at $47.25) in the Quantum-X converts it to an intermediate oval head shape. Since I have a long oval noggin, the Signet-X has more of a "just right" feel than the Quantum-X, though I had trouble finding much to complain about comfort-wise with either helmet.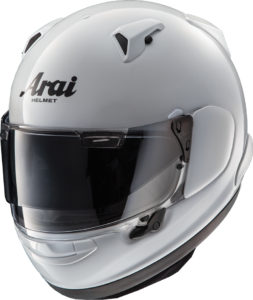 The Signet and Quantum are essentially the same helmet with only minor cosmetic differences; their head shapes—and available graphics—are what set them apart. Both have the Variable Axis System (VAS) that debuted on the Corsair-X, which uses a moving pivot point for the face shield, allowing it to be mounted lower, as well as the side pod to have a shallower recess (for better shell integrity), the side pod cover to be smaller and—best of all—face shield changes to be easier. A large latch on the left side of the face shield simplifies locking and opening the VAS-MV (Max Vision) shield, which comes with a Pinlock-120 anti-fog insert.
Read our First Ride Review of the 2017 Triumph Street Triple RS.
With a Peripherally Belted-Super Complex Laminate Construction (PBScLc) shell, both lids (in size medium) weigh 3 pounds, 8 ounces out of the box, or 3 pounds, 12 ounces with the Pinlock and optional Pro Shade System ($86.45) installed. The external Pro Shade, which has been redesigned to make it easier to flip up and down, is a clever middle ground between a tinted face shield and a drop-down sun visor. When it's up, it acts like a dirt bike-style peak to reduce sun glare without adversely affecting airflow. When it's down, it provides shading over most of the face shield, leaving a small, unshaded portion at the bottom so you can easily read the bike's instrument panel.
Air flows in through a large chinbar vent, brow vents at the top of the face shield and vents on the front of crown (all of which are adjustable/closable), and then out through exhaust vents on the back of the crown, the sides and the rear of the neck roll. They move plenty of air, though with all of the vents open wind noise can become a nuisance unless you wear earplugs; closing the vents on cold or mild days makes the helmets quieter. And, like other Arais, they use a soft, single-piece, multi-density EPS liner to absorb impact energy and a fully removable, washable, anti-microbial comfort liner, which has customizable temple, crown and cheek pads.
For about $160 less than the flagship Corsair-X, the new Signet-X and Quantum-X offer comparable levels of comfort, ventilation, lightness and convenience. Both retail for $679.95-$709.95 for solids or $829.95 for graphics in sizes XS-XXL.
For more information, see your dealer or visit araiamericas.com.