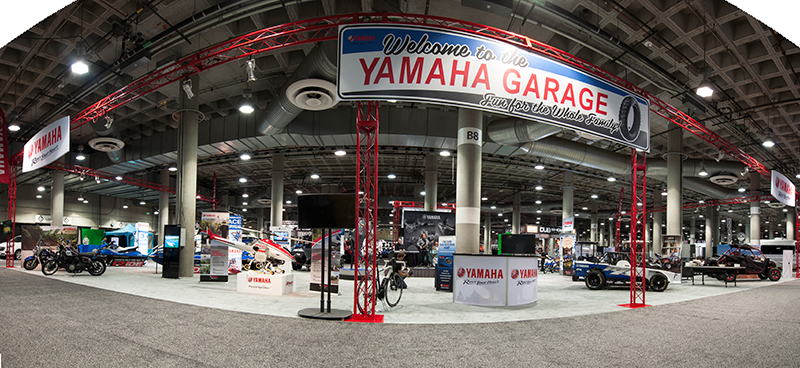 Visitors to the 2016 Los Angeles Auto Show will have the opportunity to see one of the most comprehensive and diverse displays of Yamaha products ever assembled in one location.
Now through November 27, the "One Yamaha" display comprises a widely diverse collection of Yamaha manufactured products ranging from side-by-side vehicles and motorcycles to watercraft and marine engines. You can also see snowmobiles, e-bike systems, unmanned helicopters, golf carts, and music and professional audio equipment.
Read our First Look Review of the 2017 Yamaha FZ-09.
Read our Road Test Review of the 2016 Yamaha FJR1300ES on a tour of California's Four Corners.
The One Yamaha display will include The Garage and GO Exhibit, where visitors can experience the products in unique and interactive displays, as well as talk to Yamaha employees and product experts about the various models on display.
The One Yamaha display was inspired by YMUS President Terry Okawa based on the concept of showing the world just how diverse and varied Yamaha brand products have become.
Read our First Ride Review of the 2017 Yamaha SCR950.
The full line of Yamaha product segments that are represented within the company's Los Angeles Auto Show exhibits include motorcycles, ATV and Side-by-Side vehicles, snowmobiles, outboard engines, Skeeter Bass Boats, WaveRunners, Jetboats, Golf Cars, generators, pressure washers, RMAX unmanned helicopters, JWX-2 Wheelchairs, eBike systems, Yamalube products, and Yamaha music and pro audio products.
For L.A. Auto Show tickets, click here.