The road is turning and twisting in an almost violent way, with 10-mph hairpins and 25-mph curves in endless succession. We (V-Strom and I) are riding high in the sky, above the valleys thousands of feet below, sometimes to the east, sometimes to the west. The left foot is working the transmission incessantly, going from 2nd to 4th, rarely 5th, never 6th, and then back down for the next tightly focused bend in the road. The cornering ability of my machine is superb, done with total ease. The road is good: two lanes with the asphalt generally in acceptable condition and virtually no traffic, only the very occasional ranch pickup.
As I cross Hogtail Saddle, I stop to put on a sixth layer of clothing—I was a lazy cuss and failed to wire up the bike for my electric gear, since I never thought it would get this cold. The V-Strom's temperature gauge is reading a chilly 47. Soon I am crossing the Mogollon Rim, the dividing line between lower and higher Arizona; here the altitude is running more than 9,000 feet. Some great tectonic movement a few million years ago split the state north and south, exemplified by the low-lying convection oven of air-conditioned Phoenix, and the much cooler, forested Flagstaff some 100 miles to the north.
The road straightens, heavily wooded with ponderosa pines on both sides and a small herd of elk off to my left. A few minutes later I am at Hannagan Meadow Lodge, the only commercial operation on this 90-mile stretch of U.S. Route 191, formerly known as U.S. Route 666. Looks inviting, but I'm going to head downhill to the little town of Alpine, at a more modest 8,000 feet.
When a company gives us an adventurous motorcycle to test, we are required to go and have a serious ride over some entertaining roads. Which is why I found myself in Clifton, Arizona, one chilly April afternoon. Never heard of the place? With reason. It is not very hospitable: no lush gardens, no charming outdoor cafés, no classic charm at all. No, its fame lies in the fact that it is the location of one of the biggest open-pit copper mines in the world, the town being essentially owned by the Phelps Dodge Copper Company.
But we're not interested in the work scene, other than thinking about all the copper that has gone into bits and pieces of this V-Strom. We are interested in what lies north of Clifton, 90 miles of motorcycling heaven, or hell, depending on whether the rider likes curves or straightaways.
This stretch of U.S. 191, officially called the Coronado Trail Scenic Byway, may be better known as the Devil's Highway—it is one do-not-miss road to ride in these United States. And doing it on this Suzuki makes it even more fun. I'm a simple man, with relatively simple tastes, and have long been partial to the 650 "Wee-Strom"—the Wee differentiating it from the bigger 1000 version. This model first appeared in 2004, when I had the pleasure of riding one the length of the Baja Peninsula, Mexico, and back. With a curb weight of 470 pounds, the 60-plus horses were enough to propel me speedily along the pavement as well as a number of good dirt roads. My only minor complaint was with the basic suspension, which was fine on pavement but a bit bouncy on rough dirt, especially corrugated roads.
In 2012, a slightly modified Wee-Strom came along, having a little more power and improved Showa suspension. Three versions are available for 2016—a base model, the Adventure (with engine guards, an adjustable windscreen and aluminum panniers), and the XT, essentially a base model with a larger beak and spoked aluminum wheels wearing tubeless tires. The XT has an MSRP of $8,499, and for this ride Suzuki added some $1,500 worth of touring accessories. Cargo was no problem, as they included large (perhaps overly large) SW-Motech-built aluminum panniers—the handlebars measure 34 inches across, while the bags are close to 45 inches. A useful Suzuki magnetic bag sat on the tank. Hand guards protect the hands, and the bike has an adjustable windscreen with an air deflector at the top. A centerstand was also added.
Complaints are standard, namely that the header pipe and oil filter need skid-plate protection (a lower cowling is a $290 option). I regret that the 2012 gas tank was reduced by half a gallon, but the remaining 5.3 gallons can easily carry me more than 200 miles, which I consider adequate range; my trip average was right at 50 mpg. As I stand 6 feet, 3 inches, the nearly 33-inch seat height is fine, and comfortable enough for 400-mile days.
After picking up the XT I did a little local testing and made some minor alterations to the suspension. The front fork offers five-stage rebound adjustment, and I set it at four. I upped the rear shock preload two notches, and slightly increased the damping. Suited me fine. Suzuki did not intend this bike to challenge rough single tracks in the Rocky Mountains, but to take a comfortable ride to the end of the pavement, and then along reasonable unimproved roads.
On a Saturday morning, I headed southeast through Carrizo Plain National Monument and Joshua Tree
National Park, to spend a night in Blythe near the Colorado River. Sort of a rush, but that was because I wanted to get through Phoenix painlessly, which meant covering the 50 over-populated miles of Interstate 40 and U.S. Route 60 before noon on Sunday. It worked beautifully, as I crossed the heavily urbanized landscape from Goodyear to Apache Junction in a little less than an hour.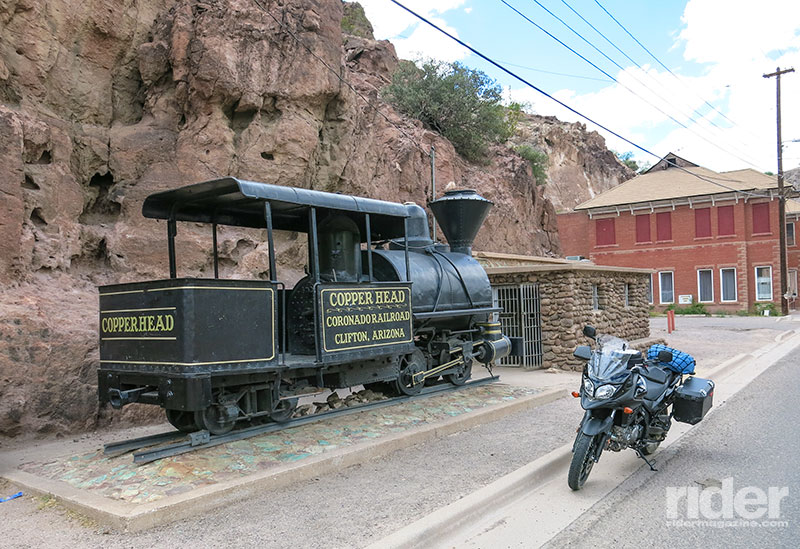 At Globe I turned onto U.S. Route 70, headed to Safford, then turned left onto U.S. Route 191—the old U.S. Route 666. Back when this road went north to join U.S. Route 66 at Sanders, this was in effect the sixth spur, or turnoff, from the main highway, so the number was quite sensible. That is, until it was pointed out that some gematrian numerologists (you can look that up) had decided that the number 666 added up to Satan, or the Devil, and considerable pressure was put upon the highway folk to change the number—which they reluctantly did in 1993.
The cliffs of Clifton were soon visible in the distance, an unnatural orangeish color. The road crosses the San Francisco River entering town. Copper mining has been going on here since 1873, but Phelps Dodge began open-pit operations in 1937. It did change the scenery.
Back in the 1920s, the Arizona authorities decided to build a dirt road from Clifton to Alpine, through what is now the Apache/Sitgreaves National Forest. This became a popular, if perilous, two-day ride or drive. People said this was the route that Coronado might have taken in his search for gold back in 1540, and it was soon labeled the Coronado Trail Scenic Byway. Referencing its 666 number, the locals humorously (?) called it the Devil's Highway.
I got to Alpine, had supper, and woke up with frost all over the bike. Lots of coffee in the room, followed by sausage and eggs at the Bear Wallow Café a short walk away. Wee-Strom fired up about nine o'clock and we headed southeast along U.S. Route 180, to do my loop of Satan's Highway, going alongside the northern end of the San Francisco River, past Luna Lake, crossing into New Mexico and heading south through a lush valley. Had I been Coronado I would have followed the river, not gone over the mountains; he probably did as well. A turn west toward Mule Creek on New Mexico State Road 78/Arizona State Route 78 soon saw me back on U.S. 191, then Safford and on to Globe.
From Globe, we headed northwest along Arizona State Route 188 through the Tonto National Forest, with a stop at the Tonto National Monument. Lots of Indian artifacts remain in the area, from the ruins at the Tonto Monument to those up the road near Camp Verde at the Montezuma Castle National Monument. Days or weeks could be spent in these parts.
We were off to old U.S. Route 66, and to explore a missing section. The 1946 Guide Book to Highway 66 says cheerfully it is some 30 miles from Ash Fork to Seligman. "The road is fairly straight, across a plain covered with grass and sagebrush." However, around 1960, in anticipation of Interstate 40 being built, much of the seven miles of Route 66 between Ash Fork and Crookton Road got moved about a quarter-mile to the north, leaving the old road and a bridge over Partridge Creek to slowly decay. Anyone wanting to enjoy this bit of history should exit at Crookton Road (Exit 139), then head back east on the torn-up asphalt frontage road to the bridge—which now has a large tree growing out of it. The original Route 66 does not go all the way back to Ash Fork, so a little way beyond the bridge you will have to turn around and head back west.
The best stretch of historic Route 66 is the 180 miles from the Crookton Road exit west to Topock, on the Colorado River. This is traveling life as it was before the advent of the superhighways, with two lanes crossing deserts and mountains, through the town of Kingman, population 2,200 in 1946, now 28,000. Historic Route 66 crosses the Black Mountains at Sitgreaves Pass, and down through the then-dying mining town of Oatman—now a tourist destination. Good pavement, bad pavement, the Wee-Strom was quite happy.
On to Needles for the night, and then home. Here is my conclusion: were I to be a one-bike guy, this V-Strom 650XT might well be my choice. It does everything I need a motorcycle to do quite well, has few complications to irritate me or to go wrong, and would not overly damage my financial standing.