Indian Motorcycle's 2017 lineup includes two engine platforms and nine models, including cruisers, baggers and touring models. Here's the low-down on all of them…
Ride Command Infotainment System
New on the Chieftain bagger and Roadmaster touring models, both of which have a handlebar-mounted fairing, is the Ride Command infotainment system, featuring the industry's largest and brightest touchscreen display, highest resolution and fastest response time. Fully integrated into the dash for an up-close rider experience, Ride Command offers an intuitive interface, customizable information displays, glove-compatible two-finger touch capabilities and easy navigation to points of interest. Features include:
– 7-inch display, 800×480 pixels, 2-finger capacitive with swipe and pinch to zoom
– Fastest boot time (ready in about 10 seconds)
– Premium audio system with 100 watts on the Chieftain and 200 watts on the Roadmaster, both with touchscreen and handlebar audio controls
– Bluetooth audio, AM/FM/weather band, USB flash drive support with USB song shuffle
– GPS navigation with turn-by-turn directions, points of interest, compass, and more
– Critical information always displayed, like clock, air temperature, compass heading, fuel level and fuel range
– Convenient phone features available through easy Bluetooth pairing, including phonebook download, incoming call notification with name display, voice activated calling, incoming text notification and more
Read our review of the 2017 Indian Roadmaster with Ride Command
2017 Indian Scout
When it debuted for 2015, the Indian Scout blew us away with its 100-horsepower, liquid-cooled, 69-cubic-inch (1,133cc) 60-degree V-twin with DOHC and 4 valves per cylinder, its 558-pound wet weight and its agile handling. We were also impressed by its innovative styling, low 25.3-inch seat height and accessory extended and reduced reach controls. For 2017, it's available in Ivory Cream, Thunder Black, Silver Smoke or Thunder Black Smoke starting at $11,299, and with ABS it's available in Burgundy Metallic or a pair of two-tone finishes (Brilliant Blue over White and Red or Indian Motorcycle Red over Thunder Black) starting at $12,299.
2017 Indian Scout Sixty
Having thrown down the gauntlet in terms of middleweight performance with the Scout, Indian made its liquid-cooled, V-twin platform more accessible and affordable. The Scout Sixty has lower displacement (61 cubic inches, or 999cc), a 5-speed transmission (down from six), vinyl solo seat (instead of leather) and mostly blacked-out components (cheaper than chrome), and a starting price of just $8,999, in Thunder Black or Pearl White. The Scout Sixty with ABS is offered in Indian Motorcycle Red starting at $9,999.
Read our Indian Scout Sixty review
2017 Indian Chief Classic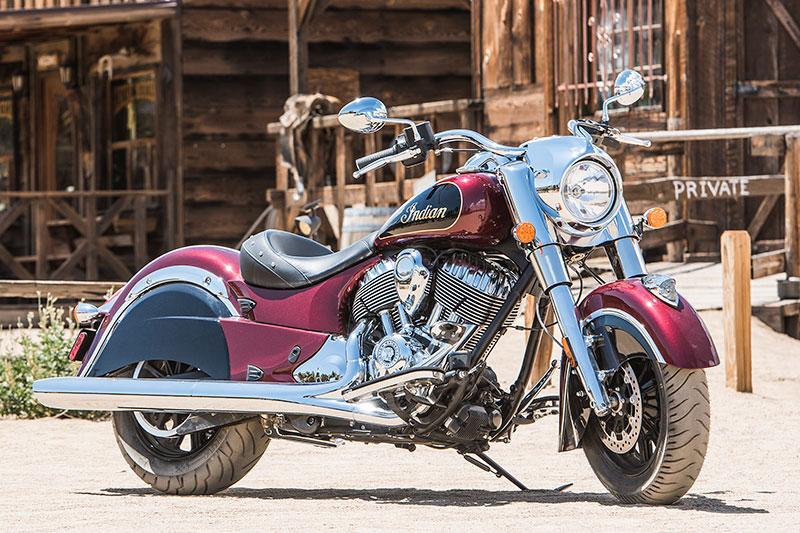 The Chief/Chieftain platform is powered by the air-cooled, 111-cubic-inch (1,811cc), 49-degree Thunder Stroke 111 V-twin, which makes a claimed 119 lb-ft of torque and sounds fantastic, and features a cast-aluminum modular, backbone engine and swingarm. The Classic has the look that have made Indians iconic—full skirted fenders, the illuminated war bonnet on the front fender, elegant lines and plenty of chrome. Standard features include keyless ignition, cruise control and ABS. Starting at $18,499, the 2017 Chief Classic is available in Pearl White or Burgundy Metallic over Thunder Black two-tone.
Read our Indian Chief Classic review
2017 Indian Chief Dark Horse
Like the look of the Classic but don't want all that bright, shiny chrome? Then the Indian Chief Dark Horse may be for you. It has the same Thunder Stroke 111 engine and all-aluminum chassis, but it's finished in matte black from end-to-end matte, with just a hint of chrome. It's also the lightest and least expensive Chief in the lineup, with a claimed dry weight of 751 pounds and pricing that starts at $17,499.
2017 Indian Chief Vintage
For those who want the old-school look of the Chief Classic with some touring amenities, the Chief Vintage adds a quick-release windshield, soft-sided saddlebags made from Desert Tan Genuine Leather and even some fringe. You still get the arm-straightening torque of the Thunder Stroke 111 V-twin, the rigid, all-aluminum chassis and standard keyless ignition, cruise control and ABS. With MSRPs starting at $19,999, the Chief Vintage is available in Thunder Black or three two-tone color schemes: Willow Green over Ivory Cream, Indian Motorcycle Red over Ivory Cream or Springfield Blue over Ivory Cream.
Read our Indian Chief Vintage review
2017 Indian Chieftain & Chieftain Dark Horse
When Polaris re-launched Indian Motorcycle, the new company surprised everyone when it introduced not one but three all-new models for 2014, one of which was the Chieftain, the first Indian ever produced with a fairing and hard saddlebags. The Art Deco-inspired fairing has integrated driving lights, an electric windscreen, a 100-watt audio system and a tire-pressure monitoring system. Other standard features include cruise control, ABS, remote locking saddlebags and keyless ignition. Also, the Chieftain has tighter steering geometry than the Classic and Vintage, which gives it a surprising degree of agility for such a large bike. The Indian Chieftain Dark Horse, starting at $21,999, has a matte black finish and minimal chrome. The Indian Chieftain starts at $23,999, comes standard with the all-new Ride Command system (see above), and is available in Thunder Black Pearl, White Smoke, Silver Smoke or a pair of two-tone color schemes: Star Silver over Thunder Black or Wildfire Red over Thunder Black.
Read our Indian Chieftain review
2017 Indian Springfield
Named after the birthplace of Indian Motorcycle, the Springfield, which was introduced for 2016, combines the styling of a clear, quick-release windshield with the practicality of agile steering geometry and remote-locking hard saddlebags, as well as the versatility of being able to remove the shield and bags for a solo look. Standard features include leather seats, dual driving lights, cruise control, TPMS, ABS and adjustable passenger floorboards. Starting at $20,999, the Indian Springfield is available in Thunder Black or Indian Motorcycle Red, as well as new two-tone finishes: Steel Gray over Burgundy Metallic or Blue Sapphire over Star Silver.
Read our Indian Springfield review
2017 Indian Roadmaster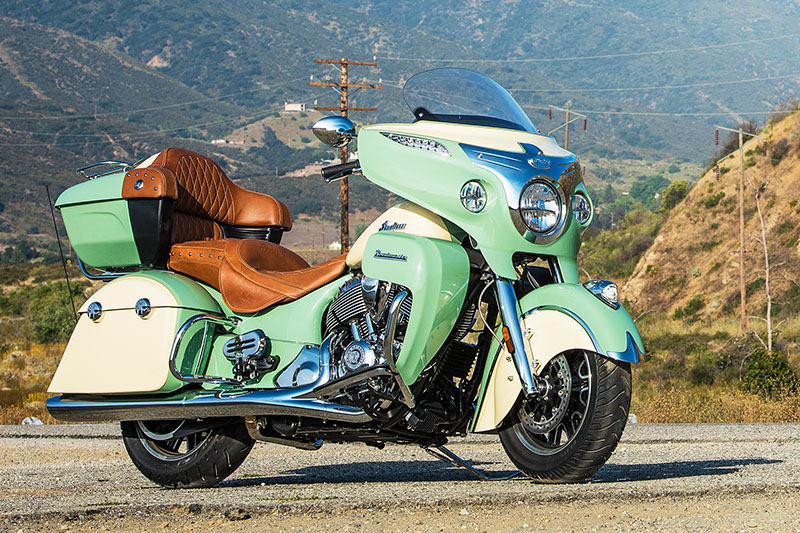 Indian's flagship touring model is the Roadmaster, which is based on the Chief platform, with the Thunder Stroke 111 V-twin and an aluminum chassis, and it offers nearly 38 gallons of storage. It features the new Ride Command infotainment system, electric windscreen, cruise control, heated grips, heated rider and passenger seats (with separate controls), ABS, TPMS, remote luggage locks, keyless ignition (with a fob that locks/unlocks the luggage) and adjustable passenger floorboards. Starting at $28,999, the 2017 Indian Roadmaster is available in Thunder Black, Burgundy Metallic or three two-tone color schemes: Steel Gray over Thunder Black, Willow Green over Ivory Cream or Thunder Black over Ivory Cream.
Read our luxury touring comparison review:
Harley-Davidson Electra Glide Ultra Limited vs Honda Gold Wing vs Indian Roadmaster