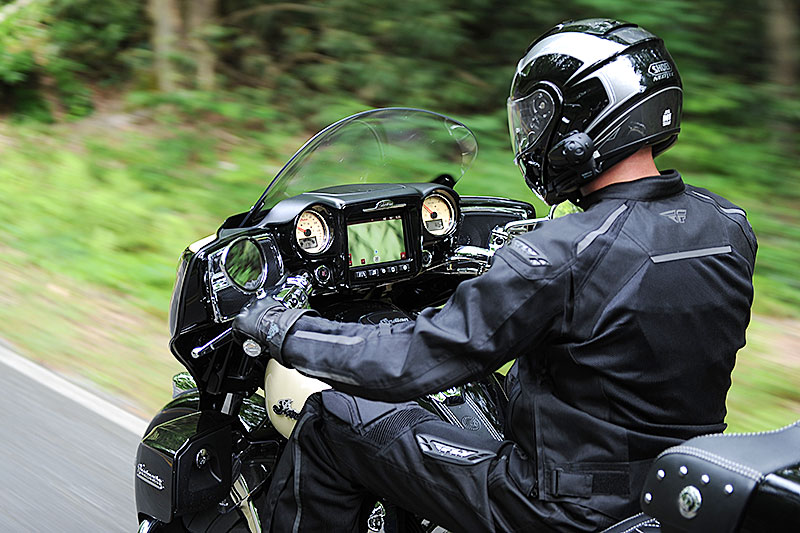 Since being relaunched by Polaris, Indian has roared out of the gate with two engine platforms and nine models in its first three years. For 2017, its Chieftain bagger and Roadmaster touring models, both of which are powered by the air-cooled, 1,811cc Thunder Stroke 111 V-twin and have a handlebar-mounted fairing, get an all-new, integrated infotainment package called the Ride Command System (RCS). Clearly designed to outdo Harley-Davidson's BOOM! Box 6.5T infotainment system on some of its Touring models, Indian claims its RCS has the largest display (7 inches), highest resolution, brightest screen and fastest response time.
Designed to be as user-friendly as a smartphone, the RCS has a two-finger capacitive touchscreen that allows swiping and pinch-to-zoom while wearing gloves, multiple screen modes and shortcuts, large pushbuttons (to quickly access vehicle info, music, navigation and pairing) and Bluetooth capability (for pairing a smartphone and/or headset). It's also customizable, with eight screen options that can be used in any combination. Atop the dash is a small storage compartment with a USB cable for connecting a smartphone, iPod or flash drive.
Last June, Indian invited us to spend a couple days riding a 2017 Roadmaster in the Appalachian Mountains of western North Carolina. Pairing my iPhone 6S and Sena SMH10 Bluetooth headset was simple, navigating the RCS's various screens and modes was intuitive, and the large, bright screen and crisp graphics were easy to read at a glance, especially since the display is front-and-center on the dash. In addition to the full-screen displays, I customized the split-screen displays to show Navigation and Music, Vehicle Info and Ride Data, and Trip 1 and Trip 2, and easily swiped between from one to the next.
The Chieftain and Roadmaster also get new solid and two-tone color options and pricing (MSRPs are $23,999-$25,199 for the Chieftain and $28,999-$30,399 for the Roadmaster), but are otherwise unchanged. As Indian's top-of-the-line touring model, the Roadmaster spoils the rider and passenger with plush seating, generous wind protection (including an electric windscreen and removable fairing lowers with vents), anti-lock brakes, heated grips and seats, cruise control, adjustable passenger floorboards, remote locks for the spacious saddlebags and trunk (total luggage capacity is 142 liters), three power outlets and a tire-pressure monitoring system. And let's not overlook the classic styling, with lots of chrome, that illuminated war bonnet on the front fender and first-class fit and finish. The Thunder Stroke 111 rumbles just-so and churns out gobs of torque (107 lb-ft at 2,700 rpm at the rear wheel, during our test of the 2015 model), though the air-cooled V-twin radiates a lot of heat, especially so on hot, humid days like we had in North Carolina.
Wet weight for the last Roadmaster we tested was 931 pounds, which is a lot of mass to lift off the sidestand and move around. But its stout aluminum chassis, 25-degree rake and well-calibrated suspension allow the bike to seemingly shed many of those pounds when carving around corners—and there's plenty of cornering clearance to do so.
During our last luxury touring comparison test, the Indian Roadmaster held its own against the Honda Gold Wing and Harley-Davidson Electra Glide Ultra Limited in terms of wind protection, comfort, load capacity and standard features. With the new Ride Command System, the Roadmaster (and the Chieftain) has climbed a few rungs higher on the luxury touring scale.
Read our 2015 luxury touring comparison:
Harley-Davidson Electra Glide Ultra Limited vs Honda Gold Wing vs Indian Roadmaster
Read about the rest of the 2017 lineup from Indian Motorcycle