The Trans-Mass Trail isn't an "official" route. You won't find any Scenic Byway signs like you see along the best twisty two-lanes. Instead, this set of mostly dirt roads and trails through western Massachusetts was pieced together by adventure riders and shared so anyone who's interested can check it out.
This version of the route extends from the southern border with Connecticut to the northern border with Vermont. Some roads are graded, year-round country lanes wide enough for two cars to squeeze by. Others are unmaintained seasonal trails that get tricky when muddied by rain or snow melt, or obscured by a blanket of fall leaves. It's a fairly easy ride, although bikes with limited ground clearance, like tourers, cruisers and sport bikes, aren't the best tools for the job.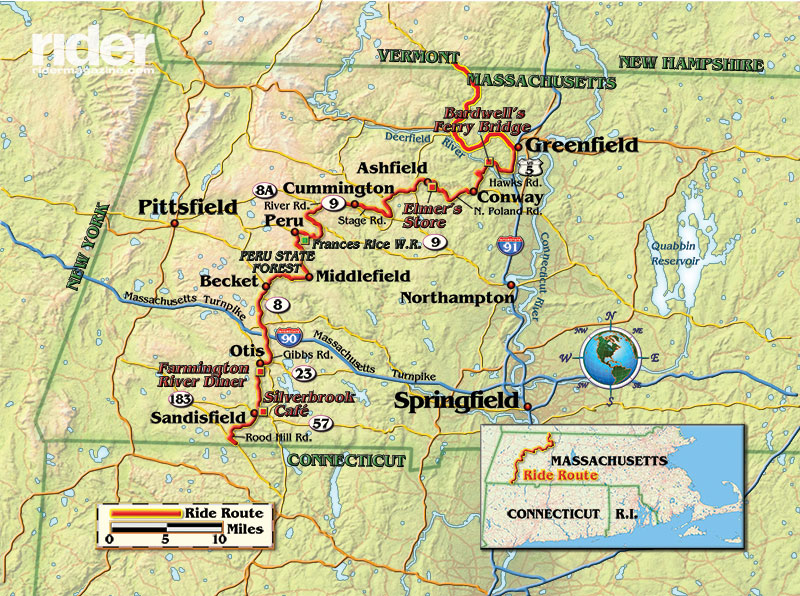 Our group of seven includes experienced adventure riders and newbies on their first ride focused on dirt roads. In Sandisfield, just north of the Connecticut border, a right off State Route 183 puts us on Rood Hill Road. Along the first few miles of dirt road travel, I'm intrigued to see a few abandoned tennis courts, in various states of neglect, on stately old country estates. It speaks to symbols of wealth from an earlier era ("Say, Biff, up for a quick set before cocktails?").
This route is mostly north/south, so at times we must cross main roads that go east/west. The first such crossing is at State Route 57, and a landmark at the intersection—Silverbrook Café—shows me right where we are. I've stopped here for lunch a few times, always welcomed by locals who want to know where the motorcycle guy is heading. North of Route 57 we ride across the Beech Plain. Mist hovers low over a still pond and a stand of bare trees reflects off the surface.
I notice on the GPS that many of these dirt roads parallel main roads, more or less, but dirt roads often follow the shorter up-and-over route instead of the flatter way around taken by paved roads. We emerge at State Route 8 in Otis by another landmark—Farmington River Diner—popular with the two-wheeled crowd.
On the hard-packed surface of Gibbs Road we stop to rest and talk. Rob, an experienced adventure rider who organized today's ride, shares observations and helpful suggestions. We're all feeling great about the ride so far. And why not? It's a crisp fall day riding at a relaxed pace through beautiful rural scenery. Becky has been looking forward to her first ride focused on dirt roads, and I point out some fresh dirt adorning her BMW F 700 GS.
The region seems quite remote as we're riding through, but zooming out on the GPS confirms that we've never been more than a few miles from a town center, a gas station or a restaurant. We cross over the Massachusetts Turnpike, the state's main east-west Interstate, and continue on dirt toward Becket. Briefly we pick up the pace for a paved section of twisties on Route 8. The wind noise on my helmet confirms that our velocity on dirt roads is significantly slower. Turning back to dirt we ride up through Middlefield. This time I get my bearings when we cross Skyline Trail, a favorite blacktop ribbon that hugs the ridge from Huntington up to Hinsdale.
The Trans-Mass Trail edges the Peru State Forest and the Frances Rice Wildlife Refuge. Here the road is a two-track trail covered with newly fallen leaves and it isn't always clear what's under them. There are plenty of rocks and sticks, and a few holes are fairly deep. Watching the track of the rider ahead helps, but Gerry says later that a 21-inch tire out front would have been better than the 17-incher on his Roadster.
We go past a maintained road called Old Route 9, opting instead for River Road, which appears to be a segment of the original Route 9 abandoned years ago when the road was upgraded. Crumbling concrete posts and remnants of old-style cable guardrails suggest that this neglected stretch was once an important thoroughfare. It's empty now, except for us, and we pull over for a break and photo op along Westfield Brook.
Crossing modern State Route 9 and onto Stage Road returns us to dirt roads through farms and woods in Cummington. There's a short run of winding paved roads, and in Ashfield we pull up by Elmer's Store, another local eatery popular with motorcyclists. Zig-zagging toward Conway on North Poland Road we pass a "ROAD CLOSED" sign that declares the road is open April to October, but today is Halloween so it isn't closed yet!
At the bottom of the valley we cross the Deerfield River on Bardwell's Ferry Bridge. Built in 1882 and restored in the 1990s, it's the longest (198 feet) single span lenticular truss bridge in Massachusetts and listed in the National Register of Historic Places. The wooden deck thrums beneath motorcycle tires. Pay attention on the Shelburne side just beyond the bridge where you have to make a hairpin right turn while crossing railroad tracks.
Hawks Road eventually leads us to blacktop and the traffic circle in Greenfield. While route maps I've seen show the Trans-Mass Trail ending here, I figure truly riding "Trans-Mass" requires reaching Vermont. Green River Road takes you there along the entire route's most scenic dirt road, right along the river. And if you feel the urge to keep going, the Vermont Puppy Dog Route keeps heading north, on mostly dirt roads and trails, all the way to Canada. Go get dirty!
You can find more information on both routes in this story by doing an online search for "Trans-Mass Trail" and "Vermont Puppy Dog Route."