It's  a dicey road for a motorcycle, filled with dips and turns that haven't changed since the days of horse-drawn wagons. I haven't ridden it in decades, yet I'm downshifting and braking like it is part of my DNA. There are many like this in the Green Mountains, known by locals, ignored by visitors, and yet they are the true essence of motorcycling in Vermont. One only needs a reason to seek them out.
European settlers brought cheese making to North America, where it remained a farmstead process until the early 1800s, when the first commercial operations appeared. The resurgence of farmstead and artisanal cheese in America is barely three decades old and Vermont is at the forefront of this renaissance.
My first stop was just outside of Brattleboro at Grafton Village Cheese Company's new facility on State Route 30. Known for award-winning cheddars, they also make leyden, alpine and shepsog cheeses. Small cubes of various cheeses arranged in trays on the cash counter entice visitors into taking advantage of these free tidbits.
Route 30 follows the West River and I've crossed the West Dummerston Bridge—a 280-foot long covered bridge built in 1872—to tackle the tricky East West Road to U.S. Route 5. Never conceived for anything as fast as a motorcycle in third gear, this is a challenging stretch of pavement running through woods thick with moisture and past fields heavy with the smell of fresh hay.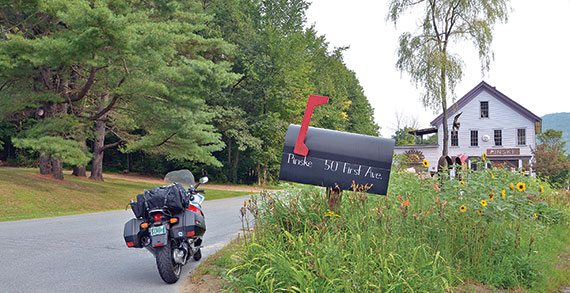 Once the main north/south highway for eastern Vermont, U.S. 5 has been supplanted by Interstate 91. It offers great views of the Connecticut River as I cruise north to Putney. After stopping for coffee at the food co-op, a left in the center of the village takes me up the hill to Westminster West.
Vermont Shepherd is located on Patch Road. Like most farmers, the Majors don't have time to entertain visitors and have converted the old milk house into a self-serve farm store. Frozen lamb is in the top freezer, a selection of international-award winning cheeses in the fridge and maple syrup is on the table: leave your money on the table. No, it's not strange, this is normal.
Those who come to this state and fail to explore the paved town-maintained roads are missing the real Vermont. These local routes follow the contours of the land as they cut through forest, fields and small villages, creating a montage in a rider's eye that no tourism brochure is capable of representing.
Continuing on Westminster Road to Saxtons River, I follow State Routes 112 and 35 upstream to Grafton. This road was built in 1814 and hasn't changed much since. The original Grafton Village Cheese factory and "caves" are located here; the retail store is next to the Grafton Inn. This is an original stagecoach inn established in 1801 along the Boston-to-Montreal route, where notables Ralph Waldo Emerson, Henry David Thoreau, Daniel Webster, Rudyard Kipling, Theodore Roosevelt and Woodrow Wilson often stayed. Things change, yet remain the same: State Route 35 from Grafton to Chester is an authentic stage road lined with stonewalls and centuries-old maple trees.
State Route 11 twists along the Middle Branch Williams River most of the way to Londonderry. After crossing State Route 100 and riding a mile up the hill, I pull into the Taylor Farm. This has become a tourist attraction, however, it remains a working, multi-generational family farm where the Wrights produce about 1,000 pounds of their famous handmade, European-style gouda per week using raw milk from their own herd of Holstein and Jersey cows.
Back down the hill and north on Route 100 takes me through Weston, a popular tourist destination. Usually I'd stop at the Vermont Country Store for some old-fashioned candy, but today I simply continue on State Route 155 following the border of the Green Mountain National Forest. In Tarbellville—one of those small hamlets that no longer exist, yet still are named on maps—I turn right onto Tarbellville/Healdville Road and ride across a bucolic agricultural landscape until reaching the Crowley Cheese Factory.
Prior to the arrival of the railroads and the invention of refrigerated railcars in the 1860s, milk couldn't be shipped to distant markets. The solution was to convert milk into butter and cheese. Different community dairies developed unique local cheeses, but only a handful of these "heritage cheeses" have survived until our modern era. Made of raw cows' milk from the neighboring Carabeau Farm, Crowley is a curd/granular cheese that is neither cheddar nor colby. The recipe has remained unchanged since 1824 and the cheeses are still made by hand in the rustic factory barn Winfred Crowley constructed in 1882.
My next stop is just eight miles away "as the crow flies," but since my Beemer doesn't have wings, I must first go to Ludlow before turning north on Route 100. This portion of State Route 103 was once the Crown Point Military Road, built by Roger's Rangers in 1759 to enable the British army to move through the frontier wilderness on their way to capturing Montreal. After passing a series of beautiful mountain lakes—Rescue, Echo and Amherst—strung along Route 100, I turn onto State Route 100A and immediately climb through Plymouth Notch.
Plymouth is a tiny village of about two-dozen structures. It was the home of the 30th President of the United States—John Calvin Coolidge, Jr.—where he was sworn into office by his father, and where the government of the United States was run during the summer months he vacationed here. One of these structures is a large barn where the President's father founded the Plymouth Cheese Company in 1890. There's no record of our 30th President actually making cheese, but it's easy to imagine. Calvin Coolidge is buried in the Notch Cemetery alongside his father and his son, but the business founded by the Coolidge family lives on as Plymouth Artisan Cheese. Here in the hills of southern Vermont, things do change, yet somehow stay the same.
Twisting down through Pinney Hollow to Bridgewater Corners, I follow the banks of the Ottuaquechee River to the upscale village of Woodstock. I could have stopped for lunch at the Long Trail Brewery or the White Cottage Snack Bar, but continue into downtown to Mountain Creamery. This farm-family owned restaurant is famous for homemade ice cream and the apples for the pies come from their own orchard.
State Route 12/Elm Street takes me over the iron bridge and through the Marsh-Billings-Rockefeller National Historic Park. Bearing right at the Y, and also at the Teago General Store, I climb the mountain on this enticing road. Through terrain shaped by glaciers and raging floods, my ancestors simply followed the path of least resistance when establishing routes from one town to the other. From an eagle's viewpoint I'm following valleys, even as they climb in elevation, and then descending along the same. Panoramic views of rolling mountains while riding past the paint-flaking Georgian-columned town clerk's office almost make me forget to slow down as I lean into a right-hander and immediately cut a 90-degree left turn at Hewitt's Corner. It's downhill to the White River from here.
The afternoon sun throws tree shadows across the pavement and my view of the river flickers like pioneer cinematography while heading north on State Route 14 to South Royalton.
State Route 110 twists through the Piedmont along the First Branch of the White River and has one of the highest concentrations of covered bridges found in Vermont. One of my favorite sport-touring roads, it goes through Tunbridge and Chelsea to climb to Washington Heights before dropping to the plateau that is the Barre Pluton. The granite quarries that made it famous can be seen in the distance.
Instead of turning left in East Barre to visit the Vermont Creamery in Websterville, a right onto State Route 302 is chosen. Now I pick up the pace until entering the gorge on the South Branch Wells River. This downhill approach to Groton is deceptive and has almost ruined me more than once.
At the bottom of the hill, a left puts me onto another favorite: State Route 232 through Groton State Forest. This road is a sport rider's dream, with blind corners, boulder-strewn shoulders, turning traffic, moose, bear, deer, extremely tight corners and narrow pavement that can quickly turn it into more than a rider bargained for. It spits me out at U.S. Route 2 above the village of Marshfield. Down the hill and right across from the village store puts me on State Route 215.
The village of Cabot has a population of only 233, yet the Cabot Creamery receives 40,000 visitors who pay to take the creamery tour every year. To paraphrase a line in the movie Field of Dreams, "If you build it, they will come."
Cabot Creamery Cooperative started in 1919 when 94 dairy farms kicked in $5 per cow and a cord of wood. The creamery now processes a million gallons of milk and produces 84,000 pounds of cheese per day, 24/7. Cabot sets the standard for sharp cheddars and their specialty-aged cheddars have won all the top awards in the world.
I return to Marshfield and continue on U.S. 2, following the lazy brown Winooski River toward Montpelier. After passing through Plainfield, the first right turn takes me up the driveway to Willow Moon Farm. This mother-daughter team has been milking goats since 2006. Their feta, blue, tomme, gouda and ash-ripened goat cheese are all made by hand—the herb and garlic chèvre is impressive.
It is getting late, but it's only 45 minutes to Hotel Vermont in Burlington. Tomorrow I'll be visiting the ultimate farmstead cheese operation: Shelburne Farms. However, tonight will be spent in downtown savoring the state's most vibrant food scene.
| | |
| --- | --- |
| This sign in Westminster West disproves the old adage, "you can't get there from here." | Map by Bill Tipton/Compartmaps.com |
| Cheese sits on shelves while aging in a secret Vermont location. | The Vermont State House, located in Montpelier, is the state capitol of Vermont. |