Riding in Utah is always a treat. You are served a wide variety of motorcycle roads, a cornucopia of awesome and incredibly beautiful parks and endless exotic landscapes. As you might conclude, Utah is one of my favorite rides. This time I'm riding the southern third, west to east.
My doctor and friend, Andy, and his son, Eli, have joined me, and our first day is a brutally hot cruise from Ventura, California, to Mesquite, Nevada. The next morning the enjoyment begins as we slalom through the Virgin River Gorge. Even on Interstate 15, the sweeping curves and remarkable scenery in the red-rock gorge are pleasurable. North of St. George, Utah, we catch State Route 9 heading east to Zion National Park. This is mostly a wide two-lane road with gentle curves. Once beyond the few towns and around the lumbering RVs, the ride gets even better, with plenty of geological formations hinting at what awaits us.
At Zion, we skip the canyon (accessible on foot or by shuttle bus only) and head to the high county to marvel at the contorted, cross-bedded Navajo Sandstone formations along Zion-Mount Carmel Highway (Route 9), which provides a series of delightful curves as well as a quandary—do I enjoy the curves, or do I slow down and savor the amazingly beautiful rock formations? This road's other notable feature is the 1.1-mile Zion-Mount Carmel Tunnel. Dedicated on July 4, 1930, at the time it was the longest tunnel in the USA. Today it's still a notable achievement. One-way traffic is controlled by a ranger at each end, who hands a baton to the last car in line to give to the ranger at the other end, who then repeats the process.
Reaching Mount Carmel, we head north on State Route 89 through Long Valley following the East Fork Virgin River. This valley, having plenty of water, has lush green pastures with grazing cattle. Here, Route 89 is a sedate two-lane ride over sweeping curves and straight runs. A right onto State Route 12 brings us to Red Canyon, where pink and red rocks, cliffs and spires present themselves for viewing beside the roadway. This impressive place is a tantalizing preview to one of my favorite Utah roads!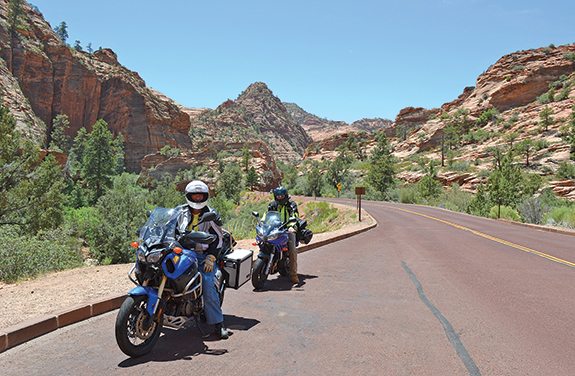 Bypassing Bryce Canyon National Park and heading north on Route 12, we're riding a meandering two-lane road through typical western ranching country. Eventually we reach several vista points overlooking buff-colored slick rock formations that are part of the Grand Staircase-Escalante National Monument. Farther north, we reach Boulder and Burr Trail. Being a pavement rider, my only interest is the western portion of Burr Trail, which passes through a spectacular slot canyon. This ride overloads my visual and riding senses—a curvy, wide single-lane road bordered by green foliage and sandwiched between shear vertical red walls topped by a blue sky. Emerging from the canyon, an overlook provides a view of the Waterpocket Fold cliffs and rainbow-colored rock formations. As an extra treat, we turn around and experience this magnificent ride from a new perspective.
Back on Route 12 heading north, we pass through the Dixie National Forest, enjoying green meadows and lush stands of trees. Turning up the enjoyment level, we push the bikes through numerous curves up to and down from the 9,400-foot summit at Homestead Overlook.
After a night in Torrey, the ride takes us east on State Route 24 through the top of Capitol Reef National Park. This is a wide two-lane road with gentle curves and an enforced low speed limit. Here we are presented with numerous huge reef-like cliff formations capped by white Navajo sandstone. Beyond the park, we increase our pace and enjoy the few curves on the way to Hanksville. Later we follow State Route 95 toward Lake Powell through open, uninhabited country on a fairly straight road until we get closer to Lake Powell and are rewarded with interesting rock formations and more curves.
Reaching Lake Powell and the Colorado River and crossing the graceful arch bridge, we continue on Route 95 through pinion pines, junipers and more beautiful sandstone formations. Roughly 113 miles from Hanksville, we pull into Natural Bridges National Monument to view and learn about three natural bridges. These formations are different from arches because flowing water created the arches, whereas frost action and seeping water formed the arches in Arches National Park near Moab. Another difference is there are fewer tourists! Leaving Natural Bridges, still on Route 95, we are guided through forests and several challenging curves. At State Route 191, it's north through open cattle country to Blanding for the night.
Starting our homeward journey the next morning, we immerse ourselves in Native American history by visiting Hovenweep National Monument. From Blanding, we take Route 191 south to State Route 262 east to Reservation Road 2416, following signs to reach the Hovenweep Square Tower Ruins site. This is the best preserved and most impressive of the six village sites that were inhabited by ancestral Pueblo Indians. From Hovenweep we return to Route 191 heading south to catch State Route 163 through Mexican Hat, and on by Monument Valley, viewing numerous impressive isolated red sandstone monoliths towering above the desert floor. Continuing on Route 163 we pull into Kayenta, Arizona. From here it's State Route 160 west to State Route 89 south through some arid countryside until about 30 miles north of Flagstaff, when we climb into forested terrain with cooler temperatures. After successfully emerging from Flagstaff's crazy maze to reach State Route 40, we cruise westward. Passing Ash Fork, we leave Kaibab National Forest and enter more arid ranching country all the way to Kingman where we spend the night.
Our final day is a 320-mile cruise on the hot mundane Interstate to reach home. Fortunately, as we ride west, the air temperature keeps dropping. And one Interstate cruising advantage is that we can think about the enjoyable and enlightening past three days sampling Utah's geologic displays and Native American history.