Photography by Brian J. Nelson
Those interested in a new small-displacement street bike have a wide range of options to choose from. There are cruisers, sportbikes, standards, supermotos and dual-sports from Honda, Kawasaki, KTM, Star, Suzuki and Yamaha—more than 20 different models under 400cc, and that's before adding in scooters and street-legal enduros.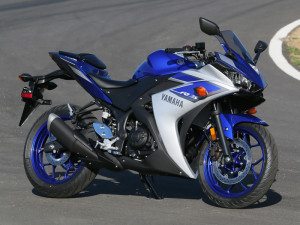 Competition among pint-sized sportbikes has heated up lately, with major updates to the Honda CBR300R and Kawasaki Ninja 300 and the release of KTM's RC390. Yamaha has entered the fray for 2015 with its all-new YZF-R3, an entry-level addition to its R-series that's powered by a liquid-cooled parallel twin displacing 321cc—more than the Honda and Kawasaki but less than the KTM.
Designed to be accessible by a wide audience—everyone from new riders to club racers—the R3 weighs just 386 pounds wet (claimed), has a modest 30.7-inch seat height and fits nearly any budget at $4,990. The R3's user-friendliness is evident in features like its progressive throttle pulley, which opens the throttle gradually at first and more rapidly as the grip is twisted farther back. Ergonomics are approachable, too, with a sculpted fuel tank that's narrow between the knees, a flat, tapered seat that makes it easy to reach the ground and clip-on handlebars positioned above the triple clamp for a relaxed riding position.
As a chip off the R1/R6 block, the R3's engine, which serves as a stressed member of the steel diamond-type frame, has a DOHC, 4-valve-per-cylinder head with downdraft intakes, 11.2:1 compression and closed-loop fuel injection fed by a pair of 32mm Mikuni throttle bodies and 12-hole injectors. Forged aluminum pistons reciprocate inside parallel cylinders that are offset slightly to reduce friction, and a single-axis counterbalancer quells vibration. The 6-speed transmission has a low first gear for easy starting and overdrive fifth and sixth gears for smooth highway riding.
Yamaha's Northern California press launch included a 120-mile ride in the rolling foothills of the Mendocino National Forest followed by a full afternoon spent lapping Thunderhill Raceway's 2-mile west course. At 6-foot, 2-inches and 190 pounds, I'm taller and heavier than most R3 owners are likely to be, but I never felt cramped thanks to a sensible handlebar-seat-footpeg triangle that should accommodate a wide range of riders. Upon startup, the R3 emits a mild chugga-chugga burble from its 2-into-1 exhaust. From pulling out of the parking lot to pulling into the pits at the end of the day, I found the R3 remarkably easy and fun to ride. Clutching, shifting, turning, stopping, accelerating—all were as effortless as it gets. The progressive throttle is simple yet brilliant, helping the engine feel docile in the low to midrange but exciting as revs approach the 12,000-rpm redline.
Sporty steering geometry, a short wheelbase, low curb weight and narrow tires (110/70-R17 front, 140/70-R17 rear) help the R3 feel light on its Michelin Pilot Street-shod feet. Given the price point of this bike, the KYB suspension is basic, with a non-adjustable 41mm fork and a single shock with seven-step preload adjustment. With 5.1/4.9 inches of front/rear travel, the suspension's compliance was decent though everything felt a bit soft for a guy my size, especially as the pace heated up. The Akebono brakes are likewise good but not great, with a two-piston caliper squeezing a 298mm single disc in front and a one-piston caliper squeezing a 220mm disc out back. ABS is not available.
Styling-wise the R3 fits right in with Yamaha's R-series family, with angular, aggressive bodywork and fierce-looking twin cat-eye headlights. Since accidents happen, especially among less experienced riders, Yamaha fitted the R3's 3.7-gallon fuel tank with a plastic cover that's easier and cheaper to replace than the tank itself. Tucked under the lightly tinted windscreen, which provides modest wind protection without excessive noise or buffeting, is a fully featured instrument panel, with an analog tach, an adjustable shift light and an LCD with speed, gear position, fuel level, odometer, tripmeter, oil change tripmeter, fuel trip meter (instant and average) and a clock.
Motorcycles are so good these days that there are few bad apples in the bunch and criticism becomes largely an exercise in picking nits and splitting hairs. What becomes of the utmost importance is how a bike makes you feel. Is it fun or exciting? Does it have some kind of mojo that hides between the lines of a spec chart? I had an absolute ball riding Yamaha's little R3, and considering its price point and mission, I had few complaints. It's a bike new riders can be proud of and experienced riders can have fun on, and, with a claimed 56 mpg, it's the ideal fuel-sipping commuter.
2015 Yamaha YZF-R3 Specifications
Website: yamahamotorsports.com
Base Price: $4,990
Engine Type: Liquid-cooled, transverse parallel twin, DOHC, 4 valves per cyl.
Displacement: 321cc
Bore x Stroke: 68.0 x 44.1mm
Transmission: 6-speed, cable-actuated wet clutch
Final Drive: O-ring chain
Wheelbase: 54.3 in.
Rake/Trail: 25 degrees/3.7 in.
Seat Height: 30.7 in.
Claimed Wet Weight: 368 lbs.
Fuel Capacity: 3.7 gals.
MPG: NA
| | |
| --- | --- |
| The Yamaha YZF-R3 is powered by a 321cc parallel twin. | The YZF-R3's clip-on handlebars are above the triple clamp for a more relaxed riding position. |
| The Yamaha YZF-R3 gets around a racetrack quite well and is a good learning platform. | This is the environment where the YZF-R3 really shines – a smooth, curving mountain road. |