In the spirit of this year's 75th Sturgis Motorcycle Rally, Harley-Davidson and city officials from Sturgis, South Dakota, are finalizing an agreement covering the next 75 years, making Harley-Davidson the official motorcycle of the Sturgis Motorcycle Rally.
"Harley-Davidson riders have attended the Sturgis Motorcycle Rally for decades. This new agreement will help fuel many more years of freedom, independence and rebellion for this iconic gathering," said Matt Levatich, president and chief operating officer at Harley-Davidson. "Riding is a passion passed down through generations, so it's important we celebrate the legacy and history of Harley-Davidson in Sturgis, while helping creating new memories."
As part of the agreement, a permanent plaza will be built on Main Street in Sturgis that will include a stage for events, concerts and even weddings. The year-round location, which will be completed in time for this year's 75th rally, will be the official Harley-Davidson destination for riders and fans alike.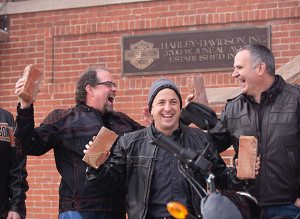 To ensure the new multi-purpose space builds on the legacy of the Harley-Davidson brand, the plaza will integrate bricks from the company's Milwaukee headquarters, a building that once housed the company's factory dating back more than 100 years.
During a news conference at the company's headquarters, Harley-Davidson announced the planned agreement, which has an initial term and renewals running through 2090. To unveil the deal, Harley-Davidson removed a brick from the historic front entrance using a 2015 Harley-Davidson Street 750 motorcycle. That brick, alongside one from the Harley-Davidson Museum and 73 bricks from the headquarters' famous motorcycle-only parking area will be delivered to Sturgis on Harley-Davidson motorcycles.
"For decades, Harley-Davidson has been the motorcycle of choice for Sturgis Motorcycle Rally fans and a great partner to the City of Sturgis," said Sturgis Mayor Mark Carstensen. "Today it gives me great pleasure to solidify its importance by making it the official motorcycle of the Sturgis Motorcycle Rally."
The 75th Sturgis Motorcycle Rally will begin August 1, 2015. For inspiration and pictures from the 2014 rally, visit h-d.com/sturgis.