When we heard that BMW's versatile R 1200 R Roadster would be powered by the latest liquid-cooled version of the 1,170cc boxer engine for 2015, the first thought to cross our minds was, "Hmmm, wonder where they're going to put the radiators?" The first three bikes to receive the new "water boxer" opposed flat twin—R 1200 GS, GSA and R 1200 RT—all kept their functional Telelever front suspension, which uses a trailing link (or A arm) pivoting on the frame and a spring strut (a.k.a. shock absorber) to relieve the telescopic fork of suspension duties, leaving it to just steer the bike. The Telelever link is smack dab in the way of a typical radiator though, so BMW split the rad in two on those models and located the halves on either side of it. Why not—they have plenty of existing bodywork up front to conceal a small pair of radiators.
Putting a pair of radiators on the front of the minimalist R 1200 R, however, would give the naked bike a look akin to squirrel cheeks—cute on a squirrel but unsightly on a svelte bike like this. So BMW took the radical step of eliminating the Telelever on the new R 1200 R and replacing it with a beefy 45mm male-slider (or upside-down) fork similar to that on the S 1000 RR sportbike. This allowed a one-piece radiator to tuck-in nicely in front of the engine where it belongs, and gives the bike a leaner silhouette. It may even reduce weight, since the rigid fork only has a spring in one side, and damping components in the other.
BMW's drive to perfect anti-lock braking performance led to the introduction of the Telelever in the early '90s, since among other good things it practically eliminates fork dive under braking, thus shortening the delay between brake application and loading/unloading the tires. ABS computers and hardware have since evolved to make such measures unnecessary, but Mr. Telelever has hung in there and lent a particular feel to all boxer front ends until now, leading us to wonder just how well the R 1200 R would handle without it. The first late-model R-bike to chuck the Telelever, the 2014 R nineT, didn't boost our confidence, since its soft fork dives quite a bit even if it looks quite apropos on the air-cooled retro bike.
What we didn't count upon is that the 2015 R 1200 R has changed so much for the better overall that the different feel of its front end is really just a footnote. Except for the airbox and muffler, The R's DOHC, four-valve-per-cylinder engine is identical to that in the R 1200 GS and RT boxers, though the R's Paralever shaft terminates in final drive gearing that is slightly higher (lower numerically) than theirs. Instead of the leisurely throb of its air-cooled predecessor, the liquid engine positively comes alive in the lighter 508-pound, fully fueled R 1200 R, with brisk acceleration and a braapp snarl that sounds like a baritone Uzi. It maintains a strong pull down low and in the midrange, too. At times there's a bit more buzziness in the seat and grips than in the former model, but it never gets ugly, and the bump to a claimed 125 horsepower and 92 lb-ft of torque is worth a little tingling now and then. At the bike's introduction in Alicante, Spain, the test machines were all equipped with optional Shift Assist Pro, which eliminates the need to use the clutch or roll off the throttle to upshift, and allows downshifts without the clutch when the throttle is closed. SAP shines when downshifting, but only works smoothly when upshifting in the higher gears. I found upshifting the R 1200 R with the clutch to be a bit clunky unless you're very careful, with a narrow clutch engagement point and long throw at the shift lever.
An all-new tubular-steel bridge frame supports the engine as a stressed member, and has a bolt-on rear seat subframe for easier replacement or repair. Up front the standard fork lacks any adjustments, and the single-sided Paralever shaft pivots off the frame and is suspended by a standard single shock with adjustable rebound damping and remotely adjustable spring preload. Our test bike was equipped with optional Dynamic Electronic Suspension Adjustment (ESA), which gives the rider three preload options and a choice of Dynamic or Road damping settings from the handlebar. Data from lean-angle and suspension travel sensors are combined with other information such as road speed and brake application to automatically adjust both the front and rear suspension damping to best suit the conditions. The system seems to work very well, instantly tweaking the softness or stiffness in milliseconds to minimize dive and other adverse reactions. Since we spent most of the intro riding on wet back roads, however, I'll reserve full judgment until we get a test bike stateside.
Both ABS and Automatic Stability Control (ASC, or traction control) are standard on the R 1200 R, and both can be turned off. Ponying up for Riding mode Pro gets you Dynamic Traction Control (DTC) that works in corners, as well as Dynamic and customizable User engine modes in addition to the standard Road and Rain modes. Despite the addition of the banking sensor, BMW says the ABS does not work in corners on the R 1200 R. Though I couldn't ride the bike at my limit in corners due to the rain, handling is smooth, light and predictable, and the triple disc brakes with radial-mounted opposed four-piston calipers up front are super strong and linear. This is basically a sportbike without the plastic or chiropractor visits that will excel at sport-touring, romps through the canyons or commuting.
Ergonomically the R bike has been completely revised within the acceptable norms for a sport standard or roadster. The upright seating position has a new tapered handlebar with a slight forward bias to help brace the rider against the wind, and there's plenty of legroom between the seat and the comfortably set footpegs. I was surprised by how easily I could plant both feet on my 29-inch inseam on the ground from the cushy standard seat, and optional Sport, Low and High rider's seats as well as a Comfort passenger seat should help it fit a lot of different riders. Both the clutch and brake levers are adjustable as well. We didn't get much highway time at speed, but the bike seems comfortable enough to ride all day, with a 4.7-gallon tank that should give it good range.
Styling a bike that is, in the words of BMW's Head of Motorcycle Design Edgar Heinrich, "A frame, engine, two wheels and as little as possible" is a tough assignment, but Heinrich's team has done a good job of modernizing what is arguably BMW's most traditional bike. The "in at the top, out at the bottom" intake and exhaust layout of the new engine adds an additional challenge to making the bike look dynamic and sporty in such a minimalist package. With its short, high tail, muscular frame and tank and low, compact front, the R 1200 R seems to be surging forward even when stopped, yet its leanness and open areas give it a light and very manageable feel. A new triangular stacked headlight has been integrated into the steering head area, and the 2-into-1 exhaust ends in a pentagonal muffler, far cries from the classic round shapes you might expect. The bike is shorter and more compact overall too, with a stubby fender up front and a mere wisp of a tailsection.
Three color variations also come with some individual styling licks, like an engine spoiler and stainless-steel tank cover on the white bike with red frame. The multifunctional instrument cluster comprises an analog speedometer and a TFT display with Full, Sport and Tourist modes emphasizing different aspects of the information depending upon what's important to you—a bar graph vs. numerical tach, for example, or bringing the trip computer numbers to the fore. The trip computer is standard, and can be enhanced with onboard computer Pro, which adds even more useful info. In addition to a full set of hard luggage, options are available like cruise control, heated grips, a centerstand, GPS prep, tire pressure monitoring and even Keyless Ride, which allows the bike to fired up and the steering lock and fuel cap locked and unlocked without a key. All of this and more have transformed what was once BMW's classic, traditional R bike into a conveyance of the future, without sacrificing the elemental roadster look and feel of this core motorcycle.
You can also check out our video showcasing this motorcycle on our YouTube channel here.
2015 BMW R 1200 R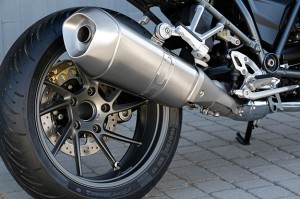 Base Price: $13,950
Price as Tested: $16,995 (Premium Package)
Warranty: 3 yrs., 36,000 miles
Website: bmwmotorcycles.com
Engine
Type: Liquid-cooled, longitudinal flat opposed twin
Displacement: 1,170cc
Bore x Stroke: 101.0 x 73.0mm
Compression Ratio: 12.5:1
Valve Train: DOHC, 4 valves per cyl.
Valve Adj. Interval: 6,000 miles
Fuel Delivery: BMS-X EFI
Lubrication System: Wet sump, 4.2-qt. cap.
Transmission: 6-speed, hydraulically actuated wet clutch
Final Drive: Shaft, 2.818:1
Electrical
Ignition: Digital electronic
Charging Output: 508 watts max
Battery: 12V 12AH
Chassis
Frame: Tubular-steel bridge type w/ engine as stressed member & EVO Paralever cast aluminum single-sided swingarm
Wheelbase: 59.6 in.
Rake/Trail: 27.7 degrees/4.9 in.
Seat Height: 31.1 in.
Suspension, Front: Telescopic w/ 45mm stanchions, Dynamic ESA (as tested) & 5.5 in. travel
Rear: Single shock w/ Dynamic ESA (as tested) & 5.5 in. travel
Brakes, Front: Dual 320mm floating discs w/ opposed 4-piston radial-mounted calipers & ABS
Rear: Single 276mm disc w/ 2-piston pin-slide caliper & ABS
Wheels, Front: Cast, 3.50 x 17 in.
Rear: Cast, 5.50 x 17 in.
Tires, Front: 120/70-ZR17
Rear: 180/55-ZR17
Claimed Wet Weight: 508 lbs.
Load Capacity: 484 lbs.
GVWR: 992 lbs.
Performance
Fuel Capacity: 4.7 gals.
MPG: 89 PON Min (low/avg/high) NA
Estimated Range: NA