Motorcycle camping is an absolute blast, and the cost savings over hoteling can be important for a lot of us. Every few years Rider organizes a Camping Challenge ride to test the outdoor skills and equipment choices of our generally cheap, lazy staff and spoiled contributors. The idea is to be completely self-sufficient on a motorcycle camping trip, with the riders carrying everything on their bike they need for comfort, sleeping and eating. Pre-prepared food is not allowed; everyone has to bring their own grub and cook it themselves, with points awarded for solid multi-course meals vs. say, soup out of a can (Clem). At the end of a great ride, the Challenge always ends up being really fun and leads to a useful story with a lot of different approaches to Camping 101.
Read: Getting Started on Your First Motorcycle Camping Tour
We actually do quite a bit of camping in between Challenges, too, as with the adventure-bike shootout in this issue, but usually in a much simpler way. Most of the bulk and complication of camping out Challenge-style is involved not with eating per se, but in preparing the food. Dispense with the stoves, cookpots, pans, plates, coolers, etc., needed to deal with dehydrated food, uncooked spaghetti, a raw pork chop or macaroni and cheese, not to mention the cleanup, and suddenly your camping equipment needs are reduced to little more than the following:
• Tent
• Ground cover
• Sleeping bag
• Sleeping pad, air mattress or cot
• Stake mallet/puller
• Camp chair
• LED headlight/flashlight
• Small stove/coffee pot or JetBoil
• Cup/spork
• Water bottle or bottled water
• Multitool or knife
• Towel/soap/cleansing wipes
• Windproof matches/lighter
• Kindling or campfire starter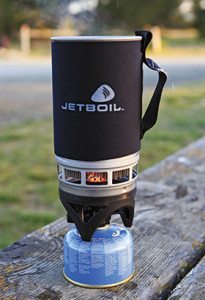 Purchased wisely, all of this will fit in a single duffle or large saddlebag. Of course, it presumes you'll either starve, eat your meals away from the campsite, or do what we do—raid a store on the way to the site like a swarm of locusts and strip the shelves of sandwiches, chips, smoked oysters, dried fruit, cooked chickens, turkey legs and whatever else strikes our fancy for dinner. Then we load it all on the bike with the beverages of our choice and a couple snack bars for breakfast. On the typical adventure or touring bike with luggage, you can get away with this because you had the foresight to leave some room for your purchases when you packed, or brought a backpack or extra bag to bungee onto the seat. There may even be a store at the campground that has what you need—give 'em a call in advance.
Read: Motorcycle Camping Checklist
To make it even easier, we generally choose campsites with a picnic table and toilets, running potable water and trashcans nearby. But you can also pack a trowel, a roll of TP, trash bags and large bottles of water for that special primitive campsite in the mountains. Allow about 1 gallon of water per person per night. After setting up our tents, blowing up air mattresses and such, we'll gather firewood or get some from the campground host. Then we'll spend the evening basking in the glow of the fire, discussing weighty world issues and making a healthy meal from our purchases, sipping soft drinks until it's time to hit the sack early.
You're not buying that, are you? Suffice to say our evenings actually look more like a medieval banquet, with a lot of belching and noisy bench racing about motorcycles until people are stumbling around in the dark trying to set up tents with one eye closed. Of course, we're working—you could read a book using your LED headlight, or just watch the moonrise.
If you're new to motorcycle camping, you'll find the trick short of towing a trailer is to buy equipment for backpacking that is as small and light as possible. Choose a tent and rain fly that is just big enough to fit you and your gear inside, that packs small, and set it up on a tarp or ground cover to protect the floor. Down or synthetic down sleeping bags will pack down quite small in a compression stuff sack, and choose an inflatable sleeping pad like a Big Agnes Insulated Air Core or Therm-a-Rest NeoAir rather than the bulkier self-inflating or foam sleeping pads. If you must have that cuppa Joe in the morning, instant coffee like Starbucks Via saves some hassle, and you can heat the water with a small backpacking stove or Jetboil cooking system. Campfire starter is safer than newspaper or gasoline to get your campfire going, and we've been known to forgo a fire in favor of a small gas lantern, which gives off warmer light than LED models.
Pack everything in a duffle you can strap on the bike with ROK Straps and keep your "Go" bag ready for a spontaneous night under the stars. And if you see the Rider gang out there, come on over and say hi! Just don't get between us and the food….
| | |
| --- | --- |
| Big Agnes Fly Creek UL2 tent (includes standard rain fly; not shown), REI Travel Down mummy bag, Therm-A-Rest NeoAir air mattress and Exped air pillow pack into very small bags and provide shelter, warmth, privacy and a lot of comfort. | Helinox Chair One folds up into the same size bag as the packed REI Flex Lite resting in it; both chairs weigh just 2 pounds each. |
| Campfire starting pucks or logs like these from Zippo Outdoor are reliable and convenient. | Campfire starting pucks or logs like these from Zippo Outdoor are reliable and convenient. |