Without a doubt, the Ducati Diavel and Star Vmax are two of the meanest, most rambunctious motorcycles in production. Sure, most liter-class sportbikes send as much or more horsepower to the rear wheel (though only one—Kawasaki's Ninja ZX-14R—beats the Vmax), but those plastic-clad repli-racers are elegant and almost dainty by comparison, like sinewy ballerinas. These freaks of engineering are thick-necked, tribal-tattooed cage fighters, the kind of guys you absolutely, positively do not want to provoke.
As unapologetic outsiders, the Diavel and Vmax defy easy categorization. Calling them "performance cruisers" is perhaps the nearest approximation, but nonconformist styling, standard seating positions with mid-mount controls and sportbike-caliber componentry strain the limits of the cruiser label. With their loping L-twin (Ducati) and V-4 (Star) engines, heavy-metal exhaust notes and hold-on-for-dear-life thrust, they're two-wheeled hot rods.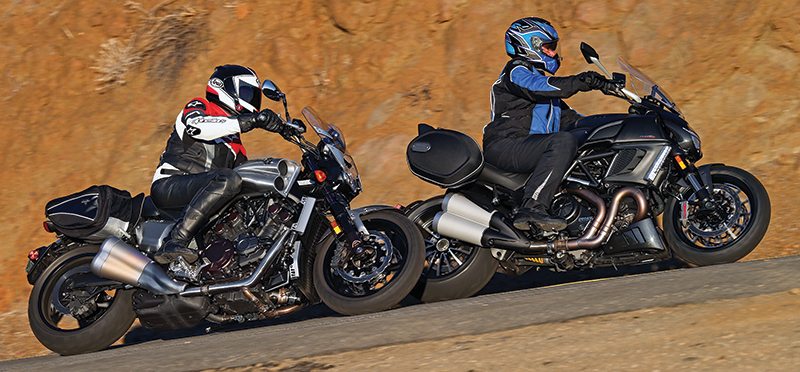 But look beyond the smoky burnouts and bragging rights, and even muscle-bound road warriors like these can be civilized. Ducati made this explicitly so when, two years after the Diavel debuted, it added the Strada for 2013, a dedicated touring model with a windshield, higher and more swept-back handlebars, heated grips, a touring seat, saddlebags, dual 12V power outlets and a higher-output generator (though, disappointingly, load capacity was not increased—it's a mere 325 pounds). The Vmax, which was totally revamped for 2009, hasn't been offered as a touring model, but owners have had the option of outfitting their bikes with factory touring accessories. Only the touring windshield was available for this test, so to even the playing field a bit we strapped on a set of Nelson-Rigg soft saddlebags. Do such concessions to comfort and practicality tame these bucking broncos? Or are these two stallions that can be taken out of the wild but refuse to have the wild taken out of them?
Evolution to the Breed
If the Vmax didn't exist, the Diavel might not either. Shattering every cruiser convention there was, the original new-for-1985 V-Max became a legend overnight. Sporting tough-guy looks and a "massive" 150-section rear tire (then the largest motorcycle tire made), Yamaha claimed 145 horsepower. The opening spread for Rider's first test of the V-Max (September 1985) shows Editor-in-Chief Mark Tuttle—then a newly hired Associate Editor—tucked in like a flat-track racer with inset photos of him lofting the front wheel—on a cruiser! In 1985! The liquid-cooled, 1,198cc V-4 made absolutely corrupting power, but the ace up its sleeve was V-Boost, a bit of carburetor trickery that "makes you the ruler of your very own space/time continuum," wrote then-Feature Editor David D. Mallet.
Like an old muscle car, the V-Max's raw power far outstripped the capabilities of its brakes, suspension and tires, but what it did in a straight line was so good that it remained in Yamaha's lineup with few changes until 2007. Rebooted for 2009 and carrying a Star Motorcycles badge, the new Vmax blew its predecessor out of the water. Its all-new V-4 grew to 1,679cc and claimed output at the crank increased to 200 horsepower—later downgraded to 197 but still enough to be the most powerful production motorcycle of the day. Air scoops became functional, carbs were replaced with injectors and mechanical V-Boost was replaced with Yamaha Chip Controlled Intake (YCC-I) adapted from the YZF-R1 sportbike, which adjusts intake funnel length to optimize acceleration throughout the rev range. A stout, cast-aluminum frame, fully adjustable suspension, dual 6-piston front binders with ABS and sport-touring tires meant that the Vmax's chassis could finally keep up with its massive, shaft-driven power.
Ducati surprised pretty much everybody when it announced the Diavel ("devil" in a Bolognese dialect) for 2011. Press materials never mentioned "cruiser," but the bike's long-and-low profile, moderate seat height and V-Rod-like 240-section rear tire were solidly in the cruiser domain. As if penned by H.H. Giger himself, the Diavel's long, bulbous tank, rounded headlight and stocky shoulders (thanks to side-mounted radiators) are reminiscent of the creature in the Alien films. Powered by Ducati's liquid-cooled, 1,198cc Testastretta 11˚ L-twin from the Multistrada, the Diavel bumps claimed horsepower from 150 to 162 thanks to a unique exhaust system. In typical Ducati fashion, it has a tubular-steel trellis frame, an aluminum single-sided swingarm, fully adjustable suspension, top-shelf Brembo brakes with ABS and chain final drive. It is also equipped with riding modes (Sport, Touring, Urban) that alter throttle response, engine output and the Ducati Traction Control.
Mano a Mano
These bikes make asphalt-buckling power. The Vmax puts its 481cc displacement advantage to good use, spinning the drum on Jett Tuning's dyno up to 178.7 horsepower and 113.8 lb-ft of torque. The Diavel's 142.9 horsepower and 83.8 lb-ft of torque may seem less impressive, but its engine actually has higher output on a per-liter basis—119.3 horsepower/liter compared to 106.4 on the Vmax. And on a power-to-weight basis, the 557-pound Diavel and 695-pound Vmax are dead even, generating 0.257 horsepower/pound apiece.
Response from both bikes' electronically controlled throttles is good, but neither likes spending much time at low revs—the Ducati shakes and shudders below 3,500 rpm and the Star's excessive engine braking makes on/off throttle transitions a chore. Both cruise smoothly in top gear, but the Vmax's V-4 is the more buttery of the two. They also throw off a fair amount of engine heat, the Ducati especially so. On the Diavel, changing from Sport to Touring mode softens throttle response but leaves power unchanged, while Urban mode limits output to 100 horsepower; moving from Sport to Touring to Urban also increases DTC intervention. On the Vmax, there's just one "mode" (Awesome!) and traction control is strictly analog.
Hydraulically actuated wet slipper clutches minimize effort and drama during gear changes. The Diavel's 6-speed tranny feels a bit notchy in lower gears and neutral can be elusive, but the Vmax's 5-speed gearbox is flawless.
I'd be the last person to say that the Vmax makes too much power, but there is a downside: it absolutely inhales gas. When ridden hard, our fuel economy dropped to 20.3 mpg, and with just under 4 gallons of fuel capacity, that means being high and dry in 80 miles. Taking it easy and short shifting yielded 31.7 mpg (126-mile range), but babying the Vmax takes all the fun out of riding it. Our average was 26.1 mpg (103-mile range); Star claims 27 mpg. The Diavel, on the other hand, holds 5.3 gallons of fuel and we averaged 34.1 mpg—good for 181 miles.
Behind Bars
Shared traits include mid-mount controls, mid-range seat heights (30.3 inches on the Diavel, 30.5 inches on the Vmax) and high-bumstop seats that lock the rider into place. The Diavel's wider, more swept-back handlebar and lower, more forward footpegs result in a neutral, straight-back seating position, and the bike feels slender. The Vmax requires a slightly crouched riding position, and the polished aluminum air scoops push one's knees apart. Not surprisingly, the Diavel's touring seat is more comfortable than the Vmax's stock seat, which is firm and unforgiving. My fiancée Carrie praised the Diavel's high passenger seat for its plushness and commanding view (and the added security of its backrest), but the Vmax's small, hard pillion was something she endured rather than enjoyed.
Although the Diavel has a shorter wheelbase (62.6 vs. 66.9 inches), from the saddle it feels like the longer of the two. The cockpit is more spacious and the windshield provides better protection, making it the preferred mount for long rides. The Ducati's fully adjustable Marzocchi male-slider fork and Sachs shock absorb pavement irregularities better than the Star's fully adjustable SOQI suspension, which felt comparatively harsh. With its longer wheelbase and less sporty geometry, the Vmax's steering feels heavier than the Diavel's, especially at lower speeds. The lighter, shorter, sharper Diavel, despite its wider rear tire, turns in easily and is the more nimble corner carver, though vigilance is required to stay on a chosen line. Both bikes have very strong brakes backed up by ABS, but the Ducati's Brembos have a more precise feel than the Star's Sumitomo/Akebono setup.
The Diavel's 41-liter semi-rigid saddlebags have zippered clamshell openings and include dry-bag liners. Separate keys are required to unlock and remove each bag, and doing so requires effort. Nelson-Rigg's CL-950 Deluxe Saddlebags ($139.95) hold 40 liters and mount easily on the Vmax, though they leave even less room for a passenger. They have zippered main and side compartments, heat-resistant under-panels and removable waterproof covers.
The Verdict
These are premium machines designed with extraordinary attention to detail. Their unique styles and sounds turn heads, and their breathtaking acceleration could very well put you on a first-name basis with your local constabulary. The Vmax makes me absolutely weak in the knees—visually, aurally and viscerally. Its stance and proportions look right, its V-4 cadence is music to my ears and it provides exhilaration of the highest order. In my dream stable, the Vmax holds a place of honor, parked on black glass with a perpetual Motörhead soundtrack, ready to assault my senses and the nearest strip of asphalt. But in the real world, the Vmax is too narrowly focused on straight-line performance and its severely limited range is a deal breaker.
Even several years after its introduction, I've yet to warm up to the Diavel's styling but I'd learn to live with it because the Ducati is better where it matters most. Its barky exhaust, warp-like acceleration and knack for front-wheel levitation make it every bit as exciting to ride as the Vmax, but its handling, suspension and brakes are better and it doesn't induce constant range anxiety. In Strada trim, which costs only $500 more than the standard Diavel, it's comfortable enough for extended solo or two-up escapes, but retains every bit of unbridled savagery.
2014 Ducati Diavel Strada
Base Price: $19,495
Warranty: 2 yrs., unltd. miles
Website: ducatiusa.com
Engine
Type: Liquid-cooled, transverse 90-degree L-twin
Displacement: 1,198cc
Bore x Stroke: 106.0 x 67.9mm
Compression Ratio: 11.5:1
Valve Train: Desmodromic DOHC, 4 valves per cyl.
Valve Insp. Interval: 15,000 miles
Fuel Delivery: Mitsubishi EFI w/ 56mm Mikuni elliptical throttle bodies x 2
Lubrication System: Wet sump, 3.6-qt. cap.
Transmission: 6-speed, hydraulically actuated wet slipper clutch
Final Drive: O-ring chain
Electrical
Ignition: Electronic digital
Charging Output: 500 watts max.
Battery: 12V 12AH
Chassis
Frame: Tubular-steel trellis w/ engine as stressed member, single-sided aluminum swingarm
Wheelbase: 62.6 in.
Rake/Trail: 28 degrees/5.1 in.
Seat Height: 30.3 in.
Suspension, Front: 50mm male-slider, fully adj., 4.7-in. travel
Rear: Single shock w/ progressive linkage, fully adj. w/ remote preload adj., 4.7-in. travel
Brakes, Front: Dual 320mm discs w/ radial-mount monobloc 4-piston opposed calipers & ABS
Rear: Single 265mm disc w/ 2-piston pin-slide caliper & ABS
Wheels, Front: Cast, 3.50 x 17
Rear: Cast, 8.00 x 17
Tires, Front: 120/70-ZR17
Rear: 240/45-ZR17
Wet Weight: 557 lbs.
Load Capacity: 325 lbs.
GVWR: 882 lbs.
Performance
Fuel Capacity: 5.3 gals., warning light on last 1.5 gals.
MPG: 91 PON min. (high/avg/low) 40.2/34.1/30.9
Estimated Range: 181 miles
Indicated RPM at 60 MPH: 3,500
2014 Star Vmax
Base Price: $17,990
Price as Tested: $18,363 (touring windshield)
Warranty: 1 yr., unltd. miles
Website: yamaha-motor.com
Engine
Type: Liquid-cooled, transverse 65-degree V-4
Displacement: 1,679cc
Bore x Stroke: 90.0 x 66.0mm
Compression Ratio: 11.3:1
Valve Train: DOHC, 4 valves per cyl.
Valve Insp. Interval: 26,600 miles
Fuel Delivery: EFI w/ YCC-T
Lubrication System: Wet sump, 5.0-qt. cap.
Transmission: 5-speed, hydraulically actuated wet slipper clutch
Final Drive: Shaft
Electrical
Ignition: Digital TCI
Charging Output: 420 watts max.
Battery: 12V 11.2AH
Chassis
Frame: Diamond-type cast aluminum w/ engine as a stressed member, cast aluminum swingarm
Wheelbase: 66.9 in.
Rake/Trail: 31 degrees/5.8 in.
Seat Height: 30.5 in.
Suspension, Front: 52mm stanchions, fully adj., 4.7-in. travel
Rear: Single shock, fully adj. w/
remote preload adj., 4.3-in. travel
Brakes, Front: Dual 320mm wave-type discs w/ radial-mount monobloc opposed 6-piston calipers & ABS
Rear: Single 298mm wave-type disc w/ 1-piston pin-slide caliper & ABS
Wheels, Front: Cast, 3.50 x 18
Rear: Cast, 6.00 x 18
Tires, Front: 120/70-R18
Rear: 200/50-R18
Wet Weight: 695 lbs.
Load Capacity: 407 lbs.
GVWR: 1,102 lbs.
Performance
Fuel Capacity: 3.96 gals., warning light on last 1.03 gals.
MPG: 91 PON min. (high/avg/low) 31.7/26.1/20.3
Estimated Range: 103 miles
Indicated RPM at 60 MPH: 3,250
(This article Nothing Exceeds Like Excess was published in the March 2014 issue of Rider magazine.)
2014 Star Vmax & 2014 Ducati Diavel Strada On The Dyno

2014 Star Vmax & 2014 Ducati Diavel Strada On The Dyno

The Diavel Strada's long, well-positioned windshield has a flared lip that sends turbulent air up and over the rider. It provides better wind protection than on the Vmax.

Installing the Vmax's factory accessory touring windshield ($372.95) took about an hour. It has a bubble that wraps around the shift light and metal mounting plates that match the look of the bike.

Those massive headers are part of a 2-1-2
exhaust system that helps the Diavel squeeze 162 horsepower (claimed, at the crank) from the 1,198cc Testastretta 11˚ L-twin.

The Vmax's V-4 is so badass-looking that I've had a photo of the bike hanging in my office since 2008. It creates truly amazing sound and fury, and drains the fuel tank as if it had a hole in it.

Up top on the Ducati is a monochrome LCD display for rpm, speed, clock and engine temp. Below is a full-color TFT display with detailed info on riding modes, odo/trip, gear position, fuel consumption (but not level), etc.

Front-and-center on the Vmax is a large analog tach with digital speedo and shift light. Below (and hard to see while riding) is a tanktop display showing odo, dual trip, gear position, fuel level and engine temp.

The Diavel Strada touring seat with passenger backrest and saddlebags is a comfortable, functional touring setup.

Fuel is stored under the seat on the Star Vmax. The middle portion unlocks and hinges forward, revealing the filler underneath.