Earlier this century, when BMW Motorrad decided to shed its gray-haired, pipe-and-slippers image for good, rather than abandon the boxer engine that had been synonymous with the German company for more than 80 years, it completely revamped the flat opposed twin and its drivetrain. The 2004 R 1200 GS and RT that resulted were home runs, and the boxer has enjoyed consistent refinement and success since, right up to today's new liquid-cooled model.
BMW's next move was to fill the gap between the 650s and 1200s in its mid-2000's motorcycle lineup to attract new customers. Rather than use a boxer engine, BMW partnered with Rotax in Austria to build a narrow, liquid-cooled 798cc parallel twin that feels and sounds like family but makes significantly more power per liter. Its initial deployment in the F 800 S sportbike and F 800 ST sport tourer for 2006 was just the beginning of a model-line expansion that has since brought us a full range of dynamic singles, twins, in-line fours and even sixes. The pipe and slippers are definitely gone, replaced with Red Bull and running shoes.
While the F 800 parallel twin went on to enjoy great success in the midsize GS adventure-touring models, the original F 800 S only lasted until 2010. And though we named the F 800 ST Best Sport-Touring Bike of 2007, it hasn't exactly set the world on fire, either. Perhaps neither went quite far enough in the sport or sport-touring directions. That has changed with the new F 800 GT that replaces the ST for 2013. The GT offers more power, comfort and better wind protection atop a long list of improvements, yet the bike's 497-pound wet weight is essentially unchanged from the ST.
The F 800 engine has the layout of a classic transverse parallel twin, with a DOHC, 4-valve-per-cylinder head, liquid cooling, EFI and 2-into-1 exhaust. Its wet clutch and 6-speed transmission are standard fare; the 12:1 compression, dry sump and belt final drive are not. Neither is the 360-degree firing order, with both pistons rising and falling together, giving the bike a somewhat boxerish exhaust note. The resulting primary and secondary imbalances are partially neutralized by a novel balancing system that moves a "dummy" connecting rod on a center crank journal in the opposite direction of the pistons. Maintenance is still straightforward, with valve inspections every 12,000 miles and belt replacement every 24,000.
For 2013, revised fuel and ignition mapping give the F 800 engine a five-horsepower bump, from a claimed 85 at the crank to 90. On the Jett Tuning dyno, our test bike made a healthy 83.5 horsepower at 8,300 rpm at the rear wheel, and 58.4 lb-ft of torque at 6,100 rpm. Thumb the starter button and the GT barks to life with a livelier raspy growl courtesy of a shorter new silencer. Power delivery is brisk and linear, and the light bike is especially quick in the midrange, where there's a noticeable bump in the torque curve. It shifts smoothly and easily and the clutch has a fairly light feel; the overall power impression is of an engine that is great for solo commuting and sport touring, but perhaps not quite strong enough without a lot of shifting and revving for two-up and fully loaded riding. That would also exacerbate its biggest weakness—buzzy vibration that is present in the grips, seat and footpegs at any engine speed above about 3,800 rpm. Despite the engine counterbalancing, the solid-mounted twin still passes along some vibration.
On the whole, the aluminum bridge-type perimeter frame and single-sided aluminum swingarm that pivots off the back of the engine are pretty cutting-edge stuff. Suspension is basic though, with a non-adjustable 43mm fork up front and unlinked single rear shock that is adjustable for rebound damping and spring preload with a remote knob. For more stability, the GT's new swingarm is nearly two inches longer than the ST's, and its suspension travel has been reduced 0.6-inch at each end. This also helps get the standard seat height down to 31.5 inches from 32.3 (with higher Comfort and lower seats available as options). The bike is well controlled in corners, with just a touch of fork dive under braking and good suspension compliance front and rear. Electronic Suspension Adjustment (ESA) is a welcome option on the new GT, and there's a noticeable difference among its Comfort, Normal and Sport modes, though it only changes the rear rebound damping on this model.
Lighter restyled wheels contribute to sharper sportbike-like handling and bookend new bodywork that includes wider fairing upper and lowers and a larger fixed windscreen. The 0.8-inch higher handlebar is rubber mounted now to reduce felt vibration in the grips, and the footpegs are 0.4-inch lower and 0.4-inch farther forward for more legroom. Both the rider and passenger seats are a little wider and better padded, too, and the mirror stems are longer for better rearward visibility. This is a very comfortable bike even if it's on the sporty side, with a slight forward lean to the bars and rearset pegs that are a bit high. The seat is just comfortable enough for long rides, and its shape helps us shorter-legged riders get our feet down at stops. Wind protection behind the taller, wider screen is very good now, though it can get noisy at times and can't be adjusted.
Triple disc brakes stop the F 800 GT right quick, with excellent feel at the front lever, though the rear pedal on our test bike felt somewhat spongy. ABS is standard, and rear wheel spin in low-traction conditions can be avoided with optional Automatic Stability Control (ASC), or traction control. In fact, you'll probably be hard-pressed to find a base model at dealerships, which will most likely have bikes equipped with one or both of the Safety and Comfort packages that add ESA, ASC, a tire pressure monitor, heated grips, on-board computer and a centerstand. More options such as a top case, bag liners and LED turn signals are available, as well. Saddlebags are no longer standard, but the optional new hard-shell units are said to be larger than the ST's and feature a unique lower shelf that eases loading. That shelf does seem to rob a lot of space from the bags, however, which are already compromised on the left by the muffler. A luggage rack is standard, and load capacity is up 24 pounds on the GT, to a promising 456 pounds before accessories.
A new instrument cluster, switches and controls include adjustable brake and clutch levers, and standard fuel level and engine temperature readouts. Despite the smallish 4.0-gallon tank under the seat, the bike's good fuel economy gives it a range of nearly 200 miles, and the side-mounted filler means that luggage needn't be removed to fill-up.
Overall, the F 800 GT has finally been brought up the same contemporary standard as the rest of BMW's sport-touring lineup. Assuming the vibes aren't an issue, it would make a great lightweight sport tourer for a long-distance rider, or a less-intimidating mount for a traveling companion who wants to ride his or her own.
2013 BMW F 800 GT
Base Price: $11,890
Price as Tested: $14,257 (Safety Package, Comfort Package, side cases & mounts)
Warranty: 3 yrs., 36,000 miles
Website: bmwmotorcycles.com
Engine
Type: Liquid-cooled, transverse parallel twin
Displacement: 798cc
Bore x Stroke: 82.0 x 75.6mm
Compression Ratio: 12.0:1
Valve Train: DOHC, 4 valves per cyl.
Valve Insp. Interval: 12,000 miles
Fuel Delivery: EFI (Digital Engine Mgmt. BMS-K+), 46mm throttle bodies x 2
Lubrication System: Dry sump, 3.2-qt. cap.
Transmission: 6-speed, cable-actuated wet clutch
Final Drive: Belt
Electrical
Ignition: Digital BMS-K+
Charging Output: 400 watts max.
Battery: 12V 12AH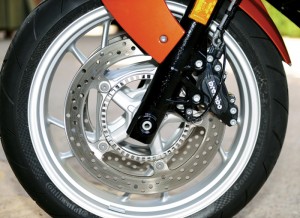 Chassis
Frame: Cast aluminum bridge-type w/ engine as stressed member & cast aluminum single-sided swingarm
Wheelbase: 59.6 in.
Rake/Trail: 25.8 degrees/3.7 in.
Seat Height: 31.5 in. (Comfort seat: 32.2 in., low seat: 30.1 in.)
Suspension, Front: 43mm stanchions, no adj., 4.9-in. travel
Rear: Single shock w/ 4.9-in. travel, remotely adj. for spring preload w/ electronically adj. rebound damping (ESA, as tested)
Brakes, Front: Dual 320mm floating discs w/ 4-piston opposed calipers & ABS
Rear: Single 265mm disc w/1-piston pin-slide caliper & ABS
Wheels, Front: Cast, 3.50 x 17 in.
Rear: Cast, 5.50 x 17 in.
Tires, Front: 120/70-ZR17
Rear: 180/55-ZR17
Wet Weight: 497 lbs. (as tested)
Load Capacity: 427 lbs. (as tested)
GVWR: 924 lbs.
Performance
Fuel Capacity: 4.0 gals., last 0.8 gal. warning light on
MPG: 89 PON min. (low/avg/high) 46.0/47.7/48.9
Estimated Range: 191 miles
Indicated RPM at 60 MPH: 3,450
(This article Long Distance Lightweight: 2013 BMW F 800 GT was published in the August 2013 issue of Rider magazine.)
| | |
| --- | --- |
| Liquid-cooled, 798cc parallel twin is of BMW design and built by Rotax. | Analog speedo and tach are paired with LCD trip computer and info display. |