Ten years. More than 100,000 units sold. Multiple AMA Supersport and Formula Xtreme championships. Seven FIM World Supersport titles. Genesis for the official spec engine in Moto2 racing.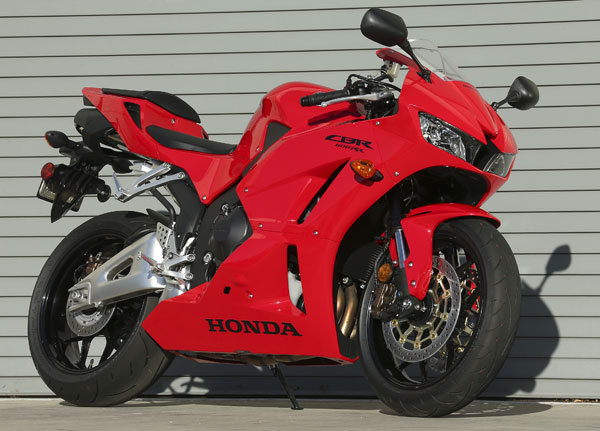 Those are serious bona fides for a serious sportbike. Back in 2003, Honda introduced the first CBR600RR, a more track-focused middleweight sportbike that, for a few years, was produced alongside its more street-friendly brother, the CBR600F4i. After the RR proved itself on racetrack, in road tests and in the hands of thousands of sport riders, it got a major lighter/faster/stronger overhaul for 2007. Although the CBR600RR got some engine and bodywork refinements for 2009, the big news was the introduction of optional Combined ABS (C-ABS), the first anti-lock braking system offered on a sportbike.
Due to the sluggish economy over the past few years, the once frantic development cycle in the highly competitive 600cc sportbike class has slowed to a more reasonable pace. For 2013, Honda has once again taken a refinement approach rather than giving the CBR600RR a complete overhaul, with design objectives focusing on new styling, sleeker aerodynamics, better engine performance and upgraded suspension.
Drawing upon knowledge from its RC212V MotoGP race bike, Honda used Computational Fluid Dynamics (CFD) to study airflow around the CBR. Changes to the bodywork have resulted in a 6.5-percent reduction in aerodynamic drag. Compared to its predecessor, the new bike has more sculpted curves and fewer sharp edges, with distinctive new headlights that help guide air into the central ram-air intake. With fewer high-pressure areas on the bike, Honda claims that handling is more agile, and EPA fuel economy has increased from 40 to 44 mpg (I recorded 35.4 mpg during about 100 miles of mixed riding). So impressive were the results that Honda R&D incorporated what it learned into the design of the new RC213V MotoGP race bike.
CFD was also used to optimize pressure distribution and air density in the CBR's ram-air intake system. There are now two baffle plates inside the intake duct that help equalize airflow density, and new mapping for the Programmed Dual-Stage Fuel Injection (PGM-DSFI) system has further refined power delivery. New for 2013 is an Intake Air Control Valve (IACV), first introduced on the CBR1000RR, which stabilizes combustion at all throttle openings for smoother on/off throttle transitions.
Following further in the footsteps of the CBR1000RR, the 600 now runs on more rigid 12-spoke wheels rather than the 3-spoke wheels of the previous model. It is also equipped with a male-slider Showa Big Piston Fork, though 41mm in diameter rather than the 43mm on the larger bike. I've ridden a number of bikes with the BPF, including the CBR1000RR (Rider, April 2012), and have been impressed with its damping characteristics. Instead of a conventional cartridge-type damper inside the fork leg, the BPF uses a large piston with about 3.5 times more pressure-bearing surface area. Internal oil pressure is much lower, resulting in smoother fork action and no hesitation due to cavitation or hydraulic lock. Under hard braking, the BPF dives less than a conventional fork and its transitions more smoothly from compression to rebound. This was especially noticeable on the highly technical "Snake" section of Mulholland Highway, a legendary Southern California canyon road where we did dozens of photo passes during the intro.
What makes modern sportbikes so amazing is their precision. There's nothing sloppy or out of place on today's machines. Throttle response, clutch action, gear changes, brake feel—everything is designed to work fluidly, without hesitation, and to deliver as much feedback as possible to the rider. The CBR600RR is a compact bike, especially relative to my 6-foot-2-inch, 200-pound frame. Low clip-ons put weight on my wrists, and high, rearward footpegs put mucho bendo in my knees. But when carving my way around some of America's most demanding curves, I just suck in my gut, squeeze the tank with my knees and bend it like Bostrom (in my mind, anyways). I spent most of my time on the C-ABS equipped bike, which Honda says weighs 432 pounds fully fueled—22 more than the non-ABS bike. On the street, I'm not going to quibble about a few extra pounds since they're a worthwhile tradeoff for the benefits of Honda's highly evolved anti-lock braking system, which prevents rear wheel lift and never pulses or chatters.
I can't say that I felt the 6.5-percent reduction in aerodynamic drag from the saddle, but I appreciate that Honda made the effort, that it continues to whittle the CBR600RR into a finely honed instrument of two-wheeled surgery. Honda's Electronic Steering Damper, which isn't noticeable at low speeds, helps keep the sharp, short bike on its best behavior. And the 15,000-rpm scream-machine tucked in between the frame rails raises goosebumps on my neck with each thwack of the throttle.
The 2013 Honda CBR600RR ($11,490) is available in red, red/white/blue or in Repsol Edition race livery ($11,990). The ABS model ($12,490) is available in red only.
2013 Honda CBR600RR ABS
Base Price: $11,490
Price As Tested: $12,490
Website: powersports.honda.com
Engine Type: Liquid-cooled, transverse in-line four, DOHC, 4 valves per cyl.
Displacement: 599cc
Bore x Stroke: 67.0 x 42.5mm
Transmission: 6-speed, cable-actuated wet clutch
Final Drive: O-ring chain
Wheelbase: 53.9 in.
Rake/Trail: 23.5 degrees/3.9 in.
Seat Height: 32.3 in.
Claimed Wet Weight: 432 lbs. (as tested)
Fuel Capacity: 4.8 gals., warning light on last 0.9 gal.
Average mpg: 35.4
| | |
| --- | --- |
| New headlights help direct air into revised ram-air intake system. | Blue fork caps are indicative of the new Big Piston Fork. |
| Stout brakes on this bike include Honda's Combined ABS. | Black cover hides the ABS hardware, which adds 22 pounds to the bike. |
| The Honda CBR600RR works very well on the street, but its riding position requires dedication. | New 12-spoke wheels are more rigid for better feedback. |