How about a 4,000-mile ride on the saddle of a 100-year-old motorcycle? In 16 days? With one rest day, when you can rebuild the bike? Sound like fun? Then you'd love the Motorcycle Cannonball Coast-to-Coast Endurance Run, which began at Motorcyclepedia in Newburgh, New York, and finished at Dudley Perkins H-D in South San Francisco, California.
Old and new motorcycles and riders lined the streets as a crowd of several thousand saw the old-timers chug up to the checkered flag. It was waved by Tom Perkins, grandson of Dudley, who started selling Harleys in Frisco when Erwin G. "Cannonball" Baker began his record-setting exploits a century ago, riding Indian motorcycles all the way across the USA.
Things have changed since 1914. Gas stations were rare then; Baker shipped gasoline in gallon tins by mule. Now, instead of dirt tracks, plank roads, mud and mire, and the occasional mile of "macadam," a network of asphalt highways spans the country thanks to President Eisenhower, who did a 56-day cross-country truck convoy run around the time the Cannonball went coast to coast in 12.
The first motorcycle cannonball run, brainchild of Lonnie Isam Jr., owner of Competition Distributing in Sturgis, South Dakota, took place in 2010 and was limited to pre-1916 machines. It attracted the entries of 45 old-timers for the 4,000-mile ride. The first place finisher was Brad Wilmarth on a single-speed 1913 Henderson V-twin, both of which made a faultless ride across country. Many of the Cannonball riders, though, shared Baker's experiences: mechanical breakdowns, bad roads, rainstorms and many miles between gas stops.
For the second running of the Motorcycle Cannonball, machines made up to 1929 were allowed, and a more northerly route visited the Harley-Davidson Museum in Milwaukee, the new Indian production line in Spirit Lake, Iowa, Sturgis, the Beartooth Highway and California Highway One. On the way, riders experienced gridlock in Cleveland, Midwestern storms, frost and ice in Yellowstone National Park and a 9,000-foot climb over the Rockies.
For safety's sake, most of the old machines were modified with newer front brakes and brake lights. Since old-style, pre-1925 clincher tires have no metal bead to prevent them from rolling off the rim, more modern rims and tires were allowed. However, engine cases, carburetors and magneto ignition systems had to be original. The mantra of the Cannonball rider is, "Prepare to fail, or you fail to prepare."
Three hundred miles in a day doesn't sound like much. But when you have to do it day after day, in the vibrating saddle of a breakdown-prone vintage machine, worrying every mile about that slipping clutch or loose transmission shaft; when you must precisely follow a route chart with many turns and twists; when you must make every gas stop count and remember to tighten each loose bolt at the end of the day—sleep becomes scarce and precious. Most riders were spared the frequent punctures, knee-deep sand and hostile livestock of Baker's day, although H-D mounted Steve Barber, using original-style clincher tires, punctured three times in one day—and still got in on time!
Entries were received from 15 countries around the world, and more than 70 riders and machines started from the Motorcyclepedia museum in Newburgh, New York. One or two barely made it out of the county, let alone the state, but 16 riding days later an amazing 44 turned up in San Francisco.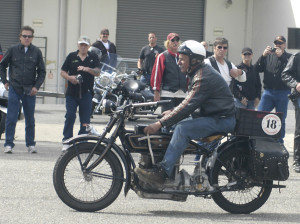 Just as notable, the overall winner was Number 1 plate holder Brad Wilmarth, who also won the first rally riding the same bike, a single-speed 1913 Excelsior V-twin. He was one of 19 riders who achieved a perfect score and took the win with the highest combination of rider and machine age. He maintained a pace of 50 mph, never succumbing to the lure of speed. Remember, on a single-geared bike, the only way to change gear ratios for mountain climbs or desert flats is by replacing sprockets at the start of the day's ride.
Most riders opted for modern clothing to handle the weather, but Shinya Kimura's team impressed in period-correct leather pants and embroidered wool sweaters. Just as he had in the previous Cannonball, Shinya spent much of his time rebuilding his 1915 Indian, with one overnight crankcase repair completed by a gunsmith.
There's not enough space here for all the stories—you can find most of them at motorcyclecannonball.com. If that's your idea of paradise on two wheels, better start planning for 2014, the 100th anniversary of Baker's 12-day record-breaking San Diego to New York ride.
| | |
| --- | --- |
| German rider Andreas Kaindl finishes the Cannonball Run with a wave from his 1924 Henderson. | Shinya Kimura's Chabott Engineering team all wore period dress for the 2012 Cannonball Run. |
| H-D from before the crash of 1929. | California or Bust. |
| This pair covered the 4,000-mile ride on three wheels. | A crowd estimated at several thousand welcomes the finishers to South San Francisco. |
| Norm Nelson's "modern" 1929 BMW. He said it "felt like cheating." | A close-up look at the three-wheeler. |