Motorcycle riders are some of the friendliest and most generous people I know, so it's little surprise that practically every weekend there's a charity ride happening somewhere. Recently, a ride to promote prostate cancer awareness ended in Washington, D.C., but this wasn't your garden variety poker run.
This was the Prostate Cancer Awareness Project Trans-America Relay Ride for Prostate Cancer, known informally as the Prostate Cancer Pony Express, with a route that went through every state in the USA. This growing annual event is a "Black Tire Affair" of the Prostate Cancer Awareness Project (PCAP) based in Manhattan Beach, California. Founded by Robert Hess, the goal of the PCAP is to make men and their families aware of the prostate cancer risk.
"Prostate Cancer is the most common cancer in men," says Hess. "One in every six men will be diagnosed with prostate cancer. The rate is even higher for African American men. Each year 30,000 men die from prostate cancer in the United States alone. There are more new prostate cancer cases each year than cases of breast cancer in women, but people don't really know about it."
Hess, himself a 9-year prostate cancer survivor, figured he could do something about that. He started a non-profit organization, the Prostate Cancer Awareness Project. He built an online presence (thePCAP.org) to provide a resource of information and support for individuals and families affected by prostate cancer. Since Hess likes to get around on two wheels (both motorcycles and bicycles), he thought he could build more awareness by connecting with other people who like to ride. One result is the Prostate Cancer Pony Express.
The impetus for this four-times-across-America ride started in 2010, when Hess decided a good way to build greater awareness of prostate cancer was to ride across the country and talk to people he encountered along the way. "I'm in California but much of my family is in Virginia, so I got on my trusty Harley and headed east," he says. "I did a big loop of the USA that took 49 days. I was so encouraged by what I experienced that I decided to invite others to get involved."
Hess enlisted the help of others who were affected by prostate cancer, either through afflicted family members or by being diagnosed themselves. Danny Jester of Clemmons, NC, who lost his father-in-law to prostate cancer, suggested a national ride and laid out the route that this year's ride followed. Jester also built support in the Honda ST community, whose riders already had experience with national "pony express" style rides for charity. Steve Fanestil of Jacksonville, Florida, helped coordinate the kick-off event at Bruce Rossmeyer Harley-Davidson in Daytona Beach on March 17 during Bike Week. Richard Peterson of Winston-Salem, North Carolina, an 18-year cancer survivor who rode with Hess for part of the original big loop in 2010, coordinated many of the riders for this year's event and rode 5,500 miles of the ride himself.
Importantly, this wasn't just a bunch of guys riding motorcycles. Riders arranged meetings in every state with members of the governor's staff (in several states with the governors themselves) to discuss prostate cancer awareness. At these meetings, riders submitted a written request for a formal gubernatorial proclamation to coincide with Prostate Cancer Awareness Month in September.
After leaving Daytona Beach, the 2012 Prostate Cancer Pony Express headed west to California, then back east to the Carolinas, back west to the Pacific Northwest, then back east to New England, and finally south to the finish in Washington, D.C. Alaska and Hawaii were included independently since roads from the mainland to Juneau and Honolulu are scarce. As the ride crossed the continent four times, each rider passed along a courier pack to the next rider, pony express style. The pack contained a log book of participants' thoughts and comments, a "Cancer Sucks" banner signed by participants, another banner signed by governors and other officials, and collected mementos from the various states.
Regular readers of Rider may recall a story about a pony express style charity ride (Rider, February 2010). These two rides involve different organizations supporting different charities, although not surprisingly there was overlap in ridership for both events, your humble scribe being one example. When I learned about the Prostate Cancer Pony Express from a close friend (and prostate cancer survivor), I got involved.
In late August, Larry Jensen of Poughkeepsie, NY, whose dad is a prostate cancer survivor, handed off the pack to me in Massachusetts. Larry had just ridden to statehouses in New York, Vermont, Maine and New Hampshire. I connected with Robert Fortuna of East Greenwich, Rhode Island, and Michael Breton of Bellingham, Massachusetts, for meetings with governors' staffs in Massachusetts, Connecticut and Rhode Island.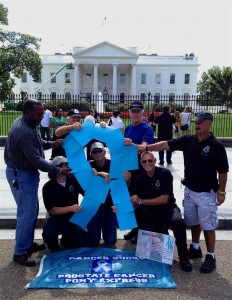 By coincidence, we met the governor of Rhode Island, Lincoln Chafee, in person. The Capitol Police provided preferential parking for our bikes under the portico of the Rhode Island Statehouse. My Kawasaki Versys never parked in a spot with more class—or better security! As we finished a meeting with the governor's chief of staff and a personal tour of the Statehouse, a motorcade of black SUVs pulled up. Our bikes were in the way, but no one "official" seemed to mind. Next thing I knew, Fortuna had taken the opportunity to say hello to the governor, explain what we were up to and ask for a gubernatorial proclamation to coincide with Prostate Cancer Awareness Month in September. The governor, it should be noted, was quite impressed with Fortuna's new K1600GT.
The following day, Fortuna rode to Newburgh, New York, to hand off the pack to Jim Mayhew of Oaklyn, New Jersey, who kept the ride going.
On September 9, 2012, the Prostate Cancer Pony Express finished at the White House in Washington, D.C. More than 130 relay riders had compiled a total of 25,000 miles over 171 days, and riders met with governors or their staff in every state to spread awareness of prostate cancer.
"The Prostate Cancer Pony Express is designed to reduce the annual prostate cancer death toll by raising men's awareness of this epidemic and encouraging men to get screened for the disease," says Hess. "What I want is for no guy to get caught with a surprise diagnosis of prostate cancer when it's already metastasized and there's not much you can do. Our organization is trying to reach out, especially to younger guys, and make them aware of the risk and to give them a tool through testing and the full range of treatment options."
In July of this year, the Prostate Cancer Awareness Project released ProstateTracker, a free, anonymous service that allows men to track their annual Prostate-Specific Antigen (PSA) test results. Men who sign up at ProstateTracker.org receive an email reminder when their next PSA test is due and get notified if there is a rising trend in their PSA results, which is a warning signal of potential prostate cancer. As Hess notes, "Prostate cancer is treatable, but only if it is detected early."
Thanks to all the riders who participated in the 2012 Prostate Cancer Pony Express and to everyone who has been supporting them on this journey.
Learn more:
ThePCAP.org
facebook.com/ProstateCancerPonyExpress
www.ProstateTracker.org
More photos:
facebook.com/ProstateCancerPonyExpress/photos