Standing in the parking lot of the hotel just west of Knoxville, Tennessee, I looked west as the morning mist blanketed the mountains to the northwest. The morning sun was breaking through and the air was cool. My buddy Bob and I met up the evening before. He had left his home in Ohio and I left Raleigh, North Carolina, on Monday morning. This was day two of our annual spring motorcycle trip. Bob and I have been friends for over thirty years and these little excursions have become somewhat of a tradition. We'd been talking about a trip for several weeks, and this year I picked the destinations with the stipulation that Bob select the routes. I stood back and looked at the bikes, Bob's Harley-Davidson sitting proudly beside my Honda, two reliable rides that weren't looking too bad for the miles they had on them. We both had ridden close to 400 miles on Monday, and today's destination was Paducah, Kentucky, another 400 miles depending on the route Bob had chosen.
Our plan was to meet up with our wives in Tunica, Mississippi, at a casino resort, spend Wednesday and Thursday with the girls, then head back East until Bob split off and headed north to Ohio. Our plan for today was to ride along the Tennessee-Kentucky border to the western edge of Kentucky, then head north through the "Land Between the Lakes," which would put us 25 or 30 miles outside of Paducah on the Illinois border. We loaded our gear on the bikes and headed out, with Bob in the lead. The weather was perfect—light jacket temperatures, with a promise of sunshine peeking through the morning mist. After about an hour on the road, we stopped at a little restaurant in a small town on the Kentucky-Tennessee border, where we filled up on fried eggs, bacon, hash browns, sausage gravy and biscuits, and endless cups of strong black coffee for $5.00 apiece. This was one of those small, clean restaurants full of regular customers who quietly check out any strangers. We ate our breakfast and before we pulled out of the parking lot we talked to several of the regulars as they checked out our bikes and wished us well. As usual, Bob had picked great roads for two guys just enjoying the scenery and the weather. We rolled along two-lane roads that weaved through the countryside. The road that cuts through the "Land Between the Lakes" is just that, a winding two-lane that cuts between two lakes that are popular among boaters, swimmers and anglers. We turned off the main road to get a better look at one of the lakes. Three miles of gravel and dirt left me dusty and spitting dirt, but I didn't stop smiling the entire time. We stopped at the top of the lakes to get a picture of a barge that was cutting across the canal that ties the lakes together when I noticed a bald spot on my rear tire. We found a motorcycle shop about five miles from our hotel in Paducah but it was after five so we had to return in the morning.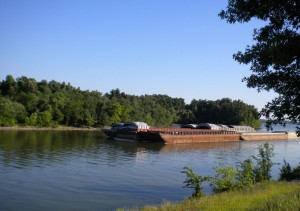 On Wednesday morning we sat outside FDR Powersports in downtown Paducah. The service department was great and my bike was ready to go with a new rear tire and adjusted rear brake in no time. I was feeling a little guilty about not planning a little better when the service manager told me about a customer that came in several weeks before. It seems this guy had gotten caught in the same situation as I was in but his tire must have been worse than the one I had replaced. This guy found an open hardware store and purchased a roll of duct tape; he put the bike on the center stand and put the whole roll of tape on the back tire. He made it to the shop the next morning, the tire was still holding air but the tape had become part of the tire and couldn't be separated. There were about six regular customers having coffee in the shop and they all pitched in with a comment about the "duct-taped tire." Bob and I pulled out of Paducah laughing, in search of a small breakfast café but settling for a Huddle House instead. As we left the restaurant Bob checked my front tire.
"You want to stop at Home Depot and get a roll of duct tape?" he asked with a grin. I suggested he buy a roll for me and keep it in a spot that wouldn't be very comfortable. We both laughed and headed south towards Mississippi.
We made it to Tunica by 5:30 and enjoyed dinner with our wives. I would love to say I won enough money in the casino to pay for my tire but I didn't; in fact, I probably lost enough to buy two tires and several rolls of duct tape, but I was with good friends and the only woman who would put up with me so it was money well spent.
Friday morning our wives left for the airport in Memphis, Bob and I loaded our luggage on the bikes and headed east for our last night on the road. Friday night found us 20 miles east of Deal's Gap, so in true rider fashion we decided to ride the Tail of the Dragon (U.S. 129) before we split up to head to our respective homes. Saturday morning was beautiful, and the ride to Deal's Gap couldn't have been better.  The sun was shining and the mountains were keeping the temperatures at that "just right" spot, not too hot, not too cool. Perfect weather and riding with a good friend on a legendary road; I must be living right. Deal's Gap cuts through the mountains and twists and curves like snake having a convulsion. Anyone who owns a motorcycle should ride it at least once. About half way through the 11 miles and 318 curves, I think I experienced something like a Zen moment, where the only thing I was aware of was the road, the bike and the scraping sound of Bobs footpegs as we wound our way along the Dragon's tail. We stopped at the gathering spot at the end of the road for a cool drink and a T-shirt. We had lunch and headed east to Route 23 where Bob was cutting off to head north. I kept heading east and arrived home before dark.
Getting off the bike I checked the tripmeter, nearly 2,000 miles, as close to a perfect week as I may ever experience. My wife greeted me at the door and it did felt good to be home. I'll get a call from Bob soon. We've got to start thinking about our autumn ride.