photography by Kevin Wing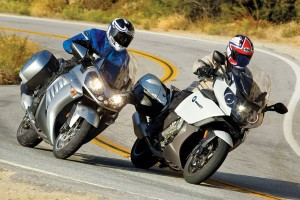 This comparison was inevitable. After the Kawasaki Concours 14 won our last sport-touring comparison (Rider, November 2010), among the new bikes featured in the next issue were the BMW K 1600 GT and GTL, sport- and luxury-touring variants of a radically redesigned K-bike platform. The compact, high-tech in-line six-cylinder engine that would power both bikes, said to produce 160 horsepower and 129 lbs-ft of torque, caused gearheads and journalists the world over to drool involuntarily. A technological tour de force, the K 1600s would have throttle-by-wire, multiple drive modes, a Multi-Controller rider interface and options such as Dynamic Traction Control, Electronic Suspension Adjustment and an innovative Adaptive Headlight. My report from the K 1600 GT/GTL world press launch in South Africa was effusive with praise (Rider, May 2011), and Editor Tuttle's stateside test of the GTL in July proved that the hype wasn't just jetlag-induced euphoria.
But we won't hand the title of Best Sport Tourer to the BMW K 1600 GT just because it's new and exciting. Like a scrappy young boxer, the BMW K 1600 GT may stand tall on its own merits, but to become champion it must prove its mettle against an established benchmark. The Kawasaki Concours 14 is that benchmark, having knocked out the Honda VFR1200F, Triumph Sprint GT and Yamaha FJR1300 by virtue of its superior torque, comfort and features, all for a reasonable price.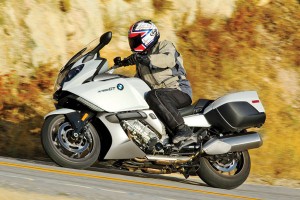 Before getting into the blow-by-blow, it's important to note that the K 1600 GT and the Concours 14 have very different origins. The German K 1600 GT was designed from the ground up as a touring motorcycle, with all but a few base pairs of its DNA shared with the K 1600 GTL, a bike that competes with the Honda Gold Wing. And our test bike came fully loaded with the premium package, offering luxury and features previously unavailable on a sport tourer. In contrast, the Japanese Concours 14 was adapted from the Ninja ZX-14, a monster sportbike that, in highly modified form, Rickey Gadson campaigns in AMA Prostar Drag Racing. And unlike the base/standard/premium choices offered on the K 1600 GT, the Concours 14 comes in a single configuration. Ideally, we would have compared a base-model K 1600 GT to the Concours 14, which would have put them on a more level playing field. But, to showcase all of the whiz-bang features you can get on the K 1600, BMW's press fleet is stocked with premium models only. Therefore, we've compared the bikes as delivered, and we've done our best to keep the BMW's premium features in perspective.
WEIGH-IN
These are heavyweight sport tourers. Measured against their competitors, the K 1600 GT and Concours 14 weigh more, have larger engines and generate more grunt. Both have liquid-cooled, transverse in-line engine configurations with dual overhead cams, four valves per cylinder and electronic fuel injection. The K 1600's six cylinders displace a total of 1,649cc; the Concours 14's four displace 1,352cc. With a smaller bore and longer stroke (72.0 x 67.5mm), the BMW makes peak horsepower and torque at lower revs than the more oversquare Kawasaki (84.0 x 61.0mm). On Jett Tuning's DynoJet dynamometer, a K 1600 GTL, which has the same engine and drivetrain as the GT, made slightly less rear wheel horsepower (134.9 at 7,900 rpm, in Dynamic mode) than the Concours 14 (137.8 at 8,900 rpm). But the Kawasaki's horsepower advantage emerges only above 7,400 rpm. Between 3,000 and 7,000 rpm, the BMW makes 10-25 more horsepower than the Kawasaki. And when it comes to torque, the BMW opens a can of serious whoop-ass: 114.3 lb-ft at 5,200 rpm vs. 92.8 lb-ft at 7,300 rpm. From 3,000-7,000 rpm, the K 1600 makes 7-30 lb-ft more torque than the Concours.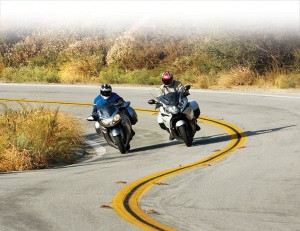 Although the Kawasaki is at a power disadvantage in the midrange, below 7,400 rpm, at 690 pounds fully fueled it weighs 64 pounds less than the husky, 754-pound BMW. Since both bikes have comparable overall heights and widths, and their swoopy shapes are similarly aerodynamic, the weight difference erodes some of the K 1600 GT's midrange advantage. Both bikes are incredibly fast, and incredibly smooth. But in terms of sheer yank-yer-arms-out-of-their-sockets acceleration, the decision clearly goes to the K 1600 GT.
The K 1600 GT's E-gas throttle-by-wire system is a mixed blessing. On the one hand, it optimizes fuel consumption and enables electronic cruise control and multiple riding modes (Dynamic, Road and Rain, which affect throttle response, power and traction control). On the other hand, compared to the Kawasaki, the BMW's throttle response was lighter but also vaguer, particularly at low speeds. And when revs fell below 3,000 rpm at neutral or closed throttle, the bike would buck and jerk, as if E-gas had gotten mixed signals. The Concours 14 makes use of tried-and-true throttle cables, and even though twisting its grip required more effort, the connection between wrist and rear wheel felt more direct.
Contrary to preliminary specs, the K 1600 GT has the same 7-gallon fuel capacity as the GTL, not 6.3 gallons as reported earlier. The Concours 14 holds 5.8 gallons, and it has a fuel-economy assistance mode that we used about half the time during this test. Despite the displacement and weight differences, fuel economy numbers were similar, with an average 33.5 mpg on the BMW and 34.6 mpg on the Kawasaki.
GOING THE DISTANCE
To handle their prodigious power and substantial weight, both the BMW and Kawasaki have stout cast-aluminum frames that use their engines as stressed members. The rails of the K 1600 GT's twin-spar frame pass over the top of the engine, which is canted forward 55 degrees from vertical to keep the center of gravity low. The Concours 14's monocoque frame uses a thin-walled aluminum shell to connect the swingarm to the steering head. Both employ cast-aluminum parallelogram-type swingarms (the BMW's Paralever is single-sided, the Kawasaki's Tetra-lever is conventional) to eliminate jacking from their shaft final drives, as well as six-speed transmissions with hydraulically actuated wet clutches. Clutch action was comparably light and both levers were adjustable. The BMW's clutch has a self-energizing mechanism that caused the lever to pulse at times, but feel and engagement were unaffected. Shifting felt smoother and driveline lash less pronounced on the Kawasaki.
The Concours 14's 43mm male-slider fork and rear shock (4.4/5.4 inches of travel) are adjustable for preload and rebound, with a remote preload adjuster knob at the rear. Our fully loaded K 1600 GT was equipped with optional Electronic Suspension Adjustment (ESA II), offering pushbutton adjustability (damping Comfort, Normal and Sport, plus preload settings) for the Hossack-type Duolever front suspension and Paralever rear shock (4.5/5.3 inches of travel). Both bikes have cast-aluminum wheels in the same sizes, and they're shod with similarly sized, grippy sport-touring rubber: Metzeler Roadtec Z8 Interact tires on the BMW, Bridgestone Battlax BT021 tires on the Kawasaki. When set up properly, both bikes delivered a comfortable, responsive ride, but even in Sport mode the heavier BMW wallowed and bounced around more than the Kawasaki in fast, bumpy corners. Despite its longer wheelbase (63.7 inches vs. 59.8 inches) and steering damper, the K 1600 GT had noticeably lighter steering than the Concours 14, but the BMW also felt less stable and predictable.
Big bikes need big brakes, and these bikes have excellent binders. Each employs dual front discs, a single rear disc and standard ABS, with adjustable front levers. BMW's partial Integral ABS is linked front to rear only; Kawasaki's K-ACT ABS system is fully linked. Braking power and feedback are exemplary on both, but the K 1600 GT's setup felt more intuitive and immediate, thanks in part to its anti-dive Duolever front suspension. Traction control is standard on the Concours 14, and the system is either on or off. The K 1600 GT's optional Dynamic Traction Control, which uses a gyroscopic lean-angle sensor in addition to wheel-speed sensors, ties in with the riding modes and sets the level accordingly.
Although previously heralded for its plush accommodations, in this comparison the Concours 14 has the sportier seating position. Its 32.1-inch seat is slightly angled, its grips are farther forward and its footpegs are set higher and farther back. The K 1600 GT feels more relaxed, with a wider, flatter, height-adjustable seat (31.9/32.7 inches; no-cost optional low seat is 30.7/31.5 inches), less reach to the bars and less bend at the rider's knees. Both have electrically adjustable windscreens that retract to their lowest position when the ignition is turned off; the BMW remembers the last height, while the Kawasaki has programmable height presets. The BMW's screen is taller and wider, with a V-shaped notch at the top, and it provides a quieter, less turbulent experience for the rider and passenger. Passengers reported similar legroom and seat comfort on both bikes. The Kawasaki's seat felt buzzier but the small kick-up at the back helped them feel more secure during acceleration than on the BMW's flatter seat.
The BMW and Kawasaki are nearly neck and neck in terms of luggage capacity, but the Kawasaki allows a heavier load (482 pounds vs. 437 pounds). Both have hard, locking, removable saddlebags that hold a full-face helmet in either side, though the Kawasaki's bags are slightly larger (35 vs. 33 liters). Both also have small, lockable storage compartments in the fairing. The Kawasaki's single compartment is up high, near the left handlebar; the BMW's two compartments are down low, in front of the rider's shins, and the right one is foam-lined and includes an audio adapter cable. Both have standard luggage racks. The 49-liter top trunk that's standard on the K 1600 GTL can be added as an option on the GT, and Kawasaki offers 39-liter and 47-liter accessory trunks.
THE DECISION
This fight is a scorecard decision, not a knockout. The BMW K 1600 GT and Kawasaki Concours 14 are closely matched, with particular strengths that will appeal to different riders. The BMW's bigger engine makes more horsepower and torque in the midrange, where you need it most of the time. The in-line six is silky smooth and sounds amazing, but its computerized throttle response introduces a subtle disconnect between the rider and the machine, a small wedge of artificiality that trades feel for optimization. The K 1600 GT has better brakes, lower-effort steering and a more relaxed seating position, but its higher weight compromises suspension performance and reduces fuel economy. Duller front end feel, less cornering stability and more driveline lash sapped confidence at a sporting pace. Nonetheless, bottomless torque, outstanding brakes and ample cornering clearance make the BMW capable of ludicrously fast speeds on just about any road. And when it comes to burning miles solo or with a passenger, no sport tourer can match its comfort and convenience.
Last year the Kawasaki Concours 14 bested the Honda VFR1200F, Triumph Sprint GT and Yamaha FJR1300 in terms of comfort, wind protection, torque, features and value. The bigger, heavier machine was farther to the right than the others on the sport-touring sliding scale, yet it retained the soul of a sportbike, capable of deep lean angles and blistering speeds. Compared to the K 1600 GT, it makes less midrange power and torque, but fully fueled it weighs 64 pounds less. It also has a sportier riding position, more direct throttle response and greater steering feel. When Editor Tuttle and I chased each other up and down our favorite test road and swapped bikes several times, both of us were faster on the Kawasaki. It made us work harder, but we were rewarded for our efforts.
With standard ABS, traction control, heated grips, electric windscreen, tire-pressure monitor and keyless security system, the Kawasaki Concours 14 established the high-water mark for luxury on a sport tourer, yet its MSRP of $15,599 keeps it within reach of most buyers. The BMW K 1600 GT has raised the bar even higher, but also the price. The base-model is equipped with ABS, riding modes, cruise control, electric windscreen, Xenon headlight with dynamic leveling and heated grips and seat. Stepping up to the standard package adds GPS preparation, ESA II, adaptive headlight, traction control and tire pressure monitor, and the premium package adds a full audio system, power central locks and an anti-theft alarm. The BMW's base price of $20,900 is $5,301 more than the Kawasaki; the as-tested premium package is $24,540, which widens the differential to $8,941. For some buyers, that will be the deciding factor—period, end of story.
If money was no object and I could have only one bike, it would be the BMW K 1600 GT, a decision influenced heavily by its smooth, powerful six-cylinder engine and its higher level of comfort—attributes that are the same regardless of options packages. In fact, because they have so much in common, I would be tempted to step up to a GTL because its seating position is even more comfortable and it comes with a top trunk. Being able to add so many options to either model is a definite plus, but most are nice-to-haves, not need-to-haves. The Kawasaki Concours 14 remains a remarkably competent, comfortable sport tourer that is by no means eclipsed by the K 1600 GT. As I found in my Riding Among Giants tour test (Rider, October 2011), well-chosen accessories can make the Concours even more comfortable for the long haul. You may have a different scorecard and therefore come to a different decision. In the end, there are no losers here.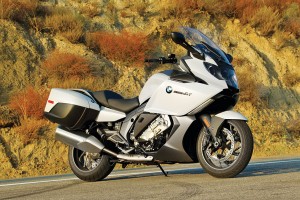 2012 BMW K 1600 GT
Base Price: $20,900
Price as Tested: $24,540 (premium package)
Warranty: 3 yrs., 36,000 miles
Website: www.bmwmotorcycles.com
Engine
Type: Liquid-cooled, transverse, in-line six
Displacement: 1,649cc
Bore x Stroke: 72.0 x 67.5mm
Compression Ratio: 12.2:1
Valve Train: DOHC, 4 valves per cyl.
Valve Adj. Interval: Varies, computer monitored
Fuel Delivery: BMS-X EFI, 52mm throttle valves
Lubrication System: Dry sump, 4.75-qt. cap.
Transmission: 6-speed, hydraulically actuated wet clutch
Final Drive: Shaft, 2.75:1
Electrical
Ignition: BMS-X Computer Controlled
Charging Output: 580 watts max.
Battery: 12V 19AH
Chassis
Frame: Cast-aluminum-alloy twin-spar main frame w/ engine as stressed member & aluminum subframe; cast-aluminum Paralever single-sided swingarm
Wheelbase: 63.7 in.
Rake/Trail: 27.8 degrees/4.3 in.
Seat Height: 31.9/32.7 in.; optional low seat: 30.7/31.5 in.
Suspension, Front: BMW Duolever w/ Electronic Suspension Adjustment (ESA II, as tested), 4.5-in. travel
Rear: BMW Paralever w/ single shock, ESA II (as tested), 5.3-in. travel
Brakes, Front: Dual floating 320mm discs w/ opposed 4-piston calipers & partial Integral ABS
Rear: Single 320mm disc w/ 2-piston pin-slide caliper & ABS
Wheels, Front: Cast, 3.50 x 17 in.
Rear: Cast, 6.00 x 17 in.
Tires, Front: 120/70-ZR17
Rear: 190/55-ZR17
Wet Weight: 754 lbs. (as tested)
Load Capacity: 437 lbs. (as tested)
GVWR: 1,191 lbs.
Performance
Fuel Capacity: 7.0 gals., last 1.0 gal. warning light on
MPG: 89 PON min. (high/avg/low) 37.3/33.5/31.4
Estimated Range: 235 miles
Indicated rpm at 60 mph: 2,750
2011 Kawasaki Concours 14
Base Price: $15,599
Warranty: 3 yrs., unltd. miles
Website: www.kawasaki.com
Engine
Type: Liquid-cooled, transverse, in-line four
Displacement: 1,352cc
Bore x Stroke: 84.0 x 61.0mm
Compression Ratio: 10.7:1
Valve Train: DOHC, 4 valves per cyl. w/ Variable Valve Timing
Valve Adj. Interval: 24,000 miles
Fuel Delivery: Digital EFI w/ ram air & 40mm throttle bodies x 4
Lubrication System: Wet sump, 5.0-qt. cap.
Transmission: 6-speed, hydraulically actuated wet clutch
Final Drive: Shaft, 2.036:1
Electrical
Ignition: TCBI w/ digital advance
Charging Output: 581 watts @ 5,000 rpm
Battery: 12V 14AH
Chassis
Frame: Aluminum monocoque w/ engine as stressed member; cast-aluminum Tetra-Lever swingarm
Wheelbase: 59.8 in.
Rake/Trail: 26.1 degrees/4.4 in.
Seat Height: 32.1 in.
Suspension, Front: 43mm male slider, adj. for spring preload & rebound damping, 4.4-in. travel
Rear: Single shock, adj. for spring preload (remote) & rebound damping, 5.4-in. travel
Brakes, Front: Dual floating petal 310mm discs w/ radial-mounted opposed 4-piston calipers & K-ACT linked ABS
Rear: Single petal 270mm disc w/ opposed 2-piston caliper & K-ACT linked ABS
Wheels, Front: Cast, 3.50 x 17 in.
Rear: Cast, 6.00 x 17 in.
Tires, Front: 120/70-ZR17
Rear: 190/50-ZR17
Wet Weight: 690 lbs.
Load Capacity: 482 lbs.
GVWR: 1,172 lbs.
Performance
Fuel Capacity: 5.8 gals., last 1.1 gal. warning light on
MPG: 90 PON min. (high/avg/low) 36.5/34.6/31.4
Estimated Range: 201 miles
Indicated rpm at 60 mph: 2,750