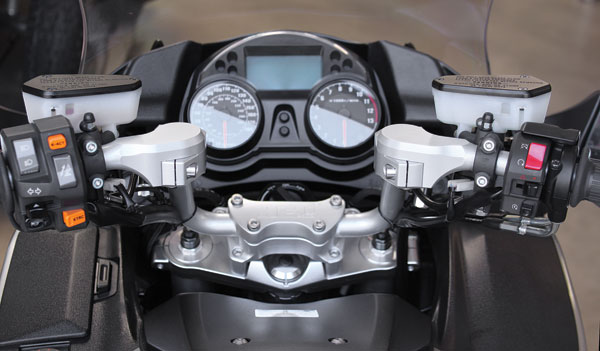 Sometimes we have it good, yet we don't realize how much better it can be. I've always found the seating position on the Kawasaki Concours 14 to be very agreeable, which helped it earn our Motorcycle of the Year honors in 2008 and win our sport-touring shootout in 2010.
Like any production motorcycle, the Concours 14 is designed to accommodate riders of various body shapes and sizes. But after installing a set of HeliBars Horizon ST handlebars, I felt as though the Concours was custom-built just for me.
HeliBars has been making replacement handlebars and risers for sportbikes and sport tourers for more than three decades. In 2006 it introduced the Horizon line of multiaxis adjustable handlebars for cruisers. Horizon ST handlebars are now available for the 2008-2011 Kawasaki Concours 14 (compatible with ABS and non-ABS models), allowing riders to dial in their preferred handlebar height (2.5 to 4.5 inches higher), pullback (up to 6 inches closer to the rider) and grip angle, which HeliBars calls "3D adjustability."
Powdercoated in silver with stainless-steel hardware, the build quality of Horizon ST handlebars is exceptional. The kit uses a 1-inch steel mounting bar and riser welded to a low-carbon steel upper clamp, with upper pivots CNC machined from extruded 6061-T6 aluminum. The handlebar tubes are drilled to mount the stock control housings and threaded bar ends accept the stock or aftermarket damper weights. The kit includes all the necessary hardware, including hydraulic line extensions for the front brake and clutch. Though a competent home mechanic can complete the installation using the provided step-by-step, illustrated instructions and basic tools, the pros at Jett Tuning installed them for us in about two hours, taking care to keep (mildly corrosive) hydraulic fluid off the painted parts and properly bleeding the lines. In the event of a loose bolt, fail-safe rotational stops limit how far each component can rotate.
We set the handlebars at a height, pullback and angle that felt natural, allowing me to keep my back straight, plenty of bend at my elbows and minimal tension in my upper arms and shoulders (see page 58). I quickly adapted to the more relaxed handlebar position. Handling felt responsive, requiring less countersteering input to negotiate turns. After logging several 200- to 300-mile days in a row, I experienced less fatigue and soreness than with the stock setup. Another advantage of the Horizon ST's is the ease of mounting a GPS unit to the tubular upper arms rather than the oddly shaped stock handlebars. The only downside is limited positioning options for a tankbag; I had to mount my magnetic tankbag much farther back so it would not interfere with steering.
Horizon ST Multi-Adjustable Handlebars cost $695, and are currently available for the Kawasaki Concours 14 only. Fitments for the Honda ST1300 and Yamaha FJR1300 are coming soon, and fitments for the Kawasaki Concours 1000 and Honda ST1100 are under development.
For more information: Heli Modified Inc., 20 Industrial Way, Cornish, Maine 04020; (800) 859-4642; helibars.com