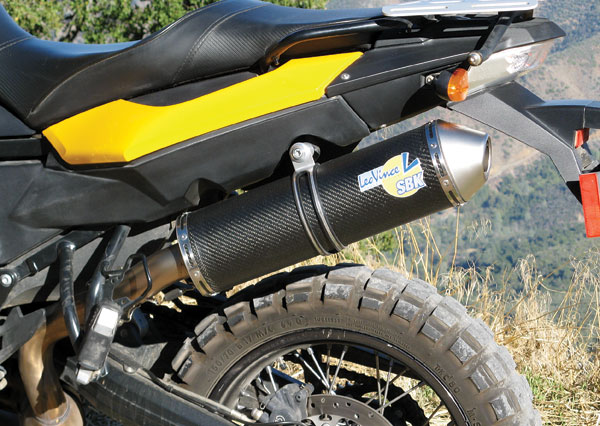 I haven't put an aftermarket pipe on a motorcycle since I replaced the clapped-out stocker on my '71 Honda SL100 with a straight pipe and "silencer," then blasted around the neighborhood like Super Squid. Since then, I've adopted a stealthier, friendlier approach to riding and haven't missed the extra noise. But when word filtered in that the LeoVince slip-ons were on the quiet side, I had to hear for myself. The stock can on my BMW F 800 GS has a nice little snarl that's really all the sound I need to share with the rest of the world, but it's also a heavy hunk of stainless to haul hither and yon—10.4 pounds. So if there's a light, quiet pipe out there, I'm interested.
LeoVince's SBK Street line has two Evolution II slip-on models for my GS, one clad in aluminum for $330 and another in carbon fiber for $430. I went with carbon to save the most weight. At just 5.7 pounds, including connector pipe, springs and bracket, and the optional quiet insert, it nearly offsets the weight of my Kermit chair. Score one for Leo. Installation was simple: remove the stocker, fit a short intermediate pipe onto the header, and slip on the canister. They even include a handy spring puller. Aligning the hanger bolt with the GS's mounting hole took a little force, but no more than the BMW pipe requires. Weight is good, how about sound? We'll let the numbers tell that story.
Armed with Rider's sound meter to measure exhaust output as dBA, which approximates the human ear's sensi­tivity to sound, I set up to run the SAE's 2009 J2825 stationary sound test. A simple, repeatable way for measuring motorcycle exhaust noise, J2825 boils down to holding a sound meter 20 inches from the exhaust outlet at a 45-degree angle and measuring the sound at idle and at either 2,000 rpm or during a sweep from idle to 2,000 rpm. The AMA has put it on YouTube if you want to see how it works.
I measured three configurations of exhaust—stock, Evo II with insert, Evo II without insert—three times each and averaged the results. The stock BMW exhaust registered 74.2 and 82.2 dBA, while the Evo II was louder at 80.8 and 83.2 dBA. The quiet insert lives up to its name—without it, the pipe emits 87.5 and 91.1 dBA. That's fine for the track, too loud for town. The insert installs in seconds with a single screw, so there's no excuse not to use it. With it in, the sound is throatier and noticeably louder than stock when I wick it up, an observation verified by having a friend follow me through the twisties. Performance gains, if any, were subtle. The GS may have pulled a bit harder in the midrange. LV's own dyno chart for the F 650 GS (twin) model shows little change from stock. Repacking, which costs $59 for the packing kit and $27 for labor, is recommended at 50,000 miles.
LeoVince prides itself on producing nearly every piece of their exhausts at a single Italian facility, and this pipe's excellent fit and finish confirm its commitment to handcrafted quality. The carbon Leo is a handsome article, oval in cross-section, encased in beautiful satin-finished carbon fiber with the metal end cap cut at a jaunty angle. As a bonus, the carbon exterior runs very cool—good news for soft luggage and passengers. Good looking, well made and only as loud as you let it be, the Evo II is an easy way to drop a few pounds from any bike.
For more information: Contact LeoVince USA, 1445B South 50th Street, Richmond, California 94804; (510) 232-4040