by Lance Oliver; photography by Alfonse Palaima
[This 2009 Kawasaki Vulcan 900 Custom SE and Classic LT Road Test was originally published in the November 2009 issue of Rider magazine]
A demo ride on the new Voyager was the hardest ticket to get at the Kawasaki tent at the Americade Rally in Lake George, New York, in June 2009. It's human nature to gawk at the newest model loaded with accessories, but when it comes time to lay down money for an everyday ride, most people move to a more practical point on the food chain.
Kawasaki took advantage of the beautiful riding around Americade in New York's Adirondack region to remind us of some of those bread-and-butter bikes, such as the company's Vulcan 900s, which happen to be its best-selling cruisers. The Vulcan 900 line offers two basic flavors, three models, plus one Special Edition appearance package. The Custom serves up chopper-esque styling with its 21-inch front tire and slender fork. For an extra $400, the Special Edition version of the Custom adds blacked-out exhaust and engine parts that contrast with valve covers that Kawasaki calls orange but look more like an attractive shade of copper to my eye. Meanwhile, the Classic offers a retro fat-tire look with spoked wheels to please traditionalists. Finally, the Classic LT groups together the accessories needed to make the Vulcan a touring platform: an adjustable windscreen, saddlebags, a more comfortable seat and a passenger backrest.
One thing that doesn't come across in photos is the Vulcan 900s' scale. Although most cruiser riders appreciate the manageability that comes with low seat heights and engines tuned for easily accessible torque, few want to look like they're riding a bike built for newbies. Styling elements such as the broad, 5.3-gallon gas tank, fins that exaggerate the size of the cylinders and a 180-section rear tire make the Vulcan 900s look like larger motorcycles.
All three models share nearly identical drivetrains. The 903cc V-twin blends traditional touches many cruiser riders demand with modern technology that provides smoother running and allows Kawasaki to meet proliferating noise and emissions standards. Thus the engine spins a single crankpin to provide the old-style V-twin cadence, but a gear-driven balancer and rubber engine mounts keep the worst vibes away from the rider. Electronic fuel injection, liquid cooling, overhead cams and four valves per cylinder improve efficiency, but the radiator is hidden between the front downtubes of the frame, and the cylinders are finned, just like an air-cooled cruiser of yore. Kawasaki says the V-twin produces a peak 58.2 lb-ft of torque at 3,500 rpm. Power is conveyed to the rear wheel through a five-speed tranny with belt final drive.
From there, the Custom and Classic diverge, mostly in the front half of the motorcycle. The Custom's nicely styled, 21-inch cast front wheel is an obvious difference, but you'll have to look hard to notice that while both 900s have single front and rear disc brakes, the Custom's rotors are larger. What you won't notice unless you ride both bikes is that the Custom is also geared lower. The Custom's footpegs and flat handlebar on tall risers also stretch out the rider more than the Classic's floorboards and pullback bar.
Swing a leg over the Custom's low seat, reach under your left thigh to switch on the ignition, and the Vulcan is ready to rumble with nothing more than a push of the starter button, thanks to fuel injection. Gauges mounted on the tank keep the handlebars uncluttered. The traditional dial speedometer is supplemented by small warning lights plus a digital readout that the rider can toggle among odometer, a single tripmeter and a clock.
Clutch pull is moderate, neither unusually light nor heavy. A few roll-ons confirm the Custom's lower gearing and lighter weight, compared to the Classic. What surprised me more, at least after I took a long look at the skinny 80-section front tire with its thumbnail-sized contact patch, was that by day's end the Custom SE was the preferred choice of most testers on the curviest Adirondack roads.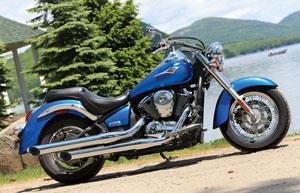 Where the Custom's front tire bit into the turns, the Classic tended to wallow a little when upset by midcorner bumps, though both bikes easily allow the rider to feel like a hero by dragging the fold-up pegs (Custom) or floorboards (Classic). The tradeoff for the Classic LT's slightly softer performance, however, is a big improvement in mile-eating ability. I've been accused in some corners of being a bit of a whiner about motorcycle seats, but the Classic LT's perch is good enough to let me burn through a tank of gas uninterrupted. While the Custom's ergonomics folded me double, the floorboards, seat and riding position of the Classic LT let me move around and stay comfortable. The balancer and rubber mounts let you know you're riding a V-twin, but the vibes are too muted to become tiresome and the big windscreen spared me from struggling against the windblast. For reference purposes, I'm 5 feet, 11 inches and with the adjustable (with a single tool) windscreen in the middle of its range, I was looking through the screen with no significant buffeting and zero optical distortion. Prefer to look over the windscreen, not through it? Unless you play in the NBA, you might have to opt for the basic Custom and fit it with the smaller (but nonadjustable) screen Kawasaki offers.
The top-loading leather saddlebags are reinforced with hard plastic, and the overlap of the lids should keep contents dry in mild rain. Two leather straps with chrome buckles conceal easier-to-use quick-release fasteners. I didn't have a chance to measure fuel mileage, but Kawasaki estimates 45 mpg. Coupled with the 5.3-gallon tank, that easily produces a range above 200 miles.
Given the combination of big-bike looks with manageable handling and a low price, it's not surprising Kawasaki sells so many 900s. These Vulcans have the potential to appeal to burly guys wanting a midrange cruiser that looks bigger, and petite women wanting to get both feet on the ground, from new converts with motorcycle endorsements still warm from the Motor Vehicles laminator, to weathered touring riders who just want a no-nonsense bike with wind protection, saddlebags and a four-digit price. With that wide range of potential riders, touches such as an adjustable front brake lever are appreciated. Riders who switch between riding solo and two-up may wish for similar adjustability in the single rear shock, which is buried deep in the bike's innards and is hard to reach. Blame it on the need to maintain the classic, hard-tail look.
The Vulcan cruisers may be named for the Roman god of fire, but with the Star Trek franchise still running strong, another association comes readily to mind, especially for touring-minded riders. With its comfortable seat and riding position, wind protection, saddlebags and sub-$9,000 price tag, the Kawasaki Vulcan 900 Classic LT is an eminently logical choice. They'd probably sell well on planet Vulcan, but I hear the distribution costs would absolutely kill Kawasaki's margin.
2009 Kawasaki Vulcan 900 Custom/Vulcan 900 Classic
Base price: $7,699 / $8,099 (SE $7,499, LT $8,799)
Website: www.kawasaki.com
Engine: Liquid-cooled transverse V-twin, SOHC, 4 valves per cylinder
Bore x stroke: 88.0 x 74.2mm
Displacement: 903cc
Transmission: 5-speed, cable-actuated clutch
Final drive: Belt
Wheelbase: 64.8 in.
Seat height: 27 in. / 26.8 in.
Claimed wet weight: 611 lbs. / 620 lbs. (LT 657 lbs.)
Brakes, front: Single 300mm / 270mm disc
Rear: Single 272mm / 242mm disc
Tires, front: 80/90-21 / 180/70-15
Rear: 130/90-16 / 180/70-15
Rake/trail: 33 degrees / 7.2 / 6.2 in.
Fuel capacity: 5.3 gals.