photography by Kevin Wing
[This 2009 BMW K 1300 GT Road Test was originally published in the June 2009 issue of Rider magazine]
One measly pound, just 16 ounces. That's how little weight the top-line 2009 BMW K 1300 GT sport tourer has gained, even with numerous improvements and a larger engine that reaffirms its title of most powerful bike in the class. In fact, at 667 pounds ready-to-ride it's still the lightest, too. This GT or "Grand Touring" bike belongs to the group of motorcycles that have full fairings, electric windscreens, hard saddlebags and shaft final drive, but stop short of coming with top trunks and sound systems (although these may be options). Frames, suspensions and running gear are tuned for performance and cornering, but seats are usually cushy and gas tanks large for burning miles. When you're ready to ride far without limits on how fast, one of these sleek machines is the way to go.
Sport-touring fans will remember that the BMW K-GT has its roots in the K 1200 S for 2004, a then all-new platform with a powerful transverse in-line four-cylinder engine, aluminum-alloy perimeter frame and a new alternative front end design, the Hossack-derived BMW Duolever. Like the Telelever found on BMW boxer models, the Duolever has many advantages over a simple telescopic fork, and it offers more strength and stiffness than the Telelever to suit the extra power and stopping forces of the K bikes. The K 1200 GT joined the S in 2006 running on essentially the same platform, a powerful entry in the fully faired sport-touring class with many useful accessories. It trailed the competition in shootouts, however, mainly due to its notchy shifting, driveline lash and a rider's seat courtesy of the Marquis de Sade. Its slab-sided fairing gave it a barn-door look as well.
We complained, BMW listened. In addition to the bump in engine size, both the GT and S have received a formidable list of mods to smooth throttle response, reduce driveline lash and improve ergonomic comfort and convenience. Chief among the latter is all-new, more-tactile switchgear, which includes—a drum roll please—a single push-to-cancel turn signal switch instead of the old three-button setup. The GT's styling is improved, too, with new vents in the fairing, which conceals new tipover protectors and a color-matched interior finish.
The biggest change is one we didn't even request. For 2009 a displacement increase in the revamped BMW GT of 136cc to 1,293cc and a long list of additional engine tweaks has raised rear-wheel output on the Jett Tuning Dynojet dyno to a whopping 145 horsepower at 9,400 rpm, and 89 lb-ft of torque at 8,000 rpm. That's an 11 and 6 percent improvement respectively over the previous K 1200 GT, and about 12 percent more horsepower and two more lb-ft of torque than the GT's most powerful competitor. We are not entirely clear why either the GT or S needed more power in the first place, but with their fuel economy and weight essentially unchanged, we approve!
Not to be mistaken for the longitudinal in-line four still found in the K 1200 LT, this powerplant lies transversely across the frame and has an ultra lay-down cylinder angle of 55 degrees to keep the weight low. A stacked, six-speed cassette transmission with a wet clutch helps shorten wheelbase, though at 61.9 inches the GT is still a long sport tourer. At just over 16 inches the engine is narrow, thanks in part to a design that has the chain-driven exhaust cam drive the intake cam with gears. Low-mass follower arms in the valve train contribute to a relatively high 10,250-rpm redline, and sensitive knock sensors permit good performance on "just" the 91-octane premium fuel readily available here, despite 13.0:1 compression and a recommendation for European Super or 98 RON fuel (about 94 PON here, see your local airport).
Electrics, ignition and fuel injection are all computer-controlled and connected by CAN-BUS single-wire, a computer network of sorts which among other things does away with fuses—should a component short-out, the system isolates it until the next ignition cycle, when self-diagnostics confirm or dismiss the existence of a problem and display a warning to the rider. Security is incorporated—if the system doesn't read a proper code from the bike's chipped ignition key, it simply won't start.
Though it doesn't bear a structural load the engine is solidly mounted in the twin-spar aluminum perimeter frame, and despite having twin balance shafts some mild engine vibes still reach the rider at higher rpm and fuzz the mirrors. Smoothness and mirror clarity do return at cruising speeds. Power gets to the back via a single-sided BMW Paralever, which provides the maintenance-free goodness of shaft drive without shooting nasty throttle inputs into the rear suspension.
Up front the Duolever has been improved for 2009 with a lighter lower arm made of forged aluminum instead of steel, reducing unsprung weight. Benefits of the overall design include separating steering from suspension, and that it creates almost no change in wheelbase or front-end dive during braking and acceleration. The Duolever also allows the use of a finely tuned spring strut to suspend the front rather than fork tubes. The entire structure can be more rigid than a tele fork as well, leading to more control and better feedback. Watch as the Duolever arms bob up and down in response to bumps and you'll feel virtually no corresponding inputs into the handlebars, or bump steer. Conversely the suspension is free to do its job while you're doing yours in corners, and the lack of dive leaves all of the suspension travel available when braking.
There's a bit of noticeable tire feedback from pavement irregularities, like rain grooves, but that's probably because the front end is so much more sensitive, and a steering damper keeps them from having any actual steering input.
Ergonomics are a key feature of a bike like this, which might interface with a rider all day, every day for weeks. The K 1300 GT has a sportier seating position than some, with comparatively high, rearset footpegs and a handlebar that adjusts up and down 1.6 inches but that is already pretty sporty in the highest position. With the adjustable seat in the lower of two positions I can just comfortably reach the ground with both ends of my 29-inch inseam. I often found myself sliding forward into the tank due to the rearset pegs, and ducking my helmet slightly to get out of the noisy windblast, even with the electric windscreen at the top of its 4-inch range. Riders with taller torsos like mine should opt for the taller screen. The rider's seat itself is much improved this year but still far from all-day comfortable, though the nicely padded passenger seat and generous grab handles in back will keep your copilot happy far longer.
Starting and riding off on the K 1300 GT is a growling, visceral experience—rather than the calm, velvety purr of the Honda ST1300, for example, or the smooth, controlled whirr that emanates from the four-into-two exhaust on the Kawasaki Concours or Yamaha FJR1300, the K 1300 GT's four-into-one pipe snarls and a mechanical Aida wells up from behind the fairing when you're on the gas. And no wonder—there's a lot of power being produced. From a standing start the GT will easily burst away in second gear and rocket to just shy of 100 mph, without shifting, in less time than you can read this sentence. Two-up and loaded there's still huge grunt on tap in any gear, any time, yet our test bike still managed 36 mpg average, enough for 227 miles from its 6.3-gallon tank. This isn't just sport touring, it's Power Touring.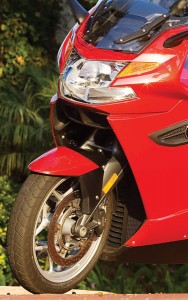 Former complaints about driveline lash and noisy shifting have been addressed with a new damped, two-stage drive shaft, beefier clutch, internal gearbox refinements and anti-friction bearings in the gear shift lever, which also has shorter travel. We found the driveline smooth and quiet now, yet shifting the GT must still be done with a purpose, and is still too noisy to suit the rest of the machine's character. Clutch feel and engagement is satisfactory, but could be broader and more linear as well.
Our test bike was equipped with several factory options such as a bright xenon headlight, cruise control, heated seats and grips and an on-board computer, all of which are very functional, useful and recommended as your budget allows. The oil level monitor in the OBC is worth its price alone. We have yet to sample BMW's new Tire Pressure Monitoring system available for the bike, but look forward to seeing it in action as well.
Our GT also had BMW's revamped Electronic Suspension Adjustment or ESA II, which allows on-the-fly suspension damping adjustments and pushbutton load compensation. At a standstill with engine running the rider can cycle through three spring preload/rate choices, and stopped or underway it offers three damping settings (Comfort, Normal and Sport). BMW says this new ESA II rendition actually changes the spring rate as well as preload in the rear, allowing it to compensate for a broader range of loads, and it is especially convenient when you ride both two-up and solo, sporty and slowly, all in the same day. The setup feels too biased on the stiff side now, however, even on the Comfort damping and lowest load settings. Compliance and control are first-rate, no doubt, but I miss how well the GT's suspension soaked up bumps when you're just cruising along. Before opting for it shorter riders should check seat height with ESA II vs. a bike without it, too—I believe the ESA bikes have taller seat heights.
BMW's power-assisted partial Integral ABS, EVO dual floating front disc brakes with stout four-piston calipers and a two-piston brake in back haul the bike to an eye-popping stop, and finally have good, predictable linear feel at the front lever and rear pedal. For those worried about it the bike stops just fine with the ignition off now, too, so that bit of weirdness is another one for the history books along with the former Rube Goldberg turn signals.
The standard luggage rack and saddlebags are capacious, and the latter each hold a full-face helmet and are easily removed. There's some storage space under the seat and a locking pocket in the fairing, but the bike has a plastic gas tank, requiring a strap-on tankbag rather than allowing magnetic. Topping up oil in the dry sump engine is conveniently accomplished via a filler under the seat, and a level indicator on the oil tank makes visual checks easy with the bike on its centerstand. We wish putting gas in it through the tiny tank opening was as easy. Interestingly, there's no valve adjustment interval specified—though it is required occasionally the BMS-K engine management will let you know when. Instruments, with automatic night lighting, are comprehensive and top-notch, and clutch and brake levers are, of course, adjustable.
BMW's most powerful touring bike isn't necessarily its best; overall I prefer the lighter weight, increased wind protection and legroom of the R 1200 RT sport-touring twin, for example, which handles equally well. If you define sport touring by how fast you can get there as well as by how far and how fun, though, you won't find anything faster in this class than the K 1300 GT.

2009 BMW K1300GT Specifications:
Base Price: $18,800
Price as Tested: $22,390 (xenon headlight, ESA II, on-board computer, heated seats and grips, cruise control)
Warranty: 3 yrs., 36,000 miles
Website: www.bmwmotorcycles.com
ENGINE
Type: Liquid-cooled, transverse in-line four
Displacement: 1,293cc
Bore x Stroke: 80.0 x 64.3mm
Compression Ratio: 13.0:1
Valve Train: DOHC, 4 valves per cyl.
Valve Adj. Interval: Varies
Fuel Delivery: EFI w/ BMW BMS-K engine management
Lubrication System: Dry sump, 3.7-qt. cap.
Transmission: 6-speed, hydraulically actuated wet clutch
Final Drive: Shaft, 2.82:1
ELECTRICAL
Ignition: Electronic digital
Charging Output: 945 watts max.
Battery: 12V 19AH
CHASSIS
Frame: Aluminum-alloy perimeter w/ engine as stressed member & aluminum single-sided swingarm
Wheelbase: 61.9 in.
Rake/Trail: 29.4 degrees/4.4 in.
Seat Height: 32.3/33.1 in.
Suspension, Front: BMW Duolever w/ single shock, ESA II (as tested), 4.5-in travel
Rear: BMW Paralever w/ single shock, ESA II (as tested), 5.3-in. travel
Brakes, Front: Dual floating discs w/ opposed 4-piston calipers & partial Integral ABS
Rear: Single disc w/ 2-piston pin-slide caliper & ABS
Wheels, Front: Cast, 3.50 x 17 in.
Rear: Cast, 5.50 x 17 in.
Tires, Front: 120/70-ZR17
Rear: 190/55-ZR17
Wet Weight: 667 lbs.
Load Capacity: 477 lbs.
GVWR: 1,144 lbs.
PERFORMANCE
Fuel Capacity: 6.3 gals., last 1.0 gal. warning light on
MPG: 91 octane min. (high/avg/low) 37.5/36.0/34.5
Estimated Range: 227 miles
Indicated rpm at 60 mph: 3,600