History may prove me wrong, but I think that Harley-Davidson's strategy for introducing its liquid-cooled, metric VRSC Street Rod family to the air-cooled faithful and new customers alike was pretty insightful.
It couldn't do so in a traditional FXD Dyna Glide or FXS Softail-like cruiser-the howls of "Blasphemy!" would be heard all the way to Tokyo. For different reasons, a sport or standard water pumper could be just as strongly dismissed-at least at first-by the competition's customers as an expensive wannabe. No, Harley needed something unique in which to bolt its first liquid-cooled mill, some-thing that would garner everyone's attention and few, if any, accusations of being a copycat.
The 2002 V-Rod was the result, its long, low styling, fat tubular-steel perimeter frame, disc wheels and satin-finished bare aluminum bodywork literally shouting uniqueness, a kind of dragbike aura legitimized by its claimed 115-horsepower Revolution V-twin. H-D even introduced the V-Rod to the U.S. press at the Irwindale 1/8th-mile dragstrip, as American as apple pie and NASCAR.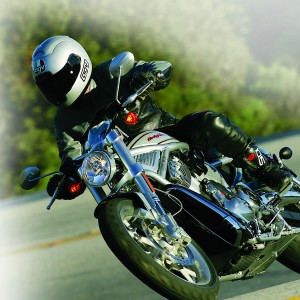 Measuring its subsequent success or lack thereof against Harley's other sellout model families is a bit unfair, but The Motor Company says it sold all 11,000 V-Rods to dealers the bike's first year, and that it doubled production for 2003 and sold the majority. It will build its 50,000th V-Rod in February 2005, a lot of motorcycles by any standard. The European market is a big part of the equation, of course, as riders there like metric liquid power-at one time the V-Rod was the best-selling Harley abroad when it was sixth here. In any event the bike has accomplished its primary mission-the majority of V-Rod owners have either come from or currently own competitive makes.
For our part Rider loved the V-Rod's engine but was lukewarm about the rest, as the bike's handling handicaps it in corners, and it lacks comfort and range. Poor cornering clearance and 34 degrees of rake with a 38-degree fork angle may be well-suited to looks and the dragstrip, but elsewhere they're a liability. As early as the V-Rod launch we wished for a more standard platform with which to take complete advantage of this rip-snorting powerplant, the combined engineering effort of Harley-Davidson and Porsche, no less. We thought our prayers had been answered for 2004 when rumors of a new V-Rod were rampant, but it turned out just to be a very similar VRSCB brother to the first VRSCA V-Rod, with a different handlebar and instrument cluster.
Yet three is indeed a charm. Although there's no mistaking the new-for-2006 Street Rod as a member of the VRSC family, the VRSCR is shorter in length, taller of seat and has no fear of corners. New freer-flowing exhaust gives the liquid-cooled, fuel-injected, 1,130cc, DOHC 60-degree V-twin with four valves per cylinder slightly more oomph as well, from a claimed 115 to 120 horsepower and from 74 to 80 lb-ft of torque, though the engine is otherwise unchanged. Steering rake has been tightened up to 30 degrees with a 32-degree fork angle-not as tight as we would like, perhaps, but a lot-and that's a male-slider (inverted) 43mm Showa cartridge fork up front, a first for H-D. Combined with longer dual rear shocks, and a higher exhaust and footpegs, the Street Rod can be leaned 40 degrees either way vs. the V-Rod's 32. That's well under typical sportbike spec, but the most of any Harley-Davidson by far.
None of this would be any good with cruiser ergos, thus the Street Rod has a 4-inch-taller seat, a lower, nearly flat handlebar, and midmount footpegs and controls. Instead of leaning back with your boots up by the radiator, the Street Rod seats you leaning slightly forward, feet directly beneath. Seat height is 31 inches, tall for a Harley but average for a sport tourer.
The staggered 10-spoke cast-alloy wheels that were optional for the V-Rod for 2004 are lighter than its crosswind-catching discs and standard on the new Street Rod. Like the V-Rod they wear Dunlop D207 Sportmax radials from the factory, with a new, presumably stickier front compound. All-new Brembo triple disc brakes with opposed four-piston calipers and 300mm rotors in front haul the Street Rod to a stop. The only suspension adjustment is spring preload in the rear, but it won't be long before Harley and the aftermarket offer fully adjustable boingers for the back.
Styling changes are subtle but numerous. New fenders change the look most in the rear, where there's a larger gap between the fender and tire. Because of the added power and fatter fork legs, the shape of the "vortex" radiator shroud has been optimized to the Street Rod's new cooling needs. Although all Street Rod colors get a silver tank insert, the aluminum cover itself is unchanged and still conceals the airbox-the fuel remains under the flip-up seat, but the Street Rod's 5.0-gallon tank is 1.3 gallons larger than the V-Rod's.
Swing a leg over the Street Rod and instead of a cruiser you'll be reminded more of a sporty standard, like a Suzuki Bandit or Yamaha FZ1. Except for being able to see the front tire from the saddle-it's still quite a ways out front. Wheelbase has only been shortened 0.7-inch from the V-Rod's lengthy 67.5 inches, and the steering geometry changes actually give the bike slightly more trail. It's heavier, too-that extra fuel, stout fork, etc., add 22 pounds, for a porky total of 642.
Unlock the right-side ignition switch and separate steering lock with the barrel key-no fast idle control is needed. Our test bike fired up readily but was a bit cold-blooded, coughing and hesitating at low rpm. Although this improved as the bike warmed, under 3,000 rpm fuel delivery was never precise, and the Street Rod would buck while crawling along at low speed in heavy traffic or parking lots. This and the bike's mediocre average fuel economy of just 33.2 mpg (high 38.2, low 30.5) made us wonder if our Street Rod's state of tune was preliminary-Harley says it's a preproduction model.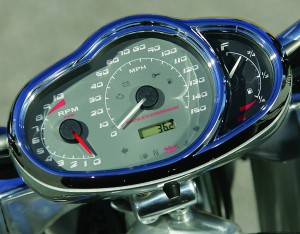 Open 'er up and you're on the fast road to Happyville. The sputters go away and the engine's familiar ripping-velvet growl is accompanied by an additional hammering roar from the Street Rod's new exhaust as it claws its way toward redline at 9,000 rpm. It's loud and lusty compared to the muted whispers of other street bikes these days, though the neighbors will have nothing but admiration. Acceleration is equally satisfying and strong-on the Barnett Dynojet dyno the Street Rod cranked out 107.7 rear-wheel ponies at 8,450 rpm and 70.7 lb-ft of torque at 7,650, a 2 percent gain in horsepower over our 1992 V-Rod, but a similar drop in torque. Improvements in the five-speed transmission aid smooth shifting, and except for the traditional Harley "thock" as the bike is eased into first from neutral, the Street Rod's gear changing is very clean and effortless. The low-maintenance belt final drive goes about its business essentially unnoticed, too.
While the Street Rod still shoots from light to light at the speed of it like the V-Rod, it's in the corners that it really distinguishes itself. Gone is the tendency to fall into turns; in its place very predictable and neutral steering. I was surprised by how much I had to work to touch the footpeg feelers to tarmac. Though there's no mistaking that this is a long and heavy motorcycle, it still gets around corners both tight and fast better than any Harley or cruiser to date, even the BMW R1200C or Moto Guzzi V11s. You'll have to muscle the high-effort steering and be patient with the leisurely steering speed, but the reward will come from the wide-eyed, open-mouthed expressions of your sportbike riding buddies when your bike stays with 'em in the canyons and wins the beauty contest, too. Long sweepers are especially breathtaking, as the bike remains as planted and unflappable as a bullet train, even at full lean.
Harley could have lessened the handling effort a bit by sacrificing a few form traditions for more functional ones, such as the smooth handgrips that are hard to hang onto and the long, unadjustable reach to those big chrome levers. Heavy clutch pull tires your left hand in traffic, and it and the long, stiff throttle travel require more effort and gyrations than the typical sporting machine in the canyons. Overall you can ride the Street Rod on tight, winding roads very quickly, but the combined steering and control effort will quickly tire your hands and shoulders.
Suspension and braking on the Street Rod are top-notch despite the lack of adjustability in either. The fork is well damped and offers 4.9 inches of compliant travel as do the Showa shocks on the aluminum swingarm, though both ends are decidedly firm to suit the bike's sporting nature. The only time we felt the Street Rod's weight other than in the corners is on bumpy roads, where it can jar and bump the rider in proportion, but it's never harsh or stiff, just firm and controlled. We noticed a little bit too much fork dive at times when braking hard-if it were mine I would try a slightly heavier fork oil. Although the rear single disc can be a bit grabby, the front dual discs on the Street Rod are strong, linear and powerful, their only limitation the long, unadjustable reach to that fat chrome lever.
On a 375-mile ride following the heavy rain and flooding that plagued California last winter, I found the Street Rod pretty comfortable. That slight forward lean that puts a little weight on your hands is buoyed by the wind at speed, resulting in a very natural and relaxed upper-body position. Although they get in the way at stops, the footpegs are in just about the right place for a sport-touringlike feel. The seat is the only weak link as it's hard and uncomfortable, though I remedied this with a thick gel pad and found the extra height and legroom worked better while underway, though it did make it a bit of stretch to the ground.
On the highway the Street Rod is smooth and kind of sleepy at about 4,400 rpm at 70 mph in its top fifth gear. Some pulsating vibes shake the bike below 3,000 rpm, then there's more to be heard than felt until about 5,500, when the vibes become a light tingle until redline. Engine feel is never intrusive or bothersome, except for the surging at low speed. I have to wonder about the pipe by your right leg, as it could get a bit warm under there while idling at long stops, but we only had cool weather during the testing period so it's hard to say if this will become a problem in hot weather.
Major gripes are nil, minor gripes are few. There's no helmet lock or storage, the mirrors are almost useless and neither the flip-up seat nor the gas cap beneath it lock. The speedo and odometer are hard to read, too-the two-digit numbers all look the same at night and it's angled downward too much. We didn't like how the ignition switch works without the key, as it's too easy to forget it and have no way of locking either the ignition or the steering. And did I mention the brake lever lacks adjustment? On the bright side, valve adjustment intervals are lengthy at 15,000 miles, the head-light is great, and though it will scare the dickens out of you at first (as the bike rolls a little when it engages), that locking sidestand is wonderful, all motorcycles should have one.
When the V-Rod was introduced, many of us asked for a less cruiserish platform in which to enjoy Harley-Davidson's powerful new liquid-cooled V-twin. From our standpoint the Street Rod is a pretty good start, and because it successfully walks the line between sportbike and cruiser Harley's customers new and old are likely to appreciate it if not eat it up. If Harley is willing to go this sporty with the Street Rod, though, what might the next VRSC be like…?