When Erik Buell set out to build a 250 GP racebike-sized sportbike with a stump-pulling torquey V-twin, he wasn't kidding around. The latest generation of Buell Motorcycles-that free-thinking, cornering-oriented division of Harley-Davidson-consists of tiny Firebolt XB9R and XB12R sportbikes and compact Lightning XB9S and XB12S sit-up sports, all of which have wheelbases and steering geometry that are even shorter and tighter than most contemporary 250 GP bikes, never mind all of the 600-class sportbikes. Despite the excellent handling that results from a 52-inch wheelbase, those of us who line-dry our XL-size T-shirts to prevent shrinkage may feel a bit conspicuous on a modern Buell XB, like your average pro defensive end must feel riding, well, just about anything. Some of Buell's faithful from its larger tube-framed days through 2002 (S3/S3T Thunderbolt, M2 Cyclone, etc.) have even complained that, "Buell just isn't making a motorcycle for me" anymore.
Harsher words there cannot possibly be to Buell Motorcycle Company, because it takes a special kind of rider to become a Buell customer in the first place, one who appreciates the sublime technological beauty and peculiarities of a grunty air-cooled V-twin wrapped in a small, lightweight and American-made sportbike. To that end, for 2006 Buell has created the Lightning Long XB12Ss, essentially a longer, taller, wider version of the 1,203cc Lightning XB12S. Although still smaller and lighter than most bikes with half the displacement, the Ss is a Buell that a larger guy or gal can appreciate-the Buell for the full-figured rider, if you will.
To build this Lightning on steroids, Buell started by lengthening the swingarm 2 inches, for a longer wheelbase of 54 inches. The steering-head angle and trail were increased as well, to give the bike a more "relaxed" handling feel-by Buell standards, anyway. A taller, thicker and wider seat and a longer tailsection create more space for rider and passenger, and by relocating the air intake and widening the space between the main frame spars, fuel capacity has been increased from 3.7 to 4.4 gallons. Despite these changes the XB12Ss weighs just 466 pounds wet (about the same as a Ducati Monster S4), and still has a shorter wheelbase than the typical 600cc sportbike.
The Long Lightning also benefits from changes made to all Buell XB models for 2006. Reduced clutch lever effort-15 percent less on the 984cc models and 20 percent easier on the 1,203cc bikes-was enabled by new "high-friction" transmission oil, which Buell says allows the use of lower-rate main clutch springs. I rode our 2006 XB12Ss test bike back-to-back with a 2005 XB9S, and you can indeed feel the difference in clutch lever effort.
The air intake on all the 2006 Buell XBs is no longer routed through the frame, allowing a slight increase in fuel capacity from 3.7 to 3.8 gallons (except on the XB12Ss, which has a wider frame, too, and thus a fuel capacity of 4.4 gallons). A metal screen integrated in a rather unique way into the wrap-around fuel cap cowling serves as the new air intake (but precludes the use of a tankbag so large it covers the opening). Fuel pumps are quieter for 2006, and a major transmission redesign using helical gears for second through fifth improves shifting, reduces noise and extends service intervals to 10,000 miles. The bikes also have new final drive belts that better tolerate debris (as on dirt roads) and have numerous other improvements that result in no recommended replacement intervals. Finally, all swingarms including the longer one on the XB12Ss are designed to be stiffer and lighter, and all have an easier-to-open oil filler cap in a better location.
What's this? Oil cap on the swingarm? Ah, that's only the beginning, Grasshopper. In the past Erik Buell has said of the XBs, "We questioned everything from fuel location to the brake rotor." Not only do the XBs carry their oil for the dry sump engine in the swingarm, their gas tank is the hollow cast main frame. A dry sump engine can be shorter overall with no oil sump on the bottom, and a larger but still comparably light airbox resides where the heavy fuel tank would normally be. Combine this with the underslung muffler, and you begin to see Buell's quest for low centralized mass is more of an obsession. With a target redline of just 7,000 rpm, the Buell engine can have overhead valves for even less engine height (and no valve adjustments), and the narrow 45-degree cylinder angle means that just one (big-49mm) throttle body is needed for the fuel injection. Air-oil cooling eliminates the complication and weight of liquid, and a spring-loaded tensioner on the final drive belt takes up the slack, no adjustment needed, ever. Buell's solutions to each aspect of his goal elegantly combine high-tech where needed and low-tech where best, seemingly without ego influencing the choices.
Rider's exclusive first test of the Lightning Long XB12Ss was on a preproduction model, which Buell says had 90 percent production parts. On the Barnett Engineering Dynojet dyno it cranked out 87.1 horsepower at 6,800 rpm and 71.8 lb-ft of torque at 5,800. More importantly, more than 64 lb-ft-90 percent-of torque is on tap from 2,500 rpm all the way to redline. That means plenty of urge is always available, no matter what gear the bike is in-driving out of corners, uphill or downhill, passing in top gear or just starting out. Our test bike fired up readily and settled into a lumpy, booming idle, and revved with a snappy roar, like a Harley V-twin but quicker, with much less flywheel effect. A servo-operated valve in the exhaust allows flow to increase with the throttle opening, tuning the exhaust for maximum power at a given engine speed. Buell's Uniplanar engine isolation system also allows the engine to contribute to chassis stiffness while isolating the rider from all of the vibes he or she would otherwise feel. Our test bike shook at idle like any 45-degree V-twin and vibrated through the seat, pegs and bar at low and very high engine speeds, but smoothed right out in the meat of the powerband and on the highway between 2,500 and 4,500 rpm.
Instead of the pressure that a higher-strung sportbike can create on the rider to always go fast, ridden as transportation the Buell's V-twin actually has the opposite effect. A bit of camminess and hesitation intrudes on the reverie at low engine speeds, but there's so much power down low that in town or on the freeway there's no need to wring the bike out. On the other hand, that same stump-pulling torque means you can often leave the bike in third gear on your favorite winding road and go as fast as you've ever gone in your life-maybe faster. Between corners the bike accelerates like a demon when you want it to, and the new tranny and clutch make shifting quiet and smooth like it should be.
The Lightnings are the Buell models with more upright seating positions and naked styling, and the XB12Ss offers the most room of all of them. Instead of a seriously thin and skinny pad the Ss seat is thick, wide and long, if a bit firm for best comfort. The handlebar is relatively flat and the footpegs comfortably low for a Buell, yet I still challenge anyone to drag them on the street. Overall the bike is much more spread out and comfortable than a standard XB12S, though personally I would give it a lower seat and a slightly higher bar so that I could get down behind it for more steering leverage. The greater fuel capacity gives the XB12Ss a range approaching 200 miles, and with the right seat it would make a very good sport-touring bike.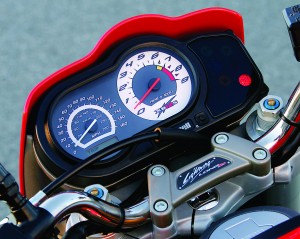 Where the shorter Lightnings tend to make the rider feel as if his whole head is out in front of the bike in corners, on the XB12Ss it's just your nose. Although Buell says the increased wheelbase and steering geometry give the bike a more relaxed feel, you really have to ride it back-to-back with a shorter Lightning to sense this. Otherwise the XB12Ss still has that wonderful steering agility and handling quickness we're looking for in a bike that doesn't make us appear and feel as though we've been glued onto it. The wide handlebar makes for low steering effort and quick transitions, and puts little weight on your wrists. Excellent fully adjustable Showa suspension at both ends-a 43mm male-slider fork up front and remote reservoir single shock in back-are easily adjusted and offer racebike-like levels of performance, with plenty of commuting comfort available, too. Our test bike came with versatile Dunlop Sportmax D208 radial tires, which offer sport performance for the street with a reasonable wear rate.
Braking on the Lightning Long is via Buell's Zero Torsional Load single disc with opposed six-piston caliper in front. By fastening the large-diameter rotor to the wheel rim, Buell says the special cast wheel can be lighter, and the single disc offers plenty of power for the lightweight bike. Our test bike had too much initial travel at the lever, but was otherwise strong and linear. Both brake and clutch levers are adjustable. The rear single disc is light and simple with its single-piston caliper, and offered just enough power to contribute to stopping or setting the bike up for a corner without locking easily.
Creature comforts are few on the XB12Ss. The toolkit is tiny as is the storage space under the locking seat, and don't look for a centerstand or helmet lock. Vibration renders the mirrors ineffective most of the time-you can tell there's something back there, but you can't tell what it is. We liked the digital LCD display with clock, two tripmeters, odometer and reserve mileage countdown, but had a hard time seeing the tiny numbers on the speedo at night. Finally, although Erik Buell makes a good case for running the two-speed cooling fan as long as a minute after the bike is shut off-this is when the hot cylinder heads tend to cook the oil and wear it out prematurely, he says-it's nevertheless loud and hard to talk over. I'd rather change the oil more often.
So, Buells like the XB12Ss are not without their quirks, but you simply won't find another sportbike that offers this level of technological uniqueness, handling, performance and easy-shifting ohmygod torque. The Lightning Long has the kind of high-tech-with-style look that's hard to take your eyes off, too, particularly in the Sunset Orange color of our test bike. Now that it's larger, we bigger animals look good riding it, too.
If you're interested in the 2006 Buell Lightning Long XB12Ss, you might also be interested in Rider's 2008 Buell Ulysses XB12XT review, or our 2004 Buell XB12R & XB12S review.