Weiser Technik's Extreme EVO LED Motorcycle Light Kits transformed my 2020 BMW R 1250 GS test mule into a much more conspicuous presence on the road by adding running light capability to the front turnsignals and running light with brake light capability to the rear turnsignals. The kits essentially replace the stock turnsignal modules with Weiser's own design, which utilizes 12 super-bright Osram LEDs per indicator. The result is dramatic, especially at night where the GS's relatively meager stock lighting was once easily lost in the sea of traffic.
In addition to the 4 LED light modules, the Weiser LED motorcycle light kits arrived complete with all necessary components for installation – including standard wiring, extension wiring, zip ties, posi-twists, posi-taps, posi-locks, locking keys, and solid-state relay – and full instructions. Many variations of the kits are available to fit a myriad of brands and models, and generally the LED light modules fit within OEM housings. However, Weiser also offers the turnsignal housings themselves (if necessary), clear or tinted lenses, and short (4.2 inch), medium (4.6 inch), or long (6.25 inch) turnsignal stems to fit nearly any application.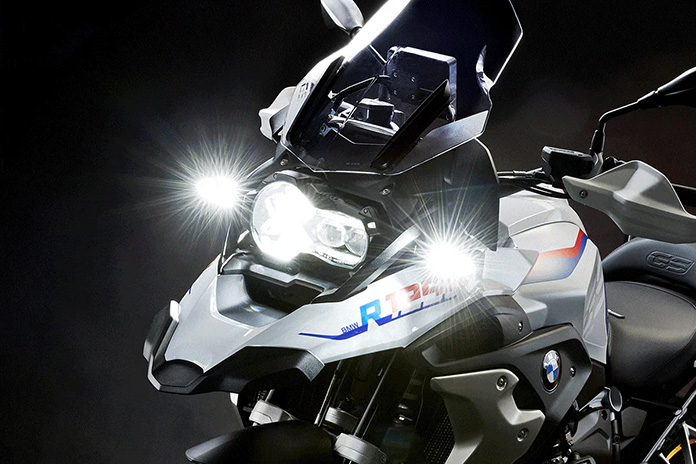 The lights are fully CANbus-compatible, so no load equalizers are necessary, and there is no danger of fault codes if installed properly. Installation itself is relatively straightforward for the shade-tree mechanic using online tutorials and the printed manual that came with the kit, but since my bike was in for service already, I had my shop install everything in one hour of labor.
Pre-Weiser, my GS's turnsignals were devoted solely to that function and otherwise remained unlit. With the Weiser kits installed, the front turnsignals now glow a constant bright white color as full-time running lights. Activating the turn signal overrides the white running light with a bright flashing yellow-off-yellow pattern and then glows continuously white again once the turnsignaling is canceled.
The rear setup operates in a similar fashion to the front, with both indicators operating as full-time red running lights. If the rider hits the brakes, both indicators glow an intense bright red. If the turnsignals are utilized, the side indicating glows in a yellow-red-yellow-red sequence until the turnsignal is canceled and then resumes its red running light mode. Hazard lights operate as normal, flashing yellow-off-yellow up front and yellow-red-yellow in the rear.
Out on the road, the Weisers drew plenty of compliments from my fellow riders, especially at night when the additional lighting really popped compared to the stock dim setup. The company claims their lights are up to 10 times brighter than OEM, an entirely believable claim based on my observations. The kits I tested carry a four-year warranty with tech support available by phone or online.
See all of Rider's Parts & Accessories reviews here.
The Weiser Extreme EVO LED motorcycle light kits tested here are $249-$269 for both the dual-function front kit and triple-function rear kit or $449-$489 for a combo kit.