The simple formula for going fast has been in play since the dawn of motor vehicles: Stuff the largest and most‑powerful engine into a sporty chassis that can handle it. When it comes to fully air-cooled motors made in America, none are bigger than those in the cruiser motorcycle comparo you see here. They've got a combined 233 cubic inches on tap for our visceral and aural pleasure – 117 cubes on the Harley-Davidson Low Rider S and 116 on the Indian Sport Chief.
Power has a charm all its own, but nothing puts butts in seats like attractive designs. Here we've got variations on West Coast club-style, with sporty windscreens leading their way to tall-but-forward club-style handlebars and mid-mount foot controls. These are elemental but imposing motorcycles, graced by subtle flash and plenty of dash.
Low Rider Cruiser Motorcycle Legacy
The Low Rider S follows a lineage of Low Riders that began in 1977 with Willie G.'s Shovelhead-powered FXS and then the belt-driven FXSB. The model transitioned to the Dyna platform in 1995 and remained in production until 2009.
The nameplate was too potent to lay dormant, so Harley delivered a new Low Rider for 2014-17, including the debut of the Low Rider S moniker in 2016. In 2018, it transitioned again – a bit controversially – to the Softail platform and the Milwaukee-Eight powertrain. Upon its debut, H-D referenced past models and inspirations from California.
Related: 2016 Harley-Davidson Low Rider S | First Ride Review
"We've applied that coastal style and performance-first attitude to the Softail chassis to create a Low Rider S that's more powerful and agile than ever," said Brad Richards, H-D vice president of design. And the formula has proven to be successful, also spawning the desirable FXRT-inspired Low Rider ST in 2022.
Indian: Me Too!
Indian gave the Chief a thorough overhaul for the 2022 model year, introducing a steel-tube frame with twin-shock rear suspension. Ironically, its layout is closer to Harley's former Dyna than the Softail-based Low Rider S.
And now we have the Sport Chief, which adds a bullet-nose fairing sized midway between the Low Rider S's windscreen and the Low Rider ST's more expansive fairing. Imitation is the sincerest form of flattery.
Related: 2023 Indian Sport Chief | First Ride Review
Miss America
A cursory look at this duo reveals many similarities, all framed around narrow-angle V-Twins. Most surfaces are black, but polished cylinder finning adds a bit of brightwork. Harley's M-8 is a little brighter with its chromed pushrod tubes. The Indian's black wheels feature machined spoke edges for a flash of bling, while the Radiate wheels of the Low Rider are finished in dark bronze.
The most visually obvious distinction is in their snouts, with the Indian's fairing much more prominent than the diminutive wind deflector on the H-D. Both bikes have dual-disc brakes on their inverted forks, and both have black shotgun-style mufflers. Neither accommodates a passenger in stock form, but accessories are available to ensure your significant other doesn't have to stay home.
Both bikes feature cruise control and self-canceling turnsignals as standard equipment, but the cockpits differ in terms of technology. The Low Rider uses a familiar 4-inch analog tach with a small digital section that includes readouts for speed, gear selection, fuel level, clock, tripmeter, and fuel range. Its location is set higher than the Chief's, making it easier to scan quickly.
That's enough instrumentation for most, but Indian one-ups its Milwaukee rival with a color TFT touchscreen that adds Bluetooth connectivity, navigation, and audio inputs, as well as readouts for air temperature and altitude, a trip computer, and ride-mode selection. It also provides a USB charge port and a 12V outlet.
The Harley's triple clamp, handlebar clamp, and tank console are finished in a Rhino Lining-like Wrinkle Black, which looks tuff if not pretty. On the other bar, the Sport Chief's upper triple clamp features machined accents that add a high-end touch, along with a bar clamp capped by an attractive scripted Indian "I" in silver.
West Coast Cruiser Motorcycle Cost Analysis
Parking either of these bikes in your garage will set you back about $20K, but their prices add up differently.
The base Low Rider S retails for $18,199, while the Sport Chief starts at $18,999. Choosing a color other than black adds $525 to the Harley and $500 to the Indian. The Indian comes standard with ABS, but it's a $950 option on the LR-S. Traction control is also standard on the Sport Chief, but H-D's Rider Safety Enhancements package (with traction control) costs an extra $200. As tested, the Harley is priced at $19,874 and the Indian at $19,499. Both companies tack on additional surcharges and fees, some of which are at the dealer's discretion.
Fired Up
Both bikes come to life via an electronic key fob, which is a huge convenience for many and a PITA for some old-school brothers. While many appreciate the tactile mechanicalness of an actual key, there's no denying the handiness of a fob.
Harley's Milwaukee-Eight engine convulses at idle, adding some drama to the experience, accompanied by ticking lifter noise. Indian's Thunderstroke feels smoother, like it's bathed in oil. Both rumble with pleasing baritone exhaust notes – loud enough to sound mean but not mean enough to be obnoxious. They're a decent compromise within EPA requirements.
GEAR UP:
Our fondness for Harley's M-8 powertrain is raised to a more supreme level with the 117ci versions we've tested. It spits out hearty low-end grunt beginning below 2,000 rpm and continues surging with a strong pull on the way to its 5,500-rpm redline.
Indian's 116ci Thunderstroke is a nice match, just 1ci shy of H-D's M-8. Can you really feel the extra inch? How about 33cc? A bit, but the bikes feel similarly powerful in general use. Indian says its mill cranks out 120 lb-ft of torque at 2,900 rpm, while Harley claims 125 lb-ft at 3,500 rpm.
It's at the upper end of the rev ranges where the MoCo motor stretches its 4-valve-per-cylinder legs, making it feel almost like it has dual personalities – it's torquey yet revvy – and cranks out about 95 hp at 4,700 rpm on a rear-wheel dyno. That's more than 10 ponies up on the Indian motor, a significant advantage. However, when riding them on the street, we never would've guessed the gap was so large, as these engines are all about surfing their prodigious midrange torque.
The Harley's motor also earns an edge in the direct responses from its twistgrip. No ride modes here, just an unbroken connection with the throttle. In comparison, the Thunderstroke feels like a computer is dictating its responses.
GEAR UP:
Indian's Sport mode delivers unnecessarily jumpy throttle responses, but switching to Standard mode calms things considerably and makes for a much smoother ride. But when you jump on the Harley and feel the immediate responses cued from its right grip, the Chief feels docile in comparison. I ended up preferring the liveliness of Sport mode and adjusted to its snatchiness.
The Sport Chief may lose ground in outright power, but it makes some of that back with a gearbox as good as a big-inch cruiser gets, even allowing seamless upshifts without using the clutch. The slip/assist clutch requires less lever effort and allows for sloppy downshifts, but its engagement zone isn't as broad as the Harley's. Six-speed transmissions feed belt drives on both.
Cruiser Motorcycle Battle Tale of the Tape
Again, we have a close match in several areas, but there are a few key distinctions. Weights with full fuel tanks are nearly identical, with the Low Rider just 6 lb lighter than the 685-lb Sport Chief. The actual weights of the machines are likely 12 lb apart due to the 5-gallon Harley tank holding 1 gallon more than the Indian's.
Ergonomically, there are few distinctions. Straight handlebars are mounted on risers for tall hand positions. The Low Rider's 4-inch bar risers position the handlebar a little closer to the rider. Footpeg locations are pretty much identical, mid-mounted to deliver a position that places feet below knees. They yield a much tighter knee bend than with forward controls, so longer-legged riders might feel cramped.
The Sport Chief enjoys a lower seat height, at 27 inches, but that's certainly not a problem if you have an inseam of at least 28 inches, which is where the Low Rider's seat is located. The Harley's saddle is slightly more scooped out than the Indian's, but both feel equally comfortable, with supportive bolsters holding riders securely in place.
In terms of chassis geometry, both bikes have the same rake angle (28 degrees), but the amount of trail diverges. More trail results in slightly slower steering responses, and it's 4.4 inches on the Indian to the Harley's 5.7 inches. However, the wheelbase of the Low Rider is 1 inch less than the Chief's 64.6 inches, gaining back some agility, as does its slightly narrower front tire.
All those numbers add up to remarkably similar vehicle dynamics, with neither bike having a clear advantage. The narrow bars look cool but decrease leverage, yielding steering effort best described as deliberate, not flickable.
Both are quite sporty for bikes with more than 5 feet between contact patches, feeling secure up to and beyond the available cornering clearances. Burly frames keep the bikes from getting twisted up when levered hard into corners. Harley states a 31.3-degree lean angle for the Low Rider S, which is a slender cornering advantage over the Sport Chief's 29.5 degrees.
Suspension performance is nearly a wash. Inverted forks with 5.1 inches of travel on both respond similarly well with nicely dialed damping. The Harley's 4.4 inches of travel in its Softail rear suspension is slightly more (0.4 in.) than the Indian's dual shocks offer – more than other Softails and Chiefs – but both do an effective job of smoothing out all but the biggest bumps.
With the power on tap to pile up speed on these muscle-bikes, it's nice to know they have stout sets of brakes. Both use dual-disc setups up front with 4-piston calipers actuated via braided-steel lines. We'll give the nod to the Indian's radially mounted Brembo calipers and bigger discs, which provide a bit more power and feedback than the Harley's binders.
The lighter clutch pull on the Chief makes it less fatiguing to ride in stop-and-go traffic, but the effort required from the Low Rider isn't onerous. Heat radiating from the engines is attenuated by rear-cylinder deactivation programming, but there's no escaping the warmth produced by immense air‑-cooled motors.
Hand controls are similarly effective, both with beefy, contoured levers that feel good on fingertips. Gripes are few. Harley's dual-button turnsignals still feel like one button too many, while we wish Indian's signal switch had a tactile cancel click. Self-canceling turnsignals mean you never look like an absent-minded old man, even if you are one. Kudos to H-D for its signals canceling quicker. But shade gets thrown on the Low Rider S for the mediocre low-beam illumination from its headlight.
Same But Different
The motorcycles in our last all-American shootout – H-D Sportster S and Indian's Scout and FTR – couldn't have been much more different for a trio of bikes with liquid-cooled V-Twin engines. But the bikes in this comparo are remarkably similar and priced that way too.
The Low Rider S stands out for the stellar responses and visceral feel of its 117ci M-8 powertrain. It feels more alive – and more powerful – than the cloudier feedback from Indian's Thunderstroke. On the downside is a less attractive cockpit. The H-D's instrument pod looks cheap in general – especially next to the Indian's TFT – and its wrinkle-finish triple-clamps and bar risers aren't as classy as the finishing on the Indian.
The Sport Chief struts an impressive profile with its prominent and visually appealing fairing and is augmented by classy finish detailing. Technology adopters will appreciate its vastly more robust suite of electronics. Purists might whinge about the dilution of feedback from the machine relative to unadulterated responses from the MoCo's offering.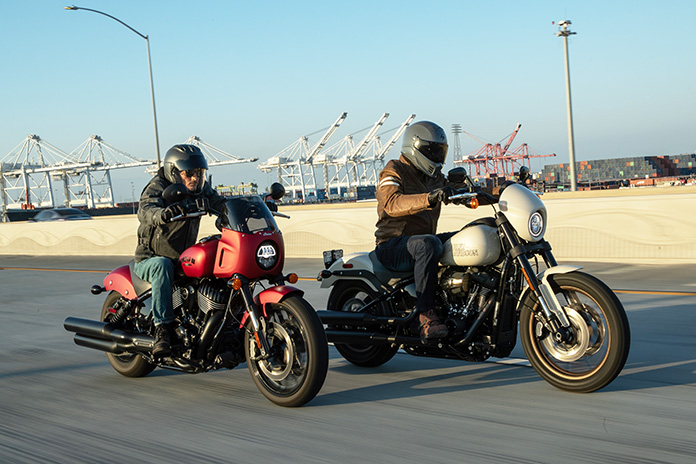 "In terms of engine character, overall performance, and handling, these bikes are pretty much neck and neck," said EIC Greg Drevenstedt, co-rider in the comparison. "If one isn't clearly head and shoulders above the other in terms of function, then it comes down to the details. The Wrinkle Black finishes on the Harley look utilitarian, like the bed of a pickup truck. The Indian exhibits more attention to detail and has nicer finishes, and the Sport Chief's fairing gives the bike a more cohesive look than the Low Rider S's flyscreen."
Greg and I were on the same page when deciding which bike we preferred, judging them remarkably close.
"While I appreciate the more raw feel of the Harley's 117, neither of these bikes will stay stock for long," said Drevenstedt. "A few performance mods will make either bike even meaner. For me, it comes down to style and stance. I love the bronze wheels on the Low Rider S, but I'm not a fan of the White Sand Pearl paint, which looks beige. Those wheels look better on the Vivid Black version, which reminds me of a late '70s 'screamin' chicken' Trans-Am.
"But the one that draws me in is the Sport Chief. It's longer, lower, and looks more aggressive. A muscle cruiser should scream 'bad ass' even when parked on the curb, and the Indian does that."
With a comparison this competitive, choosing a winner might all come down to brand loyalty and how the forms of each bike hit subjective eyes. And whichever bike you pick, you won't be wrong.
West Coast Cruiser Motorcycle Spec Chart Shootout
Base Price:
2023 Harley-Davidson Low Rider S: $18,199
2023 Indian Sport Chief: $18,999
Price as Tested:
H-D: $19,874 (White Sand Pearl paint, ABS, Rider Safety Enhancements)
Indian: $19,499 (Ruby Smoke paint)
Warranty:   
H-D: 2 yrs., unltd. miles
Indian: 2 yrs., unltd. miles
Website:  
ENGINE
Engine Type:   
H-D: Air‑cooled, transverse 45‑degree V‑Twin, OHV w/ 4 valves per cyl. 
Indian: Air‑cooled, transverse 49‑degree V‑Twin, OHV w/ 2 valves per cyl.
Displacement:  
H-D: 117 ci (1,923 cc)
Indian:  116 ci (1,890 cc)
Bore x Stroke:
H-D: 4.075 x 4.5 in. (103.5 x 114.3mm)
Indian: 4.063 x 4.449 in. (103.2 x 113.0mm)
Compression Ratio:
H-D: 10.2:1
Indian: 11.0:1
Valve Insp. Interval:
H-D: N/A (self‑­adjusting)
Indian: N/A (self‑­adjusting)
Fuel Delivery:
H-D: Electronic Sequential Port Fuel Injection
Indian: Closed loop EFI w/ 54mm throttle body
Lubrication System:
H-D: Dry sump, 5.0 ­qt. cap.
Indian: Semi‑­dry sump, 6.0 qt. cap.
Transmission:   
H-D:  6‑speed, cable-­actuated wet assist clutch
Indian:  6­-speed, cable‑actuated wet assist clutch
Final Drive:    
CHASSIS
Frame:
H-D: Tubular steel w/ rectangular‑­section backbone & steel swingarm
Indian: Tubular steel w/ steel swingarm
Wheelbase:
H-D: 63.6 in.
Indian: 64.6 in.
Rake/Trail:
H-D:  28.0 degrees/5.7 in.
Indian:  28 degrees/4.4 in.
Seat Height:
H-D: 28.0 in.
Indian:  27.0 in.
Suspension, Front:
H-D: 43mm inverted fork, no adj., 5.0 in. travel
Indian: 43mm inverted fork, no adj., 5.1 in. travel
Suspension, Rear:
H-D: Single shock, adj. preload, 4.4 in. travel
Indian: Dual piggyback shocks, adj. preload, 4.0 in. travel
Brakes, Front:
H-D: Dual 300mm discs w/ 4­-piston calipers & ABS (as tested)
Indian: Dual 320mm discs w/ 4‑piston calipers & ABS
Brakes, Rear:
H-D: Single 292mm disc w/ 2‑piston caliper & ABS (as tested)
Indian: Single 300mm disc w/ 2‑piston caliper & ABS
Wheels, Front:
H-D: 19 x 2.5 in.
Indian: 19 x 3.5 in.
Wheels, Rear:
H-D: 16 x 5.0 in.
Indian: 16 x 5.0 in.
Tires, Front:
H-D: Tubeless, 110/90B‑19
Indian: Tubeless, 130/60B­-19
Tires, Rear:
H-D: Tubeless, 180/70B‑16
Indian: Tubeless, 180/65B­-16
Wet Weight:
H-D:  679 lb
Indian:  685 lb
Load Capacity:
H-D: 481 lb
Indian: 475 lb
GVWR:
H-D: 1,160 lb
Indian: 1,160 lb
PERFORMANCE
Horsepower:
H-D: 103 @ 4,750 rpm (factory claim)
Indian: 96 @ 4,200 rpm (estimated)
Torque:
H-D:  125 lb­-ft @ 3,500 rpm (factory claim)
Indian:  120 lb‑ft @ 2,900 rpm (factory claim)
Fuel Capacity:
H-D: 5.0 gal.
Indian: 4.0 gal.
Fuel Consumption:
H-D: 47 mpg
Indian: 48 mpg
Estimated Range:
H-D: 235 miles
Indian: 192 miles
See all of Rider's Harley-Davidson coverage here.
See all of Rider's Indian coverage here.