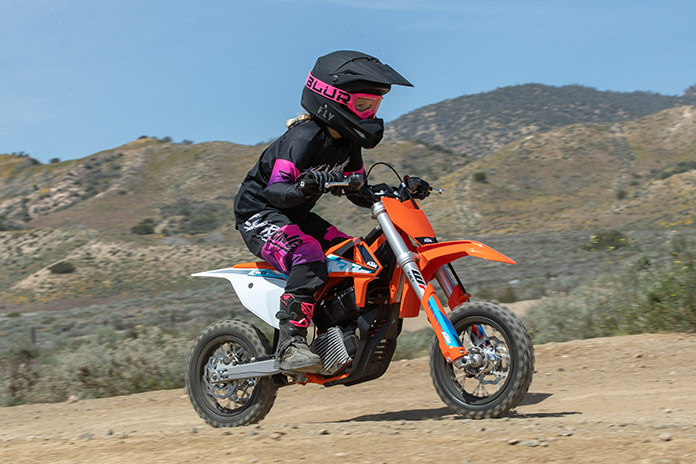 Riding a motorcycle is fun, but riding a motorcycle with a friend is even better. We recently tested the Volcon Kids Moto Two electric dirtbike, which was ridden by seven-year-old August Beck, the son of my friends Paul and Allison Beck. At the same time, we also had a KTM SX-E 3 electric dirtbike to test.
Related: KTM SX-E 3 | First Look Review
August just finished the first grade, and one of his classmates owns an electric dirtbike of her own. Like August, Willa Randall is a blond-haired Southern California kid who is full of energy. She's the youngest member of a motorcycle family. Her father, Shaun Randall, grew up riding dirtbikes in the hills of Ventura County. Her mother, Jenning Steger, also rides, as do her older siblings. In addition to her electric dirtbike, Willa has a Honda CRF50 gas-powered dirtbike and a 200cc Polaris ATV, which is pink, her favorite color.
GEAR UP: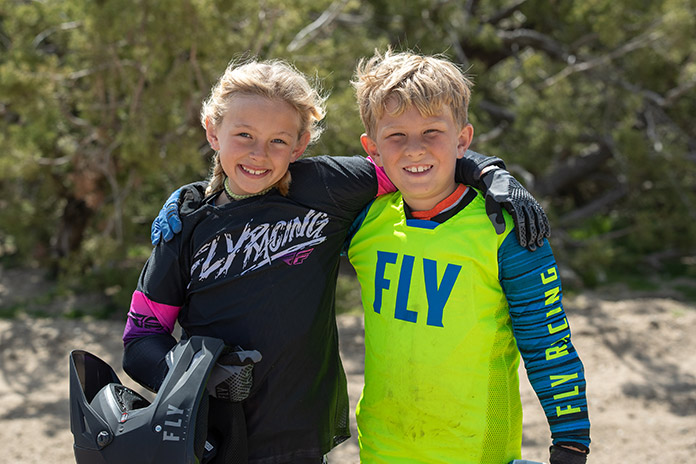 As the youngest in her family, Willa is used to wearing hand-me-down riding gear, but Fly Racing again stepped up and sent her a full set of kit: a Formula Carbon helmet, Kinetic Mesh Khaos jersey and pants, Kinetic gloves, Maverik boots, and Barricade armored long-sleeved suit and knee/shin guards. Willa was excited to have gear of her own, and she loved the matching black-and-pink color scheme.
For the test, we went to the Hungry Valley State Vehicular Recreation Area north of Los Angeles, which has a mini track for dirtbikes and ATVs that are under 90cc.
KTM SX-E 3
Under its "Ready to Race" banner, KTM offers a full line of motocross bikes: 4-strokes ranging from 250cc to 450cc, 2-strokes ranging from 50cc to 300cc, and several electric models – the full-sized Freeride E-XC and two youth models, SX-E 3 and SX-E 5 models.
The SX-E 3 ($4,999) accommodates riders up to 90 lb, while SX-E 5 ($5,499) riders can be up to 121 lb. Both have an air-cooled 48V brushless DC motor that produces 2 kW (3 hp) of nominal output and 5 kW (6 hp) of maximum output.
There are six ride modes, with successively higher modes offering more torque and faster top speeds. In Mode 6, the SX-E 3 tops out at 8.9 lb-ft and 40 mph, while the SX-E 5 is good for 10.2 lb-ft and 48 mph. The higher-spec SX-E 5 also has regenerative braking (in Modes 3-6) and adjustable suspension.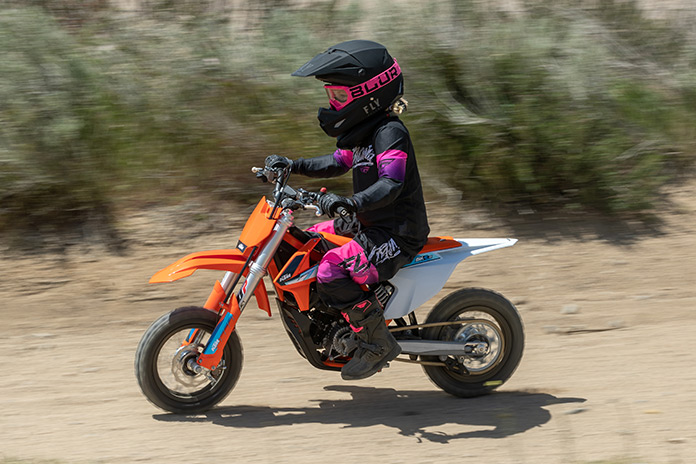 With the same 10-inch diameter wheels and a similar seat height as her Honda CRF50, Willa made a beeline for the KTM. She took to it right away, starting off in Mode 2, which gave her access to 6.6 lb-ft of torque and a 12-mph top speed – perfect for the deep sand and bermed turns on Hungry Valley's mini track.
Whereas August is still learning the finer points of control, Willa's years of experience on both electric and gas-powered bikes was evident in her confidence on the track. She also benefitted from the KTM's premium build quality and components, which dealt with the rocks and bumps on the track.
At $4,999, the SX-E 3 isn't cheap. Like larger bikes in KTM's lineup, it has a chromoly-steel tubular frame, a tapered aluminum handlebar with Odi grips, black anodized aluminum rims, Maxxis MX-ST tires, disc brakes with petal rotors, an inverted WP XACT fork with 5.7 inches of travel, and a WP rear monoshock with 5.2 inches of travel.
The key takeaway from the KTM SX-E 3 is that it's a ripper. It's an 86-lb mini dirtbike with a 40-mph top speed! The beauty of the ride modes is that a beginner can start off in Mode 1 (4.4 lb-ft, 7-mph top speed) and work their way up as they learn good technique and gain confidence. If there's a youngster in your life who has aspirations to race, then the SX-E 3 is the perfect training tool.
2023 KTM SX-E 3 Specs
Base Price: $4,999
Website: KTM.com
Motor Type: Air-cooled 48V brushless DC permanent-magnet motor w/ outer rotor
Battery: 648 Wh lithium-ion
Run Time: Up to 2 hrs.
Charging Time to 100%: 1 hr., 10 min.
Power: 2 kW (3 hp) nominal, 5 kW (7 hp) max.
Torque: 7.7 lb-ft
Max. Speed: 40 mph
Final Drive: Chain
Wheel Diameter: 10 in. front/rear
Seat Height: 21.9/23.6 in.
Weight: 86.4 lb
Max. Rider Weight: 90 lb
images