With specialized motorcycles comes specialized gear, especially ADV motorcycle gear. Adventure-bike helmets blend features of full-face helmets (such as a chinbar and a faceshield) and dirtbike helmets (such as a peak visor and lots of ventilation). ADV apparel is typically made of durable textile materials and offers protection from wind, rain, cold, and hard objects.
Over the past year, I've tested some Sedici ADV gear: the Viaggio helmet and Garda WP jacket and pants. "Sedici" sounds Italian, and the products have Italian names (viaggio means "voyage"; Garda is the name of the largest lake in Italy), but Sedici is an in-house brand sold exclusively by Cycle Gear and RevZilla (both are owned by Comoto). The gear is designed in the U.S. and made overseas in China and Pakistan.
See Rider's Adventure & Dual-Sport Motorcycle reviews here
Sedici ADV Motorcycle Gear: Viaggio Helmet
The Viaggio helmet has an injection-molded ABS plastic shell, an internal EPS liner, and a removable, washable comfort liner. It has a removable peak visor as well as a drop-down sunshield. The faceshield protrudes out just above the bottom edge, providing a wide lip on both sides to easily raise the shield. The faceshield has an anti-scratch coating, but it does not lock when closed, there are no detents for partially open positions, and it does not accommodate a Pinlock anti-fog insert. For those who prefer to ride with goggles, the faceshield can be removed.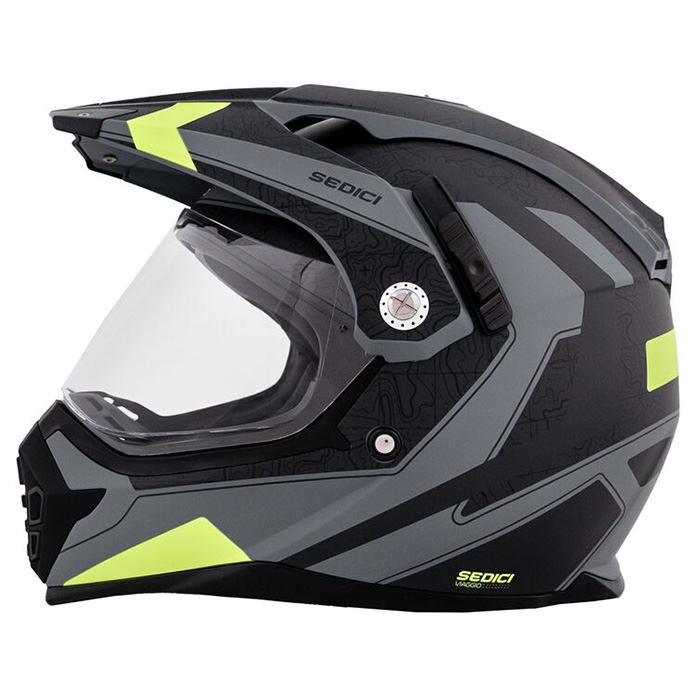 See all of Rider's Helmet reviews here.
The Viaggio, which meets both DOT and ECE safety standards, is a comfortable, reasonably light helmet (the size Medium tested weighs 3 lb, 10 ounces). The interior padding seals well enough around my cheeks and neck to reduce the worst of wind noise (though I usually wear earplugs), the large eyeport offers good visibility, and a tried-and-true D-ring secures the chinstrap. Thanks to the clear faceshield paired with the drop-down sunshield, I don't have to swap out a tinted faceshield when the sun goes down.
My biggest challenge with the Viaggio is ventilation. There are only three intake vents – one in the pointy chinbar (which is backed by metal mesh) and two small ones at the top, both of which are closable – and two exhaust vents in the back. With the vents open, the helmet moves an adequate amount of air for street riding on mildly warm days, but I wanted more airflow on hot days and during the exertion of off-road riding. Riding with the faceshield up and the sunshield down or with the faceshield removed and goggles on brings in significantly more air, but neither of these tactics is advisable at highway speeds.
Despite a few shortcomings, the Viaggio is a solid adventure helmet for a reasonable price. It retails for $179.99 in the Mappa (Italian for "map") graphic with topographical lines, which is available in sizes XS-2XL in three colorways: Grey/Black/Hi-Viz (shown), Black/Grey, and Sand/Black. It's also available in solid colors – Matte Black, Pearl White, and Hi-Viz Yellow – in sizes XS-3XL for $149.99. The Viaggio Parlare (Italian for "speak") comes with an integrated Sena DWO-5 Bluetooth v3.0 communication system, and it comes in Matte Black or White in sizes XS-2XL for $289.99.
Sedici ADV Motorcycle Gear: Garda WP Jacket and Pants
If you're like me, you've discovered the wonders of stretch fabrics. Jeans, pants, shorts, shirts, and even jackets made from fabrics blended with elastane or other stretchy fibers are more comfortable than plain cotton or polyester and more forgiving of wide waistlines, lumpy love handles, and prominent paunches. While stretch fabrics are now common in casual clothing, you don't see them as much in motorcycle apparel.
See all of Rider's Apparel reviews here.
That's why I was happy to discover that the Sedici Garda WP Jacket and Pants are made of 600D stretch fabric that's 92% polyester and 8% spandex (fun fact: "spandex" is an anagram for "expands"). The spandex allows the garments to move easily with the body, so there's no binding or restricted movement. There's a waterproof membrane laminated inside the outer layer, and the garments are lined with stretchy athletic mesh.
While I found the jacket and pants to be very comfortable both on and off the bike, the pants, which have elastic panels along the waistband, tended to slide down. They close securely at the waist with a metal clasp, a metal button, and an adjustable hook-and-loop strap, but the strap provides only a small range of adjustment. To avoid having to hitch up my pants throughout the day, I wanted to be able to tighten them more. Because I have a 34-inch waist, I ordered a size Large, which covers waist sizes 34-35 inches. I probably would have been better off with Medium pants (32-33 waist). If the pants had belt loops, I could have worn a belt, but they don't.
The Garda jacket and pants have 1200D reinforcement areas, textured rubber panels, and CE Level 2 armor at the elbows, shoulders, and knees. The jacket has a foam back pad, which can be replaced with an optional Axial CE Level 2 back protector ($34.99), and the pants have pockets for optional Axial CE Level 2 hip armor ($19.99). The jacket also has an outer back pocket for an optional hydration bladder.
Ventilation, adjustability, and pockets abound. The jacket has six adjustable vents, and the pants have two, all of which seal with waterproof zippers. While the vents allow some cooling relief, the full-coverage waterproof membrane traps in heat. The jacket has adjustment at the collar, cuff, forearm, upper arm, hip, and waist, and the pants have adjustment at the waist and lower leg. The pant legs have zippered gussets covered by a flap secured with hook-and-loop tabs, and there's sufficient room to zip the gussets closed over heavy ADV boots.
The jacket has a total of six pockets, including two waterproof cargo pockets in front and a large cargo pocket across the lower back. The pants have two waist pockets, which are fine for keys, earplugs, and other small items, but they force bulky items like a phone or wallet into the crease of the hips when seated. Side cargo pockets would be a welcome addition.
Other than a few nitpicks, the Sedici Garda WP Jacket and Pants provide the comfort and versatility needed for adventure touring in cool to warm conditions. They don't provide adequate ventilation for hot weather, and with no thermal lining, you'll need to add your own baselayers or heated liners in cold weather. Pricing is $249.99 for the jacket and $219.99 for the pants. Both are available in sizes S-5XL in Silver/Black (shown), Sand/Black, or Black.